CortexID Suite
---
PET brain imaging can be a critical tool in the workup of complex neurodegenerative diseases, especially those diseases that impact a patient's cognitive function. With the introduction of beta amyloid specific tracers into clinical practice there is now a need for your department to be skilled for interpretation of both FDG and beta amyloid tracer image analysis. CortexID Suite can assist with accurate, consistent quantitative results and present the information in a manner custom designed for referring physicians and patients.
CortexID Suite provides easy, robust review/analysis of PET and PET-CT neuro scans. With it, you can compare images that you obtain with images from age stratified normals and patient groups, revealing brain functions that may be altered by disease processes. It gives you a basic review of any PET neuro scan by providing a general reorientation of the scan volume to standard neurological orthogonal views along the Intercomissural AC-PC line.
Highlights
Quantitative analysis for beta amyloid PET tracers
Correlate structure and function with PET-MR registration
Proven robust analysis method
Enhanced FDG Normals database
Quantitative longitudinal comparisons
Exam Summary tool for streamlined communications
Q.Check enabling quality control for quantitation
Dynamic Summing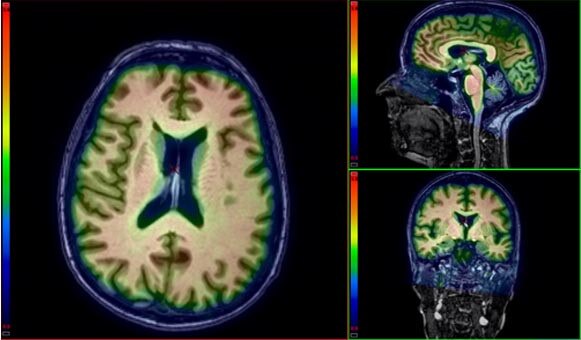 Features
Supports visual and quantitative assessment of PET brain FDG and beta amyloid images
PET-MR registration allowing functional findings to be correlated to patient anatomy
Proprietary, adaptive template registration technique with anatomic normalization to a standardized space
3D SSP models for uptake ratio and Z-score images
PET only based quantitation. Not dependent on MR to deliver quantitative analysis.
Predefined regions optimized for FDG and beta amyloid analysis
Regional quantitative results
Comparison with normals databases for FDG 18F, flutemetamol 18F and PiB* 11C
Quantitative comparison of longitudinal studies
Referring physician and patient based exam summary reports for streamlining communication of results
Customizable interface
Q.Check highlights acquisition parameters that differ from the expected values
Dynamic summing
Easy exporting capability of results 
*Access to PiB normal database may vary by region.
Indications for Use
CortexID software has been developed to aid physicians in the evaluation of patient pathologies via assessment and quantification of PET brain scans. 
The software aids in the assessment of human brain PET scans enabling automated analysis through quantification of tracer uptake and comparison with the corresponding tracer uptake in normal subjects. The resulting quantification is presented using volumes of interest, voxel-based or 3D stereotactic surface projection maps of the brain. The package allows the user to generate information regarding relative changes in PET-FDG glucose metabolism. 
CortexID Suite additionally allows the user to generate information in PET brain amyloid load between a subject's images and a normal database, which may be the result of brain neurodegeneration. 
PET co-registration and fusion display capabilities with CT and MR allow PET findings to be related to brain anatomy and offers visualization of structural abnormalities, which may result from brain injury, trauma, disorder, disease or dysfunction, such as subdural hematoma, tumor, stroke, or cerebrovascular disease, etc. 
CortexID Suite may aid physicians in the image interpretation process of PET studies conducted on patients being evaluated for cognitive impairment, or other causes of cognitive decline, and is an adjunct to other diagnostic evaluations.
Find More Imaging Software by Modality
Find More Imaging Software by Clinical Area