Integrated Registration
---
In Radiology practice today, multiple complementary imaging modalities are frequently relied on to image the same patient, as each modality provides unique anatomical and physiological information. 3D modalities such as CT and MR provide information about the relationship of anomalous findings to surrounding structures and tissues. The Integrated Registration application provides you with a streamlined workflow to combine and display images from any two of the five major modalities (CT, MR, PET, SPECT, and X-ray angiography). Integrated Registration is aimed at improving your ability to provide more clinically relevant diagnostic information, and improving surgical and treatment planning.
Integrated Registration provides you with the capability to fuse and register two volumetric acquisitions from either the same or different acquisition modalities. Easily compare 3D anatomical images from CT, MR with PET, SPECT, and X-ray angiography1 for a more comprehensive analysis.
Highlights
Load and register on the fly with drag and drop.
Easy registration and fusion.
Automatic registration propagation across series: one-click access to pre-defined protocols.
Automatic, manual, and landmark registration methods.
2D, 3D, and hybrid capabilities.
Rigid and non-rigid (deformable) registration.
Lets you draw and save contours as RTSS DICOM objects.
Optional definition of anatomical regions of interest for optimization of fusion in this region.
Compatible with GE Advantage SIM MD and other standard treatment planning software.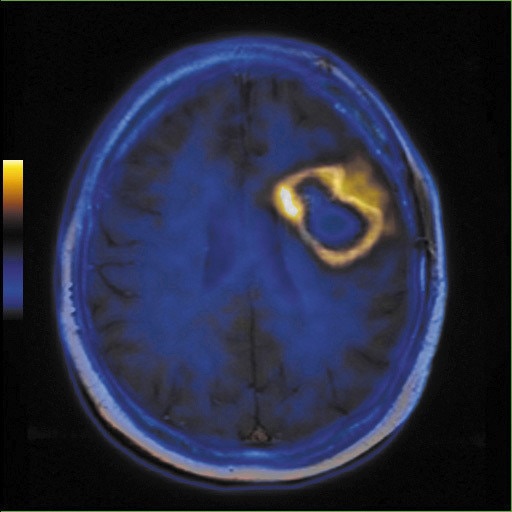 1. For XA modality series, Integrated Registration currently supports only 3D X-Ray Angiography images (stored as CT Image Storage DICOM objects) acquired with GE Innova equipment and reconstructed with the Innova3DXR application.
Features
Combines images from different modalities for enhanced volume definition.
Fuses functional and anatomical images.
Provides access to Volume Viewer1 functions, including Multiplanar Reformat, slab and oblique reformations, triple oblique easy definition, volume rendering, 3D display, distance and Region of Interest (ROI) measurements,2 layout management, segmentations, film, and save.
Ability to save registered data as new DICOM series or as a registered DICOM object (does not include SPECT).
Loads exams and series from CT, MR, PET, SPECT or XA together for registration in the same session.
Offers a choice of four automatic registration methods.
Draw and save contours as RTSS DICOM objects.
Allows you to customize screen layouts to suit your review needs.
Allows you to define one or more contours around relevant anatomy.
Ability to automatically bind several MR axial series corresponding to sequential axial locations into a single series. This may be displayed as sagittal or coronal reformats.
Provides comparison of a current exam with previous exams to evaluate disease progression or treatment efficacy.
Define volume of interest in one model for automatic report to another model for subsequent use in Radiation Therapy (RT) planning.3
Save registered results as a new reformatted series.
Provide referring physicians with clearer, more detailed reports.
1. Requires Volume Viewer key.
2. The ROI measurement works only on rigid registered images, not on non-rigid registered images.
3. Requires DICOM RT capability on RT planning system.
System Requirements
AW Volume Share 4 and above running on xw8400, xw8600 or z800
Intended Use
Integrated Registration provides easy comparison of three-dimensional (3D) images from Computed Tomography (CT), Magnetic Resonance Imaging (MRI), Emission Tomography (PET or SPECT) and X-Ray Angiography images (XA). To help physicians in diagnostic radiology or therapy planning, Integrated Registration allows 3D registration between volumetric acquisitions that may come from the same acquisition modality or from different acquisition modalities.
Related Content
Integrated Registration Datasheet

Download
Find More Imaging Software by Modality
Find More Imaging Software by Clinical Area