PET VCAR
---
Information about the metabolic effect of a given cancer therapy allows you to adjust treatment strategies before physical effects become apparent. But review of PET/CT datasets can be time-consuming and cumbersome. Streamlining this process would let you make therapy adjustments sooner and deliver care more specific to a patient's disease development. PET VCAR streamlines the assessment of metabolic data, giving you the ability to interpret, quantify and manage PET/CT datasets more efficiently.
PET VCAR (Volume Computer Assisted Reading) improves visualization and analytical monitoring of disease progression or response to therapy. It provides the ability to compute various Standard Uptake Values (SUV), to measure metabolic activity and volume for PET defined areas of activity, and compare CT, PET/CT and MR studies for baseline and follow-up studies.
Highlights
Provides a multi-modality reading platform for comparison and correlation of CT, MR and PET/CT data.
SUV PEAK generated by PERCIST recommendations.
The Summary Table supports and facilitates follow-up studies by providing a Baseline and Follow-up management tool. The graph view displays the lesion evolution over time.
Q.Check gives you a noninvasive way to display, compare and highlight key aspects of an exam that affect SUV variability, and to gauge the quality of the study based on PERCIST criteria or criteria that you prefer.
Adaptable workflow for clinical reading to advanced research using tools supporting PERCIST, EORTC, RECIST 1.0, 1.1, and WHO criteria (option).1
Automated segmentation of skeleton for bone lesion analysis.
Direct access to Integrated Registration option.
Compatible with Static, Q,Static, Q.Freeze and 4D PET series.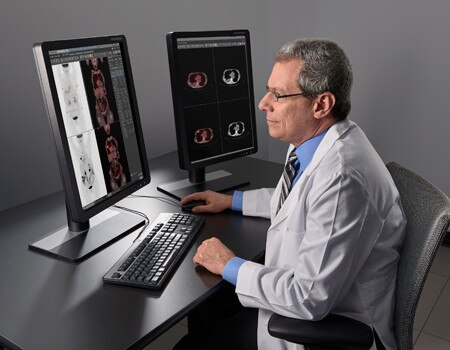 1. Wahl RL, Jacene H, Kasamon Y, Lodge MA. From RECIST to PERCIST: Evolving Considerations for PET Response Criteria in Solid Tumors. J Nucl Med. 2009; 50:122S - 150S.
Find More Imaging Software by Modality
Find More Imaging Software by Clinical Area