Aladin2 Cassettes
---
Agent specific Aladin 2 Cassettes can be used to deliver isoflurane, sevoflurane and desflurane anaesthetic agents.
The enhanced design of our Aladin 2 provides:
Anaesthetic agent vaporizer with electronic control in the Aisys* Carestation*
Lightweight cassette for easier handling
A prismatic site glass for clear indication of liquid agent level
Electronic Control on Aisys screen for automatic record keeping, gas usage calculation, fresh gas flow compensation and temperature/pressure compensation
Accurate overfill protection
Three filling options including Easy-Fil*, Quik-Fil (sevoflurane only) and Saf-T-Fil (desflurane only)
On Aisys screen, electronic level sensing and agent identification
Vaporizer self check and diagnostics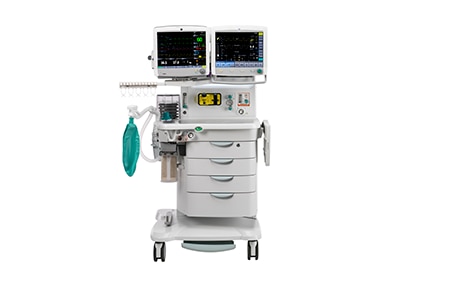 Benefits
The Aladin 2 Cassette offers:  
Convenience
The Aladin 2 Cassette is free from tilt and handling restrictions.
Weighing less than 3.4 kg/7.5 lbs, the Aladin 2 Cassette can be easily carried and handled.
Gas usage data in Aisys* provides an innovative tool for your low-flow savings analysis on the anaesthesia system.
Enhanced Operation
During the recommended daily system check, the Aisys* Carestation* performs a check on the Aladin 2 Cassette and electronic vaporizer.
Aisys Carestation agent control is monitored up to 200 milliseconds during operation.
Technology

Here's how the Aladin 2 Cassette works:

In the Aisys Carestation, anaesthetic agent control consists of two parts: the electronic control mechanism in the anaesthesia system and the separate Aladin 2 agent cassette.  
Agent concentration is adjusted by regulating the amount of fresh gas flowing through the cassette. A proportional valve is used to regulate the flow. Part of the fresh gas bypasses the cassette, so the more fresh gas allowed to pass through the cassette, the greater the concentration.  
Fresh gas flow, along with flows in and out of the cassette, are electronically measured for enhanced control. Each Aladin 2 Cassette is magnetically coded, allowing the Aisys Carestation to recognize which type of agent cassette is inserted