Lullaby Resus Plus
---
In spite of welcome advances in neonatal care over the last decade, birth asphyxia remains a leading cause of infant deaths worldwide. There simply hasn't been widespread access to a resuscitation solution offering clinical performance, ease of use and affordability.
But now there's a solution that delivers all three: The Lullaby* Resus Plus from GE Healthcare, a world leader in neonatal and developmental care.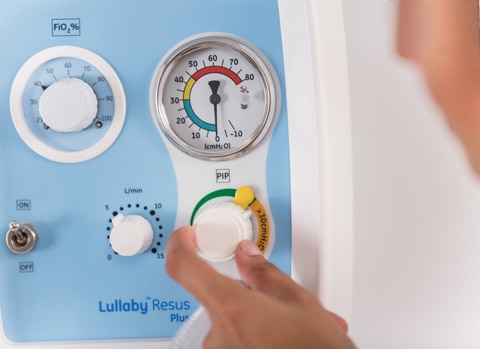 Benefits
The Lullaby* Resus Plus is an integrated T-piece resuscitation solution that is designed for a fast and error free workflow, enabling you to focus your attention on the baby in distress rather than the equipment.
The clinical performance you demand
Precise monitoring of, and control over, Peak Inspiratory Pressure (PIP), for effective inspiration

Fine adjustment of Positive End Expiration Pressure (PEEP)

Reliable pressure valves to vent excess PIP and limit PEEP

Accurate oxygen blending, 21% to 100%

Follows ILCOR guidelines and supports their equipment recommendations
The user friendliness you expect
Enables fast and easy workflow through an integrated ergonomic design with a built-in blender and flow meter

Single knob control for maximum and desired PIP enabling you to focus on your patient rather than the equipment

ON/OFF switch to use the device only when required and ensure that no gas is used when the device is switched off

Icon based easy to understand user interface backed by an easy to follow Quick Reference Guide

Compact and lightweight with an ergonomically designed handle for easy holding and intra hospital transport
The design for safety that you desire
A PIP override spring to help prevent the accidental increase in maximum pressure being delivered

High pressure relief valves for O2 and air in the rear manifold to avoid any damage to the device at high pressures