SIGNA™ Explorer - 60cm
Maximize your diagnostic potential.
---
Built with SIGNA™ DNA, SIGNA™ Explorer raises the bar in MR technology, with features including the breakthrough SilentSuite and remarkable 3D motion correction.
Set new standards in imaging excellence.
The advanced technologies of SIGNA™ Explorer help give you the power to explore new horizons in imaging. With features like SilentSuite and 3D motion correction, the system delivers exceptional image quality, enhanced patient comfort, and also helps improve workflow and simplify operations.

SIGNA™ Explorer is designed to be cost efficient during its full lifetime with energy-saving features, zero-helium boil-off technology and a smaller footprint meaning less space needed.

Get ready to conquer new diagnostic frontiers with SIGNA™ Explorer.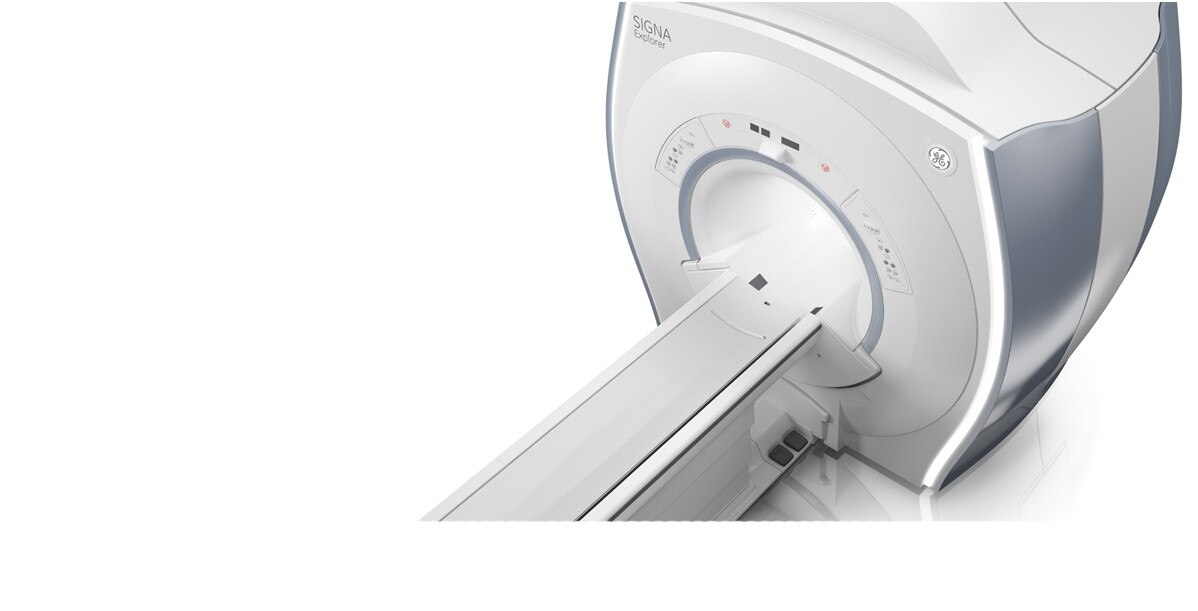 Benefits

Elevate your imaging performance and take patient comfort to new levels. 

SilentSuite, our revolutionary, proprietary technology, shatters industry norms to reduce noise like never before – taking it down to less than 3 decibels above ambient
OpTix Optical RF technology offers high quality analog to digital signal conversion and can provide a gain in SNR of up to 27% over conventional analog signal receivers, improving image quality and clinical confidence. 
Advanced applications can speed up workflow for your technologists and make the experience more comfortable for your patients.

Transcend the operational limitations of conventional MR when you combine user-centric tools and innovative applications to optimize throughput

Intuitive plug-and-play-like tools simplify access to its wide range of MR capabilities, to produce consistent, high-quality images.
Express Suite coil design achieves outstanding coverage and signal penetration. 
Automatic coil selection helps enable quicker and more consistent exams. 
Motion correction techniques like PROPELLER help minimize the effects of motion artifacts, potentially reducing the need for rescans and the impact of patient movement on workflow. 
Volumetric imaging acquisitions like Cube replace cumbersome, slice-by-slice, plane-after-plane 2D acquisitions with a single 3D volume scan. 
Additional time-savers include READY Brain, an automated brain exam even non-expert MR users can operate, and simplified whole body diffusion imaging with eDWI in as little as seven minutes.

Energize your financial performance.

Broad clinical applicability, substantially optimized workflow and consistently excellent image quality can help enhance your revenue potential.
Designed to use less power under normal operation, and require a smaller footprint for installation meaning less space needed. When combined with its ease of operation, these features can help keep running costs well under control.
Customizable service plans along with access to digital services such as InSite™ help maximize uptime.
For your investment protection SIGNA Explorer belongs to GE's Continuum™ program, giving you the advantage of easy and economical upgradeability during the system lifetime

Features

Proven technology

Zero-boil off magnet technology
27% more SNR with OpTiX RF
16 Optix RF channels with Express Coils

Enhanced clinical capability

3D motion correction with PROMO
Imaging around metal with MAVRIC SL
High-resolution diffusion with FOCUS
GE's exclusive SilentSuite!

Operational Efficiency

34% less energy consumption than our previous generation MR
Smaller footprint for simpler siting
Zero-boil off helium technology
SilentSuite

Experience the clinical power of SilentSuite

On SIGNA Explorer, the Silent Neuro exam includes a comprehensive set of sequences designed to generate high-resolution images with T1, T2, T2 FLAIR and PD weighting within 3 dB of ambient conditions.

Sound Comparison