Innova TrackVision
---
Performing needle procedures in the interventional suite frees up your CT system and provides a better access to the patient. However, under fluoroscopic guidance, it may be challenging and time consuming to find the right entry point and advance needle avoiding critical structures.
Innova TrackVision provides live 3D needle guidance during your procedures. It lets you advance the needle down a planned trajectory overlaid on live fluoroscopy, visualizing any deviations from the desired path.
Highlights
Support multiple trajectories
3D trajectories are registered in real time to C-arm and table movements, field of view and Source-to-Image Distance in real time
Visualize patient motion with the bone anatomy overlay and correct it at table side
Send Bull eye's view angle to the gantry in a single click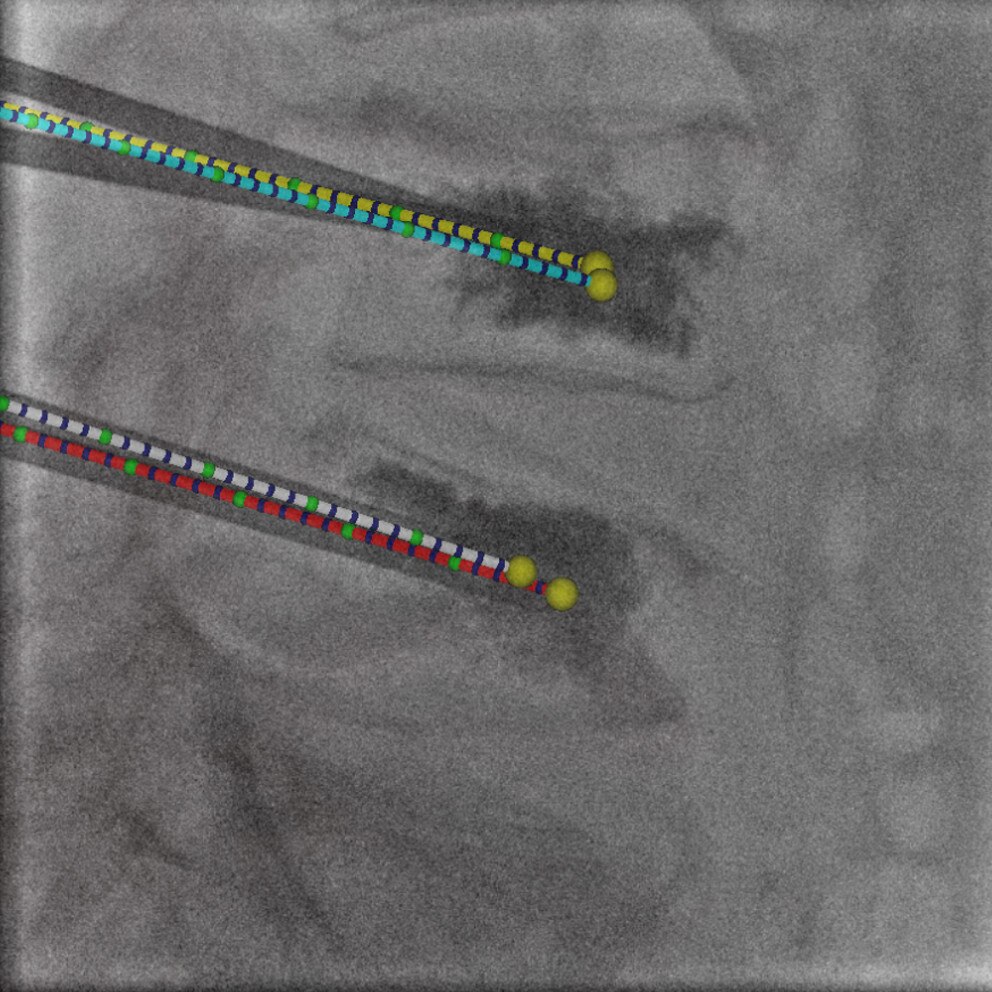 Features
You can use Innova TrackVision in several clinical procedures from biopsies and verterbroplasties to RF ablations. It lets you plan and guide your intervention using 3D models acquired in GE IR suite.
Define multiple needle trajectories on cross sections with Volume Viewer Trajectory Planning.
Guide a needle in real time along the planned trajectories:
Overlay user-defined trajectories on fluoroscopic images in a single click providing live 3D guidance
Trajectories can be extended to see the skin entry point on larger patients
Fused 3D trajectory models is registered in real time to C-arm angulations, source-to-image distance, field of view and table motion
Bull eye's view angle is automatically computed and can be sent anytime to the gantry helping reach optimal working position and find entry point.
Tools are available to help you visualize and compensate patient motion.
System Requirements
Volume Viewer
AW VolumeShare 4 or higher
Intended Use
Innova TrackVision is intended to enable users to load 3D datasets and overlay and register in real time these 3D datasets with fluoroscopic or radiographic images of the same anatomy in order to support catheter/device guidance during interventional procedures.
Find More Imaging Software by Clinical Area