CARESCAPE ONE Monitor
Redefining transport monitoring
---
CARESCAPE ONE is a CE marked medical device. CARESCAPE ONE is not available in all markets and is not 510k cleared.
CARESCAPE ONE – the intra-hospital transport monitoring solution you need
CARESCAPE ONE standardized monitor makes transport as easy as "unplug and go". It provides a large, high-resolution screen to display patient status capturing all required data without interruption. CARESCAPE ONE adapts quickly and easily to the needs of each patient and care area. It helps to minimize capital and service costs while protecting existing investments by eliminating transport of multiple devices and the stocking of multiple monitor versions.
CARESCAPE PARAMETERS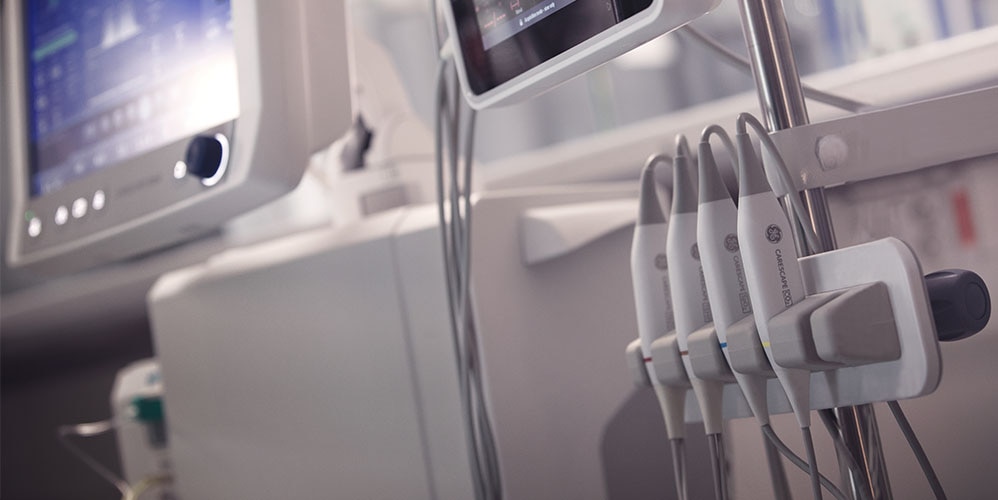 CARESCAPE PARAMETERS provide on-cable miniaturized digital measurements that can be tailored to various patient needs. New levels of flexibility, upgradability and servicability are now achieved with standardized connectors enabling CARESCAPE ONE monitor to be configured exactly as required. Plug any CARESCAPE PARAMETER into any port – the monitor recognizes them automatically.
AWARDED DESIGN SHIFTS FOCUS FROM DEVICE

CARESCAPE ONE is one of the If Design Award 2019 winners. The monitor was designed to reduce complexity and simplify transport within the hospital. In March 2019, it was awarded by the iF Design jury.
Patient transport monitors need to be lightweight and small yet equipped with a large display; elegant yet robust; technically advanced and versatile yet easy-to-use. All of this is to provide a superb user experience, meaning that a user does not need to think about the device that much.
"This device is very intuitive. I did not need training to start using it."
OR nurse, 13 years of patient transport experience
"This monitor will remove additional stress and allow us to focus on the patient."
Nurse, 5 years of patient transport experience
-->
FAST FACTS
The CARESCAPE ONE monitoring system provides a standardized yet fully flexible platform with one device and one software to support cost effective fleet management.

Comprehensive set of flexible measurements by the CARESCAPE PARAMETERS to meet the various needs for low and high acuity intra-hospital transfer.

CARESCAPE ONE integrates seamlessly to your enterprise ecosystem throughout care areas improving traceability, staff efficiency and clinical decision-making.

Familiar user interface and autorotating touch screen further reduces typical workflow challenges. A swipe function lets you easily switch between data displays.

Supports bedside and transport clinical workflows across different patient environments and acuity levels by functioning as an independent intra-hospital transport monitor and a multi-parameter acquisition module compatible with the CARESCAPE B850 monitor.

Ultra-light, portable and compact design and highly visible display makes virtually any bed a transport bed without additional components.

Truly modular open architecture based intra-hospital transport unit with large screen and interchangeable medical USB connectors.

A system crafted with highly robust materials fits the most demanding clinical environments.
"With our current monitoring system, the cables sometimes get twisted when plugging them in. The CARESCAPE PARAMETER connectors are much easier to attach. And as the USB ports are identical, you may plug any parameter into any port."

Inna Pennanen, Acute nurse, CCU/ICU, Peijas Hospital Helsinki University Hospital, Finland

"It would be great if the patient could go on a single monitor through the entire care pathway. It's wonderful to have a good transport monitor; one that I can trust to provide all the necessary data even with the sickest patients. CARESCAPE ONE provides me with all the data I need. I don't need to fetch any extra devices or equipment if I want to take more parameters."

Tiina Matikainen, Anesthesia nurse,
OR, Children's Hospital,
Helsinki University Hospital, Finland

LIVE TV CRITICAL CARE WEBCAST

Learn from European Experts and discover latest clinical trends in patient intra hospital transport.

Learn more

Read the answers from the experts of the LIVE TV Critical Care

"How to optimize patient intra hospital transport?"

Download here
Part of the CARESCAPE FAMILY