ASSIST: FLIGHTPLAN FOR LIVER
---
Liver cancer treatment can be difficult because of the complex vascular structure of this vital organ. Imagine the challenge for an interventional oncologist who has to find the right tumor-feeding vessels to embolize. FLIGHTPLAN FOR LIVER provides a high sensitivity in detecting liver tumor feeding vessels. It improves the sensitivity of tumor-feeding vessels identification to reachup to 97-percent123.
FLIGHTPLAN FOR LIVER IMPROVES SENSITIVITY OF TUMOR-FEEDING VESSELS IDENTIFICATION TO REACH UP TO 97%
AFTER MORE THAN FOUR YEARS OF CLINICAL USE, THIS APPLICATION HAS DEMONSTRATED ITS ABILITY TO DELIVER A HIGH SENSITIVITY, WITH FEWER NUMBERS OF DSA, AND AN INCREASE IN INTER-OPERATOR AGREEMENT FOR IDENTIFICATION OF FEEDING VESSELS.
FlightPlan for Liver improves the sensitivity of tumor-feeding vessels identification versus the use of either DSA or CBCT alone, to reach up to 97 %.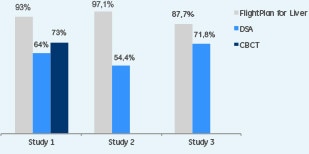 Reader agreement for identification of liver tumor feeding vessels using FlightPlan for Liver was significantly higher than for either DSA or CBCT alone.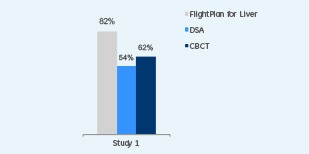 The mean number of DSA and the procedural time for a single TACE session are significantly less with FlightPlan for Liver than without it.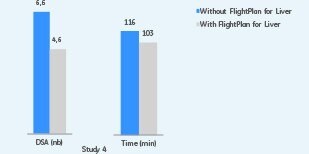 TRANS-ARTERIAL CHEMOEMBOLIZATION THERAPY
The above FLIGHTPLAN FOR LIVER performance aspects reflect the results of four published journal articles
1234
that used the FLIGHTPLAN FOR LIVER software or its prototype
5
.
Computed Analysis of Three-Dimensional Cone-Beam Computed Tomography Angiography for Determination of Tumor-Feeding Vessels During Chemoembolization of Liver Tumor: A Pilot Study – Deschamps et al. Cardiovasc Intervent Radiol. 2010.
Tracking Navigation Imaging of Transcatheter Arterial Chemoembolization for Hepatocellular Carcinoma Using Three-Dimensional Cone-Beam CT Angiography – Minami et al. Liver Cancer. 2014.
Clinical utility and limitations of tumor-feeder detection software for liver cancer embolization. Iwazawa et al. European Journal of Radiology. 2013.
Comparison of the Number of Image Acquisitions and Procedural Time Required for Transarterial Chemoembolization of Hepatocellular Carcinoma with and without Tumor-Feeder Detection Software – Iwazawa et al. Radiology Research and Practice. 2013.
The results of these published studies do not necessarily represent individual performance of FLIGHTPLAN FOR LIVER.