SIGNA™ Creator - 60cm
Propel your imaging abilities into the future.
---
Leap ahead and create your future in imaging.
Built with the DNA of SIGNA, the pioneer of MR systems, SIGNA Creator packs the diagnostic punch of leading-edge MR technology. It covers an impressive range of applications, is designed for ease of use and delivers excellent image quality and patient comfort whilst improving workflow and helping keep total cost of ownership low. Get ready to experience an extraordinary foundational MR system that can help open a whole new world.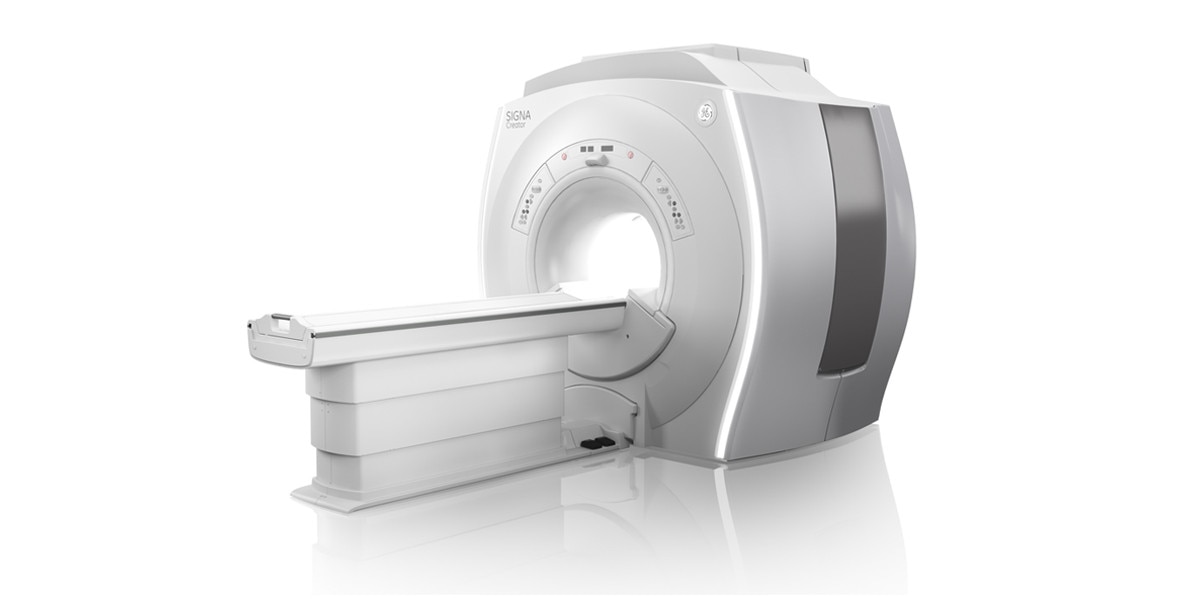 Benefits

Revolutionize your clinical potential.

Our proven, highly homogeneous magnet consistently delivers high quality images across a larger FOV than most other MR systems. 
OpTix Optical RF technology offers high quality analog to digital signal conversion and can provide a gain in SNR of up to 27% over conventional analog signal receivers, improving image quality and clinical confidence.
SIGNA Creator's "head to toe" portfolio of applications gives you neuro performance with automated motion correction, MSK performance with cartilage mapping, multi-planar body imaging with quantitative capabilities, and vascular performance with non-contrast and automated time-resolved imaging.

Transform your workflow and throughput. 

Express Suite coil design achieves outstanding coverage and signal penetration. 
Automatic coil selection helps enable quick and consistent exams. 
The Slide Bar reduces 30 inputs with a single control, simplifying scan optimization for new technologists and experienced users, meanwhile maintaining full control of all parameters. 
Motion correction techniques like PROPELLER help minimize the effects of motion artifacts, potentially reducing the need for rescans and the impact of patient movement on workflow. 
Volumetric imaging acquisitions like Cube replace cumbersome, slice-by-slice, plane-after-plane 2D acquisitions with a single 3D volume scan. 

Boost your financial power.

Optimized workflow and consistent image quality can help enhance your revenue potential.
Designed to use less power under normal operation and to require a smaller footprint for installation.
For your investment protection, SIGNA Creator belongs to GE's Continuum™ program, giving you the advantage of easy and economical upgradeability during the system lifetime.
GE's exceptional service coverage means you have a range of customizable service plans to choose from, along with access to digital services such as InSite™ OnWatch, so you can get technical support at the touch of a button and maximize uptime. 
Training and education programs can be tailored to include virtual assistance that connects you with our clinical experts in real-time. 

Features

Proven Technology

Proven 1.5T magnet with high homogeneity GE's well established Zero-boil off CXK4 Magnet Technology
27% more SNR with OpTix RF
OpTix RF Channels with Express Coils

Extensive Clinical Capability

Motion Correction with PROPELLER
Imaging around metal with IDEAL and MAVRIC SL
Diffusion Imaging with eDWI

Operation Efficiency

34% less energy consumption than our previous generation MR
Smaller footprint for simpler siting

Ease of Use

Express coil technology that reduces handling of bulky coils between exams.
Slide bar, reduces 30 inputs with a single control
Two low-height table designs that can be lowered to 49cm
Fixed table configuration with Express coil technology that enables easy positioning and high throughput
Detachable table that helps improve patient access and productivity
SV25.0 Applications Suite