SIGNA™ Voyager - 70cm
Skyrocket your MR performance
---
Redefine the limits of what's possible
Enter a whole new realm of possibility in MR with the SIGNA™ Voyager. This system is designed to maximize productivity and workflow while delivering extraordinary clinical potential and exceptional patient comfort. And it has one of the smallest footprints and lowest power consumptions in the industry for a 1.5T wide bore system. Get ready to experience MR excellence like never before. SIGNA™ Voyager: Skyrocket your MR performance.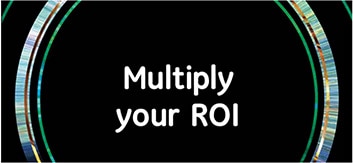 Technology

Outclass with exceptional image quality

Outstanding magnet homogeneity … Uncompromised performance

Whether it is leveraging a large, homogeneous FOV to visualize the entire abdominal cavity, or focusing on the smallest lesions in challenging areas of anatomy, the SIGNA Voyager delivers uncompromised results. Designed with one of the most homogeneous magnets in the industry, the SIGNA Voyager gives you the freedom to choose the appropriate field of view (FOV) for your imaging.

Total Digital Imaging RF Architecture … A total imaging win

Experience the unique advantages of Total Digital Imaging (TDI) with SIGNA Voyager. TDI helps deliver consistently sharper images than conventional MR systems with higher SNR, superior homogeneity and uniformity. TDI consists of 3 components;

Digital Surround Technology (DST) combines the superior SNR and sensitivity of the high-density surface coils with the superior homogeneity and deeper signal penetration of the integrated RF body coil, to deliver richer, sharper, higher quality images.

Direct Digital Interface (DDI) employs a separate analog-to-digital converter to capture and digitize every input from each of up to 65 RF channels, to vastly improve SNR.

eMode technology replaces analog blocking circuits with intelligent ultra-fast switches which further expand zero TE imaging capabilities.

Integrated TDI Coil Suite

GE's TDI Coil Suite delivers remarkable image quality with a patient-centered design set of coils. It includes embedded posterior array, high-density Head & Neck array, anterior array with extended anatomical coverage and other high-performing flexible and dedicated MSK coils.

Ultra-High Efficiency Gradient Technology

SIGNA Voyager includes novel Ultra High Efficiency (UHE) Gradient technology, a leap forward in the gradient technology curve, generating shorter TR and TE values to deliver speed and exceptional image quality.

Download White paper

Fueling the Future of MR

Our SIGNA™Works productivity platform redefines what's possible. Acquire calculated, quantitative ADC maps with MAGiC DWI. Streamline post-processing for higher efficiency and enhanced workflow with the amazing capabilities of ImageWorks and improve image quality up to eight times faster with our HyperWorks applications.

Learn more about SIGNA™ Works and its innovative applications
Productivity
Multiply your MR productivity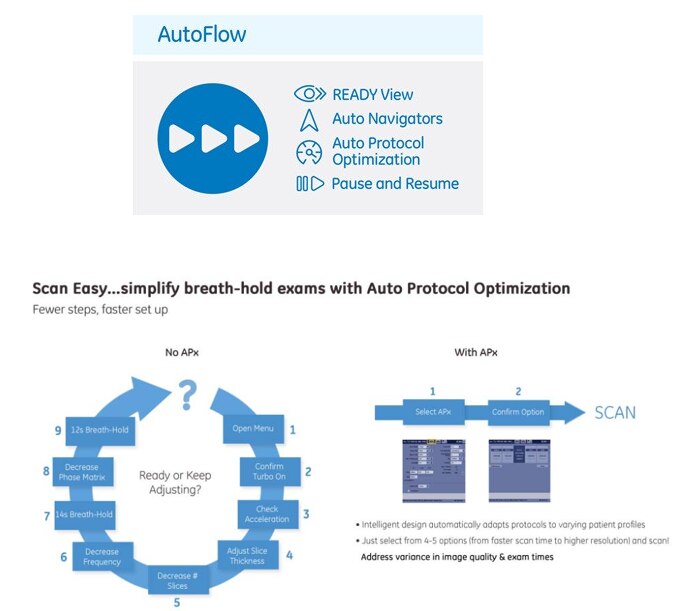 Speed and simplicity
SIGNA Voyager has a host of features to speed up and simplify imaging. Turbo LAVA/LAVA Flex features enable faster body imaging and up to 47% shorter breath-holds, with multiple phases in a single breath-hold so that each scan is done right the first time. DISCO (Differential Sub-sampling with Cartesian Ordering) technology makes advanced body imaging with MR as simple as CT, enabling simultaneous high spatial and temporal resolution imaging of the entire liver, breast and prostate, and delivering an entire 3D volume in as little as 3 seconds.
AutoFlow efficiency
SIGNA Voyager's AutoFlow suite of features makes workflow easier and more efficient than ever:
READY View: image review and analysis platform that reduces number of clicks through automation and enables advanced visualization of multi-parametric data with ease.

Auto Protocol Optimization: simplifies and automates breath-hold imaging, making it easier for operators, while enhancing reliability of image quality and exam duration, regardless of patient profile.

Auto Navigators: delivers real-time robust free breathing respiratory motion compensation to streamline routine and advanced body imaging. They are compatible with DISCO, Turbo LAVA, Turbo LAVA Flex and GE's entire body imaging suite.

Pause and Resume: eliminates the need to redo scans or retrace your steps, giving you greater flexibility to respond to patient needs mid-scan. IntelliTouch touch-and-go landmarking, Auto Guidance and GE's famously simple setup with dual touch screens further enhance workflow efficiency and imaging reliability.
Multiply your ROI
SIGNA Voyager is designed to multiply your ROI to remarkable levels. With one of the smallest mechanical footprints of any wide bore 1.5T MR system in the industry, the SIGNA Voyager substantially lowers setup cost. And with one of the lowest power consumption levels in the industry, it ensures you keep operating costs surprisingly low.
Patient Experience
Transform the patient experience with advanced applications
Experience a new standard of patient comfort with SIGNA Voyager.
SilentWorks
GE's proprietary SilentScan technology dramatically reduces scanning noise from an ear-splitting, motorcycle level of 91dB to within 3dB of scan room ambient noise. It includes a Silent Neuro Package with Diffusion Weighted Imaging (DWI), enabling a complete silent neuro exam, and an expanded Silent feature that also covers spine and musculoskeletal imaging.
FreedomWorks
SIGNA Voyager makes scanning a worry-free experience for patients. Our wide Comfort Plus table with low height and open 70cm design allows patients to rest freely while affording easy access and a comfortable scanning experience.
Breathe-free: Patients can breathe free because our Auto Navigator technology is compatible with Turbo LAVA, Turbo LAVA Flex and DISCO to enable complete body exams without a single breath-hold.

Motion-free: With advanced 3D motion correction technology such as 3D PROMO for neuro imaging and GE's signature PROPELLER for head-to-toe 2D motion correction, we help eliminate the need for patients to lie motionless throughout the scan, making scanning less stressful for the patients.

Needle-free: Our needle-free imaging capabilities enable non-contrast MR exams that eliminate the pain of needles and the cost of contrast. Be it routine MR angiography studies with our Inhance 2.0 Suite or advanced imaging such as liver fat-fraction mapping with IDEAL IQ or brain perfusion imaging with 3D ASL, SIGNA Voyager enables complete non-contrast MR exams.
MAGiC (Magnetic Resonance Image Compilation)

Click here to discover the MAGiC Experience


For the first time ever in the industry, you can generate multiple image contrasts in a single MRI scan including T1, T2, STIR, T1 FLAIR, T2 FLAIR* and PD contrasts of the brain in a single acquisition.

One scan that can do the work of many, with images acquired in as little as half the time to acquire separate sequences, fully integrated in a seamless workflow.

*It is recommended to acquire conventional T2 FLAIR images in addition to MAGiC.

View full image

MAGiC

Complete flexibility for multiple contrast changes

You can change the contrast of the image by manipulating TR, TE and TI even after the scan is completed and the patient has exited the MR room. MAGiC processing will provide you any desired contrast paving the way to new diagnostic capabilities.

MAGiC even goes beyond standard MR weighted images by processing raw data into parametric T1, T2 and PD maps.

Click here to discover the MAGIC Experience