Discovery™ MR750 - 60cm
Simply powerful. Powerfully simple.
---
With advanced, powerful technology, the Discovery™ MR750 3.0T helps make routine clinical exams faster and advanced research more routine.
The Discovery™ MR750 advances 3.0T imaging with exceptional homogeneity and gradient stability.
It helps you conduct routine, accurate, and repeatable exams more easily and in less time with greater image quality1. Built around a third-generation, short-bore, superconducting 3.0T magnet, the user-friendly MR750 enables you to setup patients faster and make exams more comfortable. And a comprehensive suite of robust applications helps remove the challenges posed by some of the most challenging exams.
Download more information
1. All comparisons of the Discovery™ MR750 are to past-generation GE systems.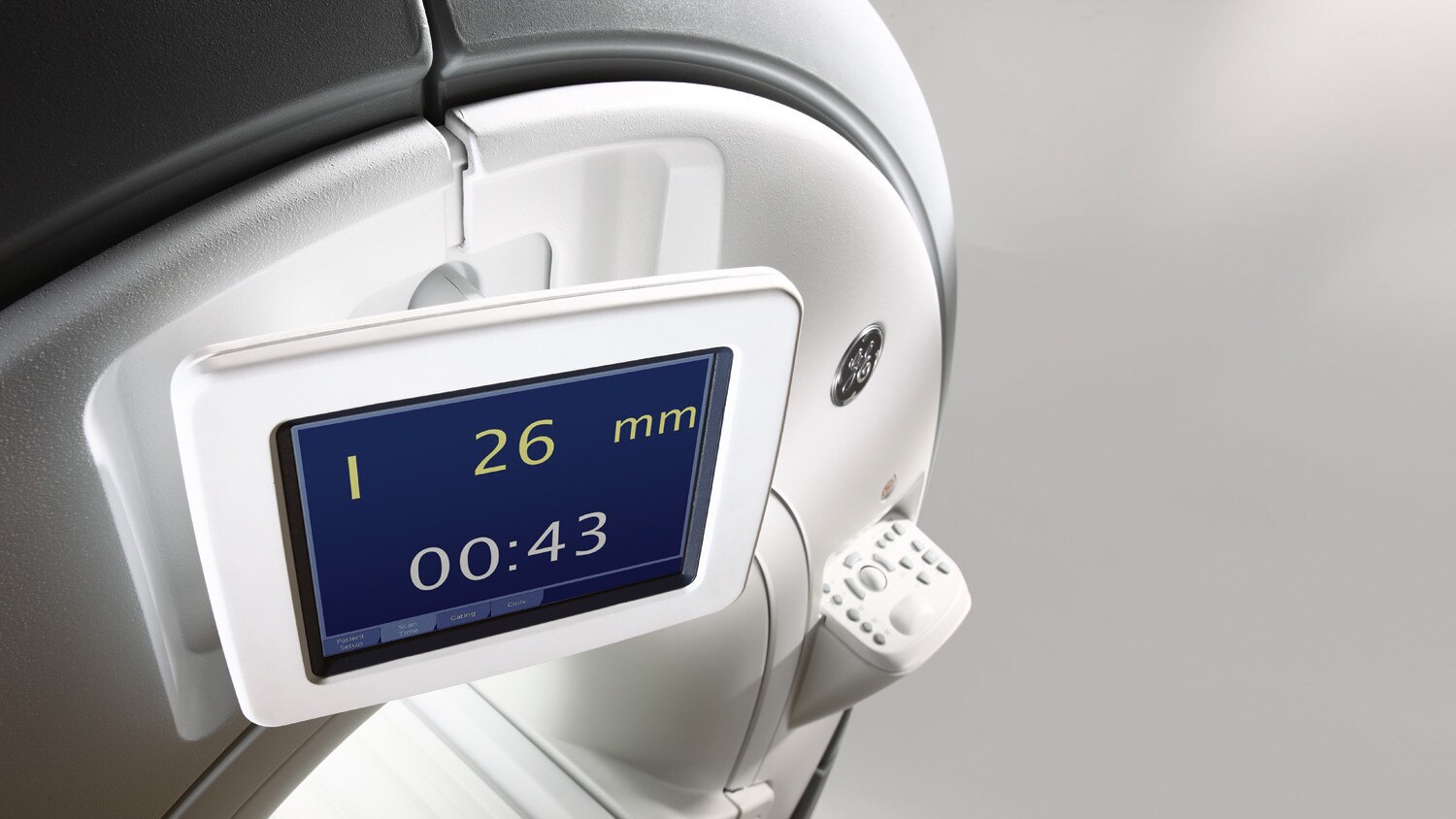 Discovery MR750 3.0T Display
MAGiC (Magnetic Resonance Image Compilation)

Click here to discover the MAGiC Experience


For the first time ever in the industry, you can generate multiple image contrasts in a single MRI scan including T1, T2, STIR, T1 FLAIR, T2 FLAIR* and PD contrasts of the brain in a single acquisition.

One scan that can do the work of many, with images acquired in as little as half the time to acquire separate sequences, fully integrated in a seamless workflow.

*It is recommended to acquire conventional T2 FLAIR images in addition to MAGiC.

View full image

MAGiC

Complete flexibility for multiple contrast changes

You can change the contrast of the image by manipulating TR, TE and TI even after the scan is completed and the patient has exited the MR room. MAGiC processing will provide you any desired contrast paving the way to new diagnostic capabilities.

MAGiC even goes beyond standard MR weighted images by processing raw data into parametric T1, T2 and PD maps.

Click here to discover the MAGIC Experience
Benefits
How does the Discovery MR750 3.0T benefit you? Consider the following advantages:
Technology
Exceptional homogeneity and image quality across a large 48- x 48- x 48-cm field of view
Faster and more accurate and reproducible scans1
Increased signal clarity and maximized signal intensity for cleaner, crisper images
Better contrast between flowing blood and surrounding tissue
Consistent, uniform fat suppression
Easier neurofunctional brain mapping and DTI
Productivity
Higher performance with real-time system optimization
Accelerated and accurate parallel imaging
Fewer operating steps, which lead to shorter exam times
Less slowdowns through heat-extraction technology
Faster reconstructions for data-intensive, 32-channel studies
Intuitive, protocol-driven user interface
Comfort
Fast, automated patient set-up—less than 30 seconds
Quicker patient transfer with a detachable patient table
1. All comparisons of the Discovery MR750 are to past-generation GE systems.
Features
The Discovery MR750 3.0T offers advanced technology, such as:
High performance whole-body gradients designed to deliver powerful 50 mT/m amplitude and 200 T/m/s slew-rate on each axis simultaneously.
ARC parallel-imaging, which utilizes a full 3D data kernel for more accurate reconstruction.
A volume-reconstruction engine that enables real-time image generation.
OpTix optical RF technology, engineered to increase signal clarity and maximize signal intensity.
PERFORM 2.0, which automatically fine-tunes system SAR modelling and personalizes it for each patient.
The eXtreme resonance module (XRM), which delivers a 48-cm field of view with linearity.
VIBRANT Flex technology, which combines multiple series of breast scans into one.
Time of Flight (TOF) imaging, which rapidly captures high-definition images that display small-vessel detail and blood-flow subtleties—without contrast injections.
IntelliTouch patient positioning—start scanning in just two steps.
BrainWave suite of functional MRI (fMRI) applications, which provide excellent signal stability, and an exceptional signal-to-noise ratio.
SIGNA Pulse of MR
SIGNA Pulse of MR is published semi-annually by GE Healthcare and is designed to bring you the latest in MR news, clinical value, technical innovation and industry issues.
Don't miss another issue of SIGNA Pulse of MR!
View the latest issue or browse archived issues on our SIGNA Pulse of MR page.
Sign up for a complimentary subscription to SIGNA Pulse of MR!
Go Digital! Download the free SIGNA Pulse of MR App at either the Apple Store or Android Market or www.amazon.com. Now available as an application at no cost for either your Apple iPad or iPhone, Android mobile devices, or on your Kindle, the digital version of SIGNA Pulse of MR allows you to browse the latest news articles or look back through archived issues with the touch of a button.