Mini Telemetry
Enhanced workflow and a comfortable birthing experience
---
The GE Mini Telemetry System offers a simple, complete wireless monitoring solution for efficient, enhanced workflow and a more comfortable birthing experience. Its compact, ergonomic design gives you the reliability and time saving features you need and gives mothers the freedom they desire.
The system:
Features watertight Nautilus Transducers
Provides the flexibility of portable, gap-free monitoring during most birthing processes, including laboring in water and intra hospital transport
Is compatible with your existing Corometrics ™ monitors and transducers

Once you position the transducers on your patient, you can interchange them with other existing Corometrics monitors if necessary.

*Caution: The Mini Transmitter must be kept dry.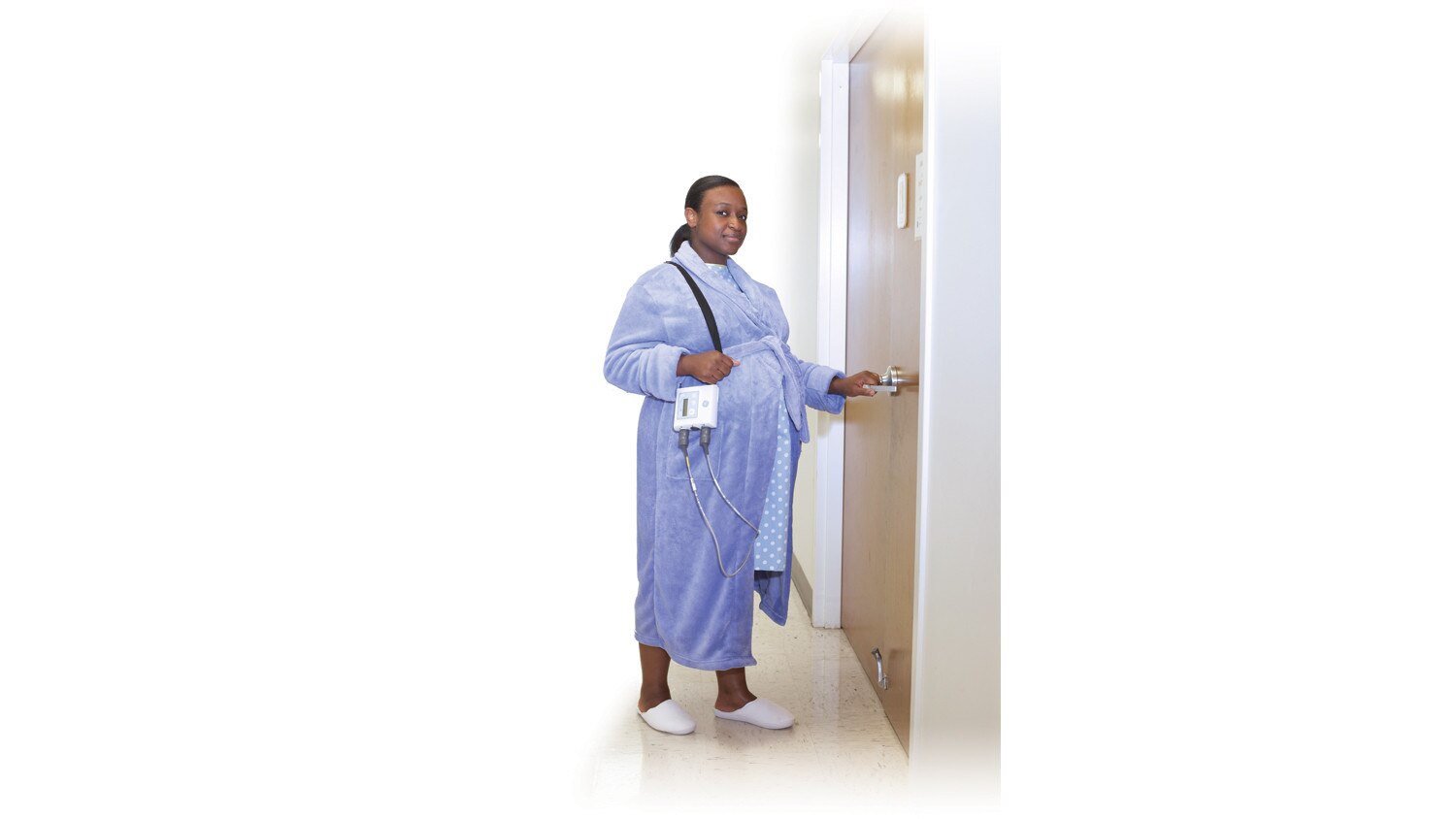 Benefits
Our mini telemetry system offers:
Freedom

Mom won't be tied to bed, so she can move around more naturally, improving the birthing experience.

Flexibility

Moms can walk around and use the lavatory while still being monitored, allowing moms to comfortably engage in more activities and different types of birthing options.

A laboring in water option

The waterproof Nautilus Transducers allow moms to take advantage of the soothing benefits of aquatherapy. 

Improved safety

The small, light transmitter is easy to carry, and a recess in the unit improves safety through cable management.     
Technology
Some of the technology that makes GE's mini telemetry system an exceptional choice is:
Waterproof 9-crystal ultrasound transducers

Mini Telemetry uses proven Nautilus waterproof 9-crystal ultrasound transducers, which are identical to those used with all Corometrics/GE fetal monitoring products.

Wireless technology

The wireless telemetry technology offers exceptional signal quality, letting mom ambulate during labor.

Compact, 3-port design

The compact, 3-port design allows FHR, uterine activity, and ECG monitoring and allows you to monitor twins as well.

Longer battery life

An extended-life battery accommodates the full duration of the average labor (up to 12 hours) with a built-in charging bay.

Mobile monitoring technology

Speakers or a headphone jack are built into the unit, offering audio monitoring of fetal heart rate while mom is mobile. 

User-friendly features

The display screen of the transmitter offers a backlit display, battery indicator, and connection status, it also has a mark key to notate fetal movement.
Specifications
Transmitter Performance Specifications
Monitoring Modes

Ultrasound

External Uterine Pressure (TOCO) or Internal Uterine Pressure Catheter (IUPC)

Fetal ECG or Maternal ECG

Full interchangeability of transducers between GE Corometrics 120, 170, 250, 250cx Series and the Mini Telemetry

Ultrasound System

Pulsed Doppler
US & Can: Output Power: 4mWAvailable Frequencies: 608.0250 - 613.9750MHz

Transmission Range

608.0250 - 613.9750MHz - 1640 ft (500m) line of sight

Antenna Type
Battery

Rechargeable dual cell Lithium Ion
7.2VDC at 2600mAh 
Full charge run time: up to 12 hours 
Recharge to full charge: 4 hours  
Receiver Performance Specifications
Power Requirements

100–120VAC, 50–60Hz, 220-240VAC, 50-60Hz
Max Power: 30W

Output Signals

US, FECG, MECG, TOCO, IUPC, Mark

Antenna type

Flexible, detachable, BNC interconnect
Other factory-approved external antennas or antenna systems may be used.

Physical Specifications

Height: 4.0 in (10.2 cm)
Width: 8.1 in (20.6 cm)
Depth: 11.9 in (30.2 cm)
Weight: 5.6 lbs (2.55 kg) 
Tour