LOGIQ S8 XDclear
Balancing price and performance
Superb imaging capabilities in a small, portable package.

The sleek, lightweight LOGIQ™ S8 XDclear slips easily into tight spaces, yet is packed with powerful, established technologies that deliver the high quality imaging performance you demand. Imagine, exceptional next-generation imaging for patients of all sizes. A versatile, application-rich platform that easily handles both general and specialized imaging. And efficient image management tools that help provide access to vital information. All at a price that meets your budget.
Superb Images

See more with superb images.

Innovative architecture, powerful E-Series transducers, and other advanced technologies combine to help minimize effort and enhance image quality. Simply gel, scan, and see.

S-Agile Architecture - Dynamically optimizes image acquisition for virtually every body type. Acquire remarkable images easily with minimal keystrokes, and achieve outstanding image uniformity.
E-Series Transducers - Help improve sensitivity, penetration, spatial resolution and image uniformity for greater clinical confidence.
High-Definition Speckle Reduction Imaging (SRI-HD) - Helps increase contrast resolution and maintains tissue appearance.
CrossXBeamTM - Spatial compounding tool that combines multiple images from different angles into a single real-time image to help achieve a clearer view.
Coded Harmonic Imaging - Helps enhance near-field resolution for improved small parts imaging as well as far-field penetration compared with typical harmonic imaging.
LOGIQ View - Displays images over an extended length of anatomy, helping provide excellent visualization and more clinical information.1
B-FlowTM Imaging - Uses non-Doppler technology to display true hemodynamics and enable direct visualization of blood flow without the limitations of Doppler.
Streamlined Workflow
Streamlined workflow that benefits you and your patients.
The more you enhance workflow, the more time you can devote to patient care. LOGIQ S8 XDclear is packed with ergonomic and productivity features.
Ergonomic design helps promote comfort, convenience, and mobility, to help reduce user fatigue and risk of injury. At a svelte 187 lbs, this portable design fits easily into tight exam rooms and crowded bedsides. View a video about LOGIQ S8 XDclear ergonomics.
Multi-modality Query Retrieve allows you to bring a previous exam onto the system and view it side-by-side with a real-time ultrasound image to help you quickly find an area of interest.
Streamlined archiving and reporting - LOGIQ S8 XDclear provides robust DICOM connectivity and is compatible with many imaging IT solutions. This connectivity allows you to save images to a central location and review alongside other imaging modalities.

With ViewPoint 6, GE Healthcare's reporting and image management solution, users can connect with a PACS or Electronic Medical Record (EMR) for comprehensive patient record storage. This can help improve workflow and enhance communication throughout the facility as well as with referring physicians.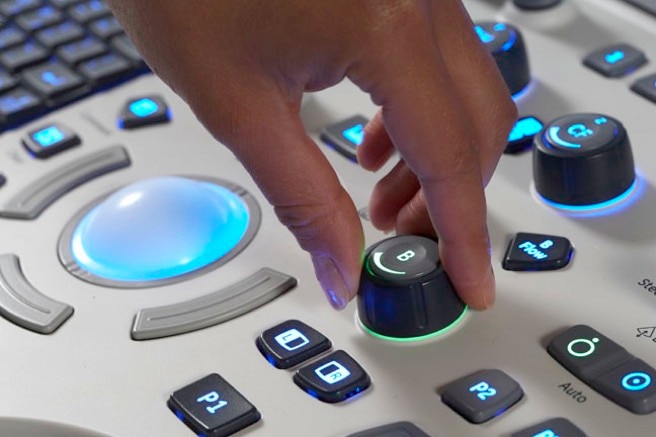 Efficiency features help provide reduced keystrokes, exam consistency and smooth archiving and reporting.

Raw Data - allows a virtual rescan of the patient at any time
after the study, on the system or at a remote workstation.
Power Assistant - provides the system battery power during transport to help decrease system shut-down and reboot time by 90%2 - helping provide excellent productivity for portable exams.
Wireless - frees you from frustrating cables for transmission of patient data during mobile exams.
Compare Assistant - helps standardize imaging protocols, and expedite exam preparation and planning by enabling view of a prior study while conducting the current exam
Breast and Thyroid Productivity Packages - help improve efficiency and standardization of lesion reporting by automating the labeling, measuring, and description of lesions to enhance both efficiency and clinical confidence.
Breast Measure Assistant - allows users to contour and measure lesions quickly, trace lesion boundaries and generate two-dimensional measurements with just a few keystrokes, enhancing the speed and confidence of lesion characterization.
OB Measure Assistant - allows users to measure anatomy quickly and generate two-dimensional measurements with just a few keystrokes. Simply push Print to accept or easily edit as needed.
AutoEF - enables a semi-automatic measurement of the global EF (Ejection fraction). The AutoEF tool tracks and calculates the myocardial tissue deformation based on feature tracking on B-Mode cine loops.
Scan Assistant - Scan Assistant anticipates and preps the next step of a scan, helps reduce keystrokes, and frees you to focus on the patient. A GE-commissioned study
performed by an independent third party sonographer revealed a 78% reduction in keystrokes and a 49% reduction in exam time. Scan Assistant performs the following tasks:

Initiates and auto-completes measurements
Automatically steers color Doppler
Sets up imaging controls and modes
Insert comments
Automatically reorders images to your preference, independent of acquisition sequence. View a video about LOGIQ S8 XDclear Scan Assistant.
Suited to Your Needs

The LOGIQ S8 XDclear is adaptable to a variety of clinical settings.. This versatile platform easily handles both general and specialized imaging—including abdominal, musculoskeletal, small parts, breast, vascular, cardiology, pediatrics, OB/GYN and more—on patients of many sizes.

Specialized Tools - a variety of tools can help you increase efficiency for specialized exams including:


Elastography - helps evaluate tissue stiffness and helps provide additional diagnostic information. Elastography includes tools that help make it easy to use and help in patient management decisions.
Auto IMT - provides automatic edge detection for intima-media thickness (IMT) and helps to enhance the consistency and reliability of IMT measurements when evaluating the carotid artery.
Strong Investment Value
Gain confidence with this strong investment value.
For all its agility and power, the LOGIQ S8 XDclear is solid in one critical area: investment value. Highly affordable with a wide range of clinical applications, it offers the performance to price balance you want in an ultrasound system. You can rely on superb images, streamlined workflow and a system that is truly suited to your needs—combined with GE Healthcare's responsive service, support and financing options.
Services & Support
Service. Support. Solutions.
Count on GE to help optimize the performance of your vital ultrasound assets. Our maintenance service offerings all deliver one thing-confidence.
Learn more.
LOGIQ Club
We invite you to join the LOGIQ Club, a network of thousands of fellow LOGIQ ultrasound users. Club membership gives you access to many tools and resources which are only available to members, helping you experience the full power of your LOGIQ ultrasound system. Members are regularly informed about developments in LOGIQ ultrasound technology and provided with special offers and opportunities which are announced on the club's own LOGIQ Club website.
The benefits of club membership are many:
Information on new products and offers
Educational offerings & online trainings
Application tips & tricks
White papers & user guides
Clinical image gallery
If you are not a member, consider joining today to begin taking advantage of these outstanding tools.
ecomagination
High efficiency ultrasound.
LOGIQ E9 XDclear and LOGIQ S8 XDclear are among the most energy efficient in the industry. That means with every image you'll be using less energy, saving money, and contributing to a better environment. It's part of the GE commitment to invest in innovative solutions to environmental challenges, while empowering you with advanced tools for healthcare delivery.
1. All comparisons based upon GE conventional ultrasound versus GE ultrasound featuring the above referenced features.
2. Data provided from an internal GE Study performed by GE engineers comparing to the prior version of the LOGIQ S8.
LOGIQ and B-Flow are trademarks of the General Electric Company.