ViewPoint 6 Direct Connect for Radiology
---
Your information in one view.
ViewPoint™ 6 is a smart, flexible solution for your busy Radiology department.
For the physician, ViewPoint 6 helps reduce dictation by auto populating ultrasound measurements and report details directly into the dictation system.
For the sonographer, ViewPoint 6 helps improve workflow by eliminating handwritten sonographer worksheets and providing a quality control workstation.
Powerful integration lets you communicate across departments and connect with existing HIS, RIS, PACS or EMR systems from one facility up to fifty.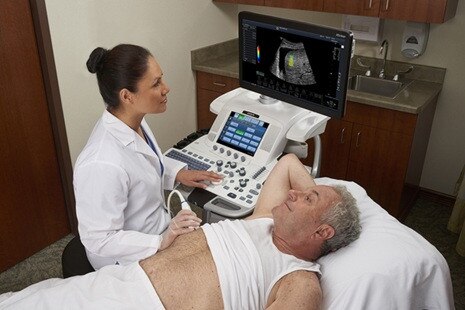 Direct Connect

Interface to dictation systems

In ultrasound, exams can include many measurements that may need to be included in the final report. The solution for many radiologists is to dictate those measurements from a hand written sonographer worksheet scanned in PACS. But dictating and understanding handwritten numbers and comments can take time and leaves room for error with the potential for incorrect measurements being added to the report.

ViewPoint 6 can help eliminate those errors by transferring data directly into your dictation system with a customized solution made just for you. Using ViewPoint to facilitate measurement transfer into your existing dictation template can help enhance your workflow, reduce redundant work, and eliminate dictation errors.

ViewPoint 6 connects seamlessly to your existing multi-vendor ultrasound devices and IT systems to help enhance your current investment.

Electronic Sonographer Worksheet

Create a comprehensive electronic sonographer worksheets quickly and efficiently with ViewPoint 6, eliminating paper worksheet and manual data entry.

Clean, organized worksheets with images, diagrams and graphs document the most important patient details. A wide variety of report types are available including:

Abdominal
Small Parts
Vascular
Breast

Obstetrics
Gynecology
Cardiology
General Reporting

With measurements auto populating and quick report templates for common findings your worksheet can be completed in a matter of minutes. A copy can be sent along with the images to the PACS system for easy physician review.

ViewPoint 6 helps increase daily efficiency allowing you to spend more time with your patients. 

Workflow and Integration

Enhance your workflow with comprehensive connections

Customized workflow solutions and exceptional IT integration can help reduce many of the steps that can slow down workflow in your ultrasound department.

This efficient digital solution helps:

Reduce manual and duplicate data entry and dictation
Enhance ultrasound exam review
Eliminate hand written and printed worksheets
Decrease final report turnaround time

Our dedicated integration team will design a solution specifically for your facility, whether one hospital or enterprise wide. ViewPoint 6 has the ability to connect with your existing multi-vendor HIS, RIS, PACS, EMR and ultrasound systems to provide a comprehensive workflow 

Service

Reliable support when you need it

From the beginning, our extensive team of IT and ultrasound professionals are here to make sure your needs are covered. Our experienced clinical and application experts, interface and technical engineers, project managers and support teams are available to help address your specific requirements.

The professional service team is available for individualized solutions such as new interface installations, software migrations and more.

A software maintenance agreement (SMA) offers comprehensive service allowing you to:

Get help with a technical or clinical question from our helpdesk
Utilize remote support
Stay current with product updates
Benefit from the latest performance and stability enhancements
Download the latest release from our new e-distribution portal
Attend webinars and meet the expert sessions online 
Services & Support
Current ViewPoint customers may access service at:
Support line: 877-644-3114E-mail: vpusasupport@ge.com Hours: 7 a.m.-7 p.m. CST