A STRONG LEGACY ACCESSORY OF GE
As a pioneer in non-invasive BP (NIBP) monitoring for more than 40 years, GE understands your priorities. The state-of-the-art technology used in the manufacturing process ensures that CRITIKON® blood pressure cuffs always meet highest quality standards. We offer a wide selection of BP cuffs – from long lasting reusables to convenient disposables designed to support your infection control efforts. With GE CRITIKON BP cuffs, you can confidently care for patients in virtually any care setting.

WHY DO WE CHOOSE TO MOVE TO ISO 80369-5 STANDARD AND SUGGEST YOU DO THE SAME
TO IMPROVE PATIENT SAFETY – FIRST PRIORITY AT ALL TIMES
The International standard was developed because of patient safety concerns due to accessories misconnections incidents, with catastrophic consequences. The ISO 80369 series was developed to prevent misconnection between small-bore connectors used in different applications. It ensures correct connections even in complex working environments.
The rational behind
In 2000, a task group of the European standards organization CEN proposed a strategy to reduce incidents of accidental misconnection of PATIENT therapy tubing by the use of a series of NON-INTERCONNECTABLE CONNECTORS, differentiated by design, for use in different medical APPLICATIONS. The strategy reserves the use of LUER CONNECTORS solely for use in MEDICAL DEVICES used to access the vascular system or for hypodermic syringes so that they can achieve their intended function.
TO PLAN FOR THE FUTURE

The European Economic Area regulatory agency has published ISO 80369-5 in November 2016 for CE Mark countries, and recommends enforcement within 3 years of publication, which makes 2019 a critical year of decision making. In order to remain state-of-the-art GE Healthcare products will meet this standard across its connectors and meet MDR standard In 2020.

TO SIMPLIFY YOUR WORKFLOW AS A LONG TERM BENEFIT

We encourage you to move to ONE unique new DINACLICK ISO 80369-5 compliant male and female connectors to simplify BP cuffs connections, drive standardization in all care areas and simplify your clinical workflow.
What do we provide you for this positive change? – GE solutions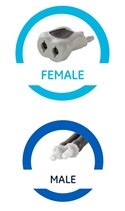 By June 2020, the whole range of CRITIKON Blood Pressure Cuffs and equipment air hoses will be equipped with the new ISO 80369-5 DINACLICK connectors.
DINACLICK is an innovative adult/pediatric BP cuff connection system that allows healthcare professionals to have BP cuffs standardization and provides improved workflow by decreasing manual connection time. DINACLICK is a true dual-tube universal connectivity solutions that is intuitive and easy to use and helps to prevent misconnections.
GE Healthcare's range of CRITIKON cuffs with the new ISO 80369-5 connectors: DURA-CUF reusable cuffs, SOFT-CUF & CLASSIC-CUF limited reuse cuffs and CLASSIC-CUF ISOLATION single patient use cuffs.