Benefits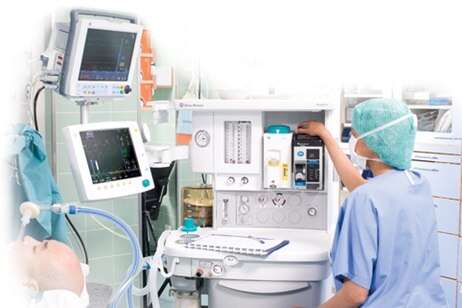 You'll find what you're looking for to monitor your patients:
Versatile clinical capabilities to monitor a wide range of patients from neonates1 to adults, from surgical to out patients in office settings.

Ease of operation for all professional levels

Excellent reliability driven by high quality GE design and engineering

And, importantly, the affordability that enables you to provide patients with world-class monitoring technology while staying within your budget
Clinical Excellence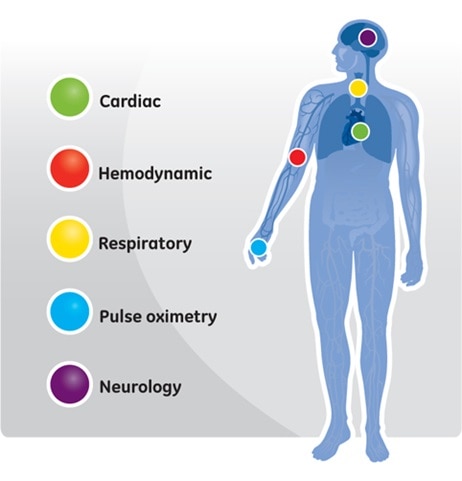 The GE algorithms you know and trust
The B40 Patient Monitor delivers a continuous flow of quality information to enhance clinical decision-making. Capable of monitoring adult, pediatric,and neonatal1 patients, it offers many advanced parameters and algorithms so you can ensure a high standard of care across more clinical settings.
Key clinical measurement technologies include:
GE EK-Pro arrhythmia algorithm with multi-lead simultaneous ECG analysis to help optimize the detection of arrhythmias and other cardiac events

GE DINAMAP* SuperSTAT NIBP for fast, comfortable, and highly accuratenon-invasive blood pressure readings

Trusignal* Enhanced SpO2, a GE innovation that filters out the effects of clinical motion and low perfusion (adult and pediatric patients only) to generate reliable saturation readings even under challenging conditions. Other options available: Nellcor** OxiMax** SpO2 and Masimo** SET** SpO2 algorithms

GE Datex-Ohmeda* gas technology to support non-invasive respiratory monitoring in anesthesia and critical care areas
Comprehensive package of neonatal1 measurements, including ECG, respiratory1, NIBP, SpO2, temperature, and optional OxyCRG to help in the assessment of neonate1 hemodynamic and respiratory condition
1 Note: CO2 measurement through E-miniC Module is intended for use with patients weighing over 5kg (11 lb) only. Entropy is intended for use with adult and pediatric patients older than 2 years.
Specifications
Ease of use for fast decision-making
The B40 Monitor makes it easy to acquire accurate patient data to support timely decision-making.

12.1'' crystal-clear monitor displays up to six waveforms simultaneously

Intuitive menus and one-button access to commonly-used functions

72-hour trend display with graphical and numerical data to review patient progress

HL7** direct output and connectivity with the CARESCAPE* Gateway enables communications to EMR systems

Capability to work in CARESCAPE Network and S/5 Network environments
Performance and reliability
With its streamlined design, the portable B40 Monitor fits into crowded spaces and is easily moved to different care areas as needed. The system's rugged design stands up to harsh environments and the everyday wear-and-tear of busy care areas. It will provide the performance and accuracy that you expect of GE equipment-so you can provide the care that your patients expect.