A partner you can trust

A complete solution

An opportunity for growth
B-flow / B-flow Color

3D/4D

TVI

Virtual Convex

Elastography for tissue differentiation

Bi-plane imaging

Power Doppler Imaging
A partner you can trust

A complete solution

An opportunity for growth
Versana Premier at a glance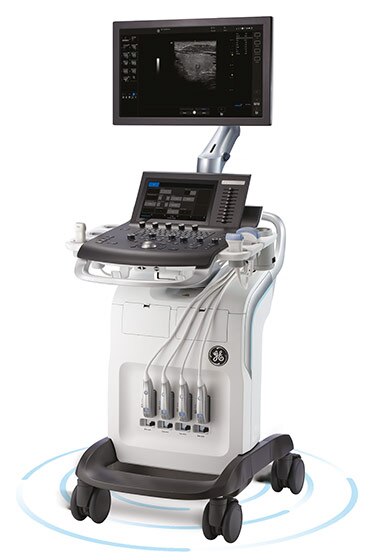 Feature List Module
Whizz image tuning
Just touch the Whizz button on your console once. Without pressing it again, Whizz continuously and automatically optimizes the image, even as you move from one organ or structure to another.





Scan Assistant
Provide ultrasound sonographers with predefined standardized exam protocols that walk them through all steps of image acquisition, saving keystrokes, reducing stress and fatigue, and maximizing exam consistency.


Insite Technology
GE advanced remote service technology and remote monitoring diagnostics and repair; instantly connect your ultrasound machine with a GE service expert to resolve many issues remotely on the spot.

Voice comments

Connect a microphone, touch a screen icon, and capture hand-free recorded voice comments that are overlaid on images and saved for playback later when reviewing the exam.


.

Whizz bladder
Use the AutoBladder function within the Whizz feature to combine optimized ultrasound image quality with automated measurements.


Tricefy Uplink
Send images to the Tricefy cloud wirelessly to share with other clinicians for consultation, or share with patients.**/***

** Requires high-speed Wi-fi connectivity and may not be available in every country.
*** Cloud-based case exchange solution separately provided by Trice Imaging. Customers may try Tricefy via trial period by entering an agreement with Trice Imaging. Trice Imaging bears sole responsibility for the Tricefy Uplink app and Tricefy cloud solution.

My Trainer

Scan Coach
Products mentioned in the material may be subject to government regulation and may not be available in all countries. Shipment and the effective sale in certain countries can only occur if the product is approved.
Final product configuration and features may differ from the ones represented in the photo/video and may not be available in every region. Check with your local GE representative for details.
© 2018 General Electric Company – All rights reserved. GE Healthcare reserves the right to make changes in specifications and features shown herein, or discontinue the product described at any time without notice or obligation. Contact your GE Healthcare representative for the most current information. GE, GE Monogram, Versana Premier, InSite, CrossXBeam and B-Flow are trademarks of General Electric Company.
GE Healthcare, a division of General Electric Company. GE Medical Systems, Inc., doing business as GE Healthcare.
Supporting Materials Listing