Advanced Tools

Customizable settings and embedded protocols help clinicians assess and address appropriate respiratory therapy. Using the advanced tools in the CARESCAPE R860, you can tailor care to meet the patient's requirements.

Measuring Functional Residual Capacity (FRC):

A vigilant focus on lung protection. The Lung Protection tools in the CARESCAPE R860 calculate FRC, providing you with data for determining the optimal PEEP setting for the patient.

Nutritional Assessment:

The CARESCAPE R860 offers advanced tools for Indirect Calorimetry measurements that are measured, not estimated. The Metabolics feature in the CARESCAPE R860 has the potential to help the clinical team to implement strategies which may help support improved patient outcomes., reduce infection rates and shorten the length of stay in the ICU.† The GE gas module measures inhaled and exhaled gases which the physician can use to assess patient's individual nutritional needs.

Weaning Support:

Prolonged ventilation is associated with a host of complications that can have significant health and cost implications.†† Spontaneous Breathing Trial (SBT) is a mode of ventilation on the CARESCAPE R860 that allows clinicians to administer trials in a consistent manner while providing continuous trending and documentation of results to assess progress during trials. By easily navigating to see your patient's history, you know when they're ready to breathe on their own


† Neumayer LA, Smout RJ, Horn HG, Horn SD. Early and sufficient feeding reduces length of stay and charges in surgical patients. J Surg Res. 2001;95(1):73-77. | Dasta J, McLaughlin T, Mody S, et al. Daily cost of an intensive care unit day: the contribution of mechanical ventilation.Crit Care Med 2005 Vol. 33, No. 6, pgs 1266-71. | Rubinson L, Diette GB, Song X, Brower RG, Krishan JA. Low caloric intake is associated with nosocomial bloodstream infections in patients in the medical intensive care unit. Crit Care Med 2004; 32(2): 350-356.

†† Bronagh Blackwood, Fiona Alderdice, Karen Burns, Chris Cardwell, Gavin Lavery, Peter O'Halloran "Use of weaning protocols for reducing duration of mechanical ventilation in critically ill adult patients: Cochrane systematic review and meta-analysis.", BMJ, vol. 342, 2011.
Lung Protection Strategy

Lung Protection strategy: an integrated approach
The lung is a delicate structure that is highly sensitive. Mechanical ventilation can be detrimental if too much volume or pressure is delivered. And patients affected by lung disease are highly susceptible to ventilation-associated lung injury.1

A Lung Protection strategy can help ensure that different zones receive the treatment they need


CARESCAPE* R860 offers an integrated solution


The CARESCAPE R860 was designed with a simple and universal navigation scheme. The Lung Protection tools calculate FRC, providing the clinician with data for determining the optimal PEEP setting for the patient.


References
1 E. D. Moloney and M. J. D. Griffiths, British Journal of Anaesthesia 92 (2): 261±70 (2004)
2 Hedenstiernia G, Acta Anesthesiol Scand 2012, 56: 675-685
3 Gattinoni L, N Engl J Med 2006;354:1775-86
4 Brunner J, Intensive Care Med. 2009, 35:1479-83
5 Rouby JJ, Anesthesiology 2004; 101: 228-34
6 Gattinoni L, Current Opinion in Critical Care 2004, 10:272-278
7 Chiumello D, Crit Care Med 2008, 12:R150 doi:10.1186/cc7139

Neonatal Option

The ventilation requirements for neonates are very different from the needs of adults. That's why it's important to have a Neonatal option designed to meet the specific physiological needs of the neonate.

With the CARESCAPE R860, validated to treat these vulnerable patients, special color-coding distinguishes this NICU option from other ventilators in your fleet. And specialized ventilation modes are included that help transition neonatal patients off of mechanical ventilation. Modes like Volume Support help support spontaneous breathing. The mode nCPAP,  with the option of setting Rate and Pressure, can help support the baby non-invasively and prevent intubation. Split screen view supports four Spirometry views, as well as the ability to select up to four waveforms and seven measured views.

By precisely tailoring ventilation to serve the sensitive needs of neonates, you can expand your diagnostic therapy capability.
Gallery
CARESCAPE R860 Video

CARESCAPE™ R860 Critical Care Ventilator

CARESCAPE™ R860 Critical Care Ventilator
Tour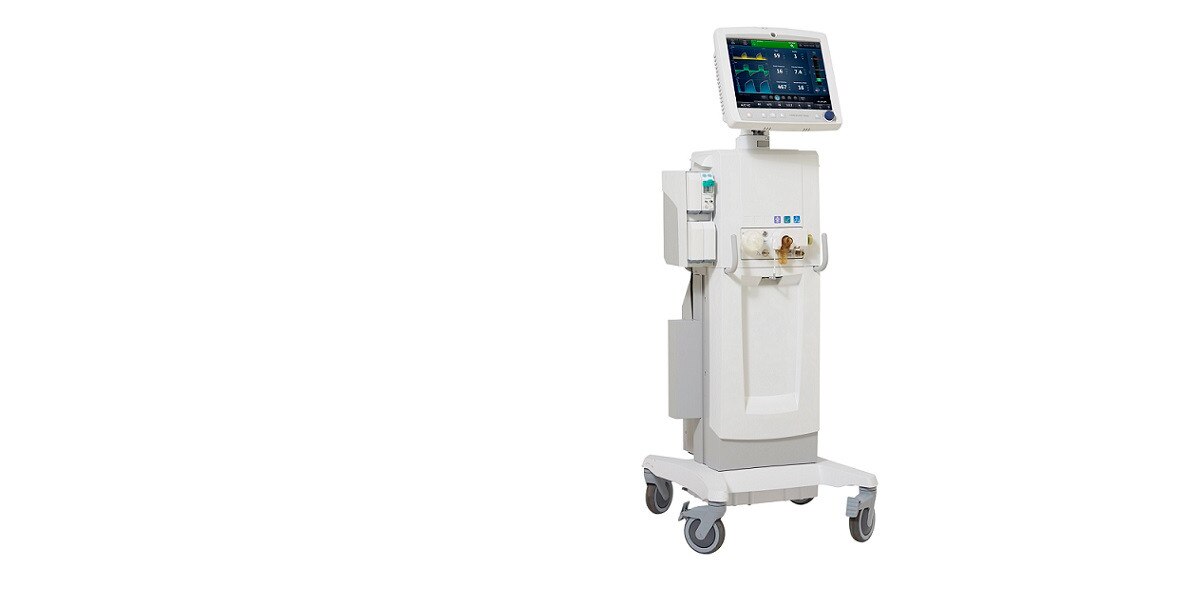 Supporting Materials
Jewish Hospital Case Study