By Belen Soto Bodí, Senior Director Customer Success Analytics and Artificial Intelligence, Enterprise Digital Solutions, GE Healthcare, EMEA
Data in the health environment is growing exponentially. We need to embrace its potential to help answer the many clinical, financial and operational questions that senior health managers face on a daily basis.
Capturing and consolidating raw data from disparate enterprise wide devices and IT systems, then validating and transforming it into useful information, will help us realise a clearer picture to support decision making. This is no simple task and standard statistical tools have the potential to be overwhelmed. So how can we get better at understanding the meaning behind our burgeoning data?
Introducing Edison, the platform to unlock analytical scale
Recently, a UK radiology service consortium comprising multiple hospitals at 7 NHS Trusts harnessed the power of GE Healthcare's Edison Platform, building a bespoke Business Intelligence solution, to make informed and substantiated decisions about radiology reporting processes. A growing trend for outsourcing reporting to balance high workloads against radiologist shortages and turnaround time targets was seen to be increasing the financial burden on the healthcare consortium's hospitals by £4.7 million per year. Could this money be redirected back into the NHS by managing the reporting workload differently?
GE Healthcare used Edison platform to provide information and insight into how much workload was being outsourced, the cost of that workload and what capacity could actually be realised in-house.
In the first year of the initiative, by gaining accurate information on numbers of procedures and reporting workloads, a 30% reduction in outsourcing of radiology reports was achieved. It helped decision makers understand what extra capacity was needed from radiologists and reporting radiographers in-house and enabled the remodelling of resources via a pool of reporters introduced to undertake out of hours and extra capacity reporting.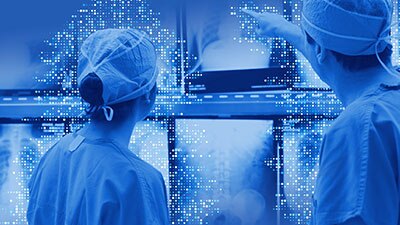 Asking key questions of big data for clear answers
The results from using Edison gave clear and concise answers in dashboard or performance indicator visuals. This helped managers see a high-level overview of key information such as reporting productivity and turnaround times, historical trending and comparison of reporting costs and even insight into an individual reporter's capacity.
Edison Applications are a catalyst for change. In this radiology example it enabled significant quantities of data from modality equipment and image reporting activity from operational systems to be analysed to provide the answers to critical questions. Similarly, across wider clinical specialities and in central management functions it offers the potential to ask the right questions and gain substantiated answers to reshape the efficiency future of the modern health environment.
Interested to know more about AI?
Watch our webinar Embrace AI, don't fear it!
During the live discussion our thought leaders answer key questions on analytics and artificial intelligence:
What's the AI status compared to the hype?
How & where will AI most impact Healthcare?
How will we ensure the use of AI is a success?
Watch it now
Discover how big data insights helped your peers from emrad bring radiology reporting back in-house delivering 30% financial saving* on outsourcing.
Fill out the form below to read the case study or request a demo.