Dose Excellence
Improving dose management starts with a strategy.
The Dose Excellence Program provides insights and recommendations on integrating your leadership, practices and technologies into an effective, high-performance radiation management program. By comparing your current performance against industry guidelines and best/better practices, we can help you balance your dose management priorities throughout your hospital or across your entire healthcare system.
High performance radiation management programs occur at the intersection of three dimensions.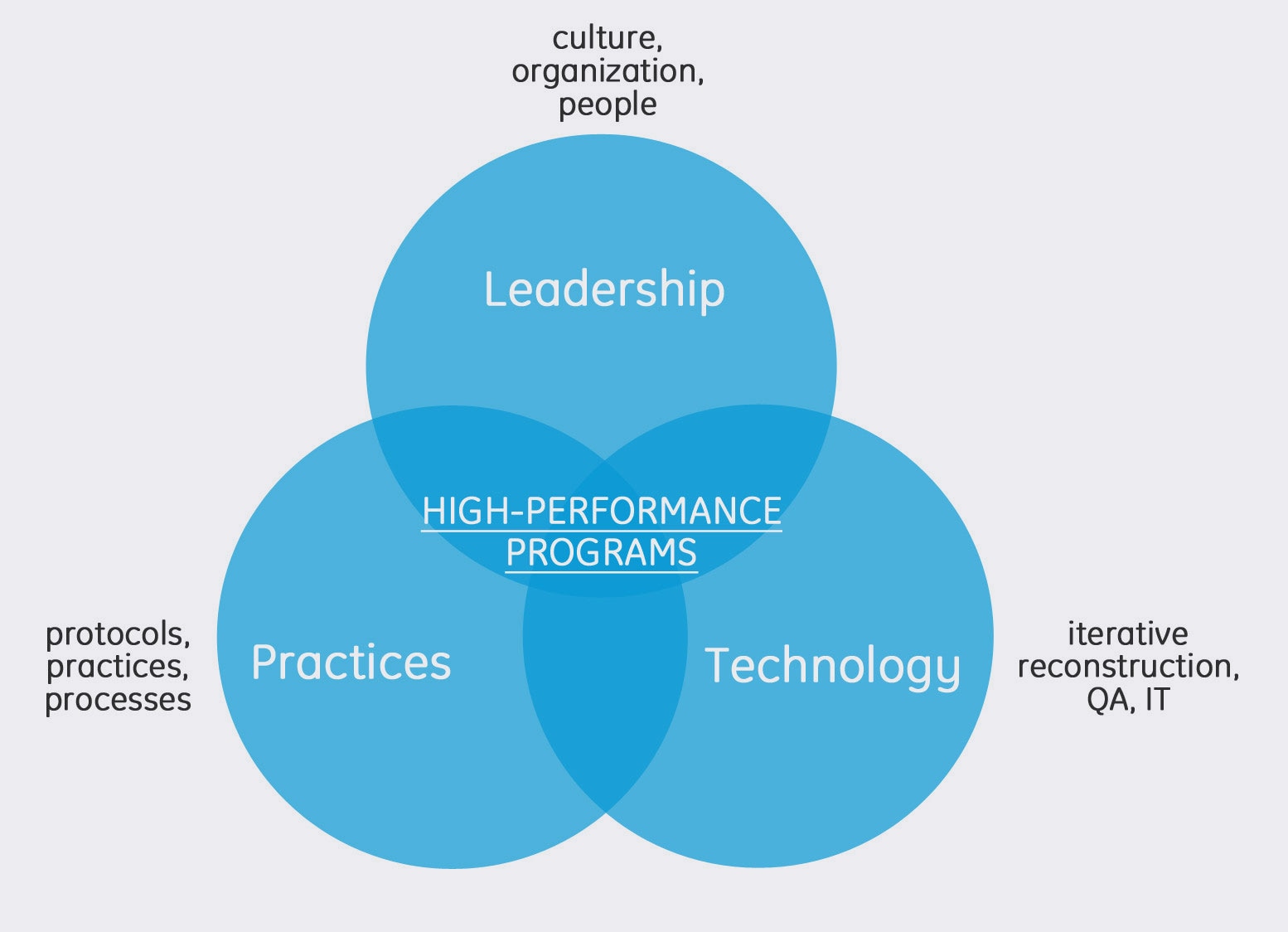 Where do you begin? By looking at your current radiation dose management processes with the Dose Excellence Program.
This comprehensive CT approach provides a starting point for radiation management program implementation:
Developed using industry guidelines, direct observations of best/better practices and GE-sponsored research
Consists of 87 elements along three dimensions of dose management: Leadership, Practices and Technology
Completed through an on-site interview process based on input provided by your staff
The Dose Excellence Program focuses on measuring your current radiation dose practices using data and analytics to identify opportunities and focus your efforts on fixing errors and helping you establish a quality improvement plan to deliver uncompromised imaging.

Step 1: Measure
Start with the basics of measuring radiation dose and benchmarking your current dose management processes.
Learn more >>

Step 2: Manage
Now that you have access to radiation dose data, what do you do with it? Understand the data and analytics so you can reduce unnecessary radiation by helping to ensure protocols, procedures and best practices are followed.
Learn more >>
Step 3: Optimize
Build a quality improvement plan that enables end-to-end optimization to deliver just the right dose for the right clinical outcomes every time.
Learn more >>
DoseWatch
One solution with integrated radiation and contrast dose management across all your radiation emitting medical devices.
DoseWatch is a enterprise-wide dose management solution designed to automatically collect and analyze patient radiation and iodine exposure across multi-facility, multi-modality, and multi-vendor imaging environments.1
DoseWatch Explore Overview
DoseWatch Explore is a web-based, cloud deployed, introductory dose management software to track, analyze and report practice-level data for GE CT systems. This software collects radiation dose data1 directly from your GE CT scanner, then summarizes and presents the data via a web application.

With this introductory offering you can start to make initial improvements around dose management to help drive changes in your organization that will ultimately improve patient care with respect to radiation doses.
Learn more about DoseWatch Explore >>
1. Contrast Data Mgmt. module collects contrast data automatically for class 4 integrated injectors for GE CT scanners only and is available for manual entry for other modalities connected to DoseWatch with the Contrast Data Management Module. Dose tracking for Nuclear Medicine is available for PET, PET/CT for single injection procedures only.
Dose Education
Dose Management Education to Help Meet Joint Commission Guidelines
By July 2015, hospitals and critical access hospitals must meet the Joint Commission's revised guidelines around safety training for imaging professionals. GE Healthcare educational offerings on dose management and radiation safety concepts will support advancement of staff knowledge and practices around radiation dose management to help you achieve the clinical goals of the Joint Commission guidelines and develop a strong dose management culture.
Dose Management Education - Online, Onsite, and Consultative
GE Healthcare educational offerings include online, onsite and consultative programs to build the foundational knowledge to help clinicians understand the importance of radiation safety and dose management, covering such issues as:
How does diagnostic imaging equipment work?
What are the measures of dose?
How are dose levels calibrated?
With this foundational knowledge, clinicians can more effectively answer the questions:
How can changing dose level and image parameters impact dose and image quality?
How can I image with less variance?
The Dose Excellence Program - Accelerate Cultural Change
The Dose Excellence Program is a coordinated program of consulting and educational services to help you accelerate improvement, from measuring and tracking radiation dose to managing it. Our experts will help you create a dose team, and customize a multi-step plan aimed at reducing variation, managing risk, streamlining reporting, and enabling quality imaging at the lowest dose possible.
GEs Commitment
GE Healthcare's commitment to Dose Management
At GE Healthcare we never stop working to maximize the benefits and clarity that medical imaging can bring to patient care. By seeking answers to the questions and challenges related to radiation exposure, we're using every possible resource - from technology to education to industry partnerships - to give providers the tools they need to achieve quality imaging outcomes at the lowest possible dose.
Learn more about Dose Management:
Dose Management Outcomes
PATIENT DOSE HISTORY

YOUR BEST DAY... EVERYDAY

PATIENTS ANSWERED

NO SWEAT EXECS

PASS THE AUDIT

PATIENT SIZE MATTERS

OPERATIONAL VISIBILITY

REFERRAL PROVIDER OF CHOICE
ECR Highlights
Your dose of ECR highlights
GE's 3rd annual dose and contrast management workshops had the honor to have several early adopters to share what can be the outcomes of a comprehensive approach aiming at optimizing radiation dose and contrast media utilization, as well as dose management in PET/CT.
Listen to Dr. Elizabeth Parizel speaking about the possible outcomes of comprehensive radiation and contrast media management strategy.
Listen to Dr. Kris Van Der Moortele speaking how administering patient-specific contrast volume can help standardize workflows and image quality across patients.
Listen to Pr Mika Teras speaking what are the outcomes of implementing a PET/CT dose management strategy.
Video Testimonials
DoseWatch: A Dose Management Solution

Introducing DoseWatch

Aunt Minnie's Award at RSNA 2015

Can Data and Analytics Help Lower Radiation Dose?

Cloud-Based CT Dose Tracking: Make the Invisible Visible

Our New Reality and A Culture of Change

2011 Dr. Hansell DoseWatch Video

Jean Marc Pinon, Imaging manager, Creil Hospital

Jean Patrick Lajonchere, CEO, Paris St Joseph Hospital

GE Healthcare: DoseWatch-Professor Gould, UCSF