AdvantageSim MD
---
Advanced simulation and localization software to help improve and streamline treatment planning.
In the era of advanced radiation therapy, the contouring of at-risk organs using multiple datasets showing anatomical, functional and metabolic or respiratory-induced motion information requires an environment and tools that facilitate productivity and accuracy. We make this possible with our efficient automated and manual tools and an intuitive user interface. Isocenter marking and beam planning tools are essential for quick and precise patient positioning, plan setup and efficient palliative and emergency planning cases.
AdvantageSim MD virtual simulation software automatically defines contours and volumes and determines geometric beam placement to improve accuracy and speed of planning for high-precision radiotherapy techniques. AdvantageSim MD's simulation tools provide the latest in simulation and localization technology improving productivity and accuracy.
Highlights
Multi-modality simulation: Efficient multimodality (CT, MR, PET) workflow offers additional information for accurate treatment plans all on one desktop.
Multi-phase simulation (4D): Review, contour and plan in one session.
Multi-organ auto segmentation: contour up to 15 critical structures in under 4 minutes.
DICOM-RT and IHE-RO compliance for seamless interoperability.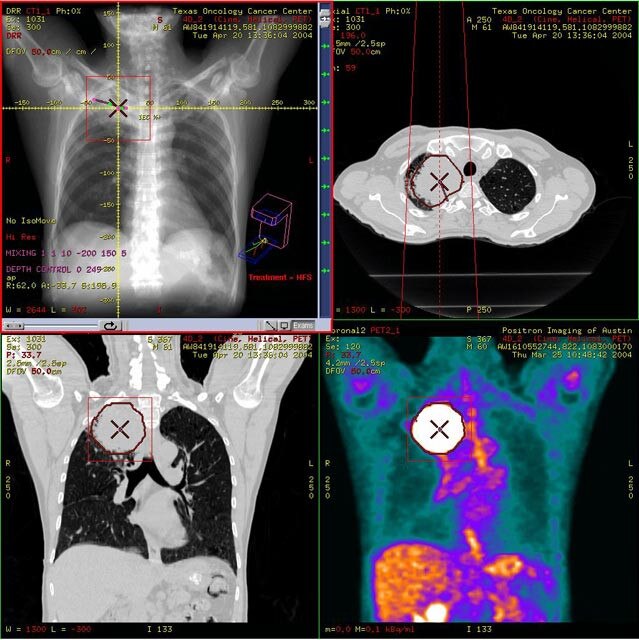 Features
Automated tools for workflow efficiency—now available in release 9
To reduce contouring time and improve consistency between operators, you can use these innovative workflow and drawing tools:

Automated CT Atlas-based contouring helps speed up delineation of structures and improve inter-operator variability
MR based pelvis organ segmentation designed to help speed up contouring and improve inter-operator variability
Automated re-planning helps adapt initial plan to follow-up CT to account for weight loss during the course of the treatment
Continued capabilities for efficient virtual simulation planning
With AdvantageSim MD, you can prepare geometric and anatomical data for external beam radiation treatment before dosimetry planning. Using a set of CT images of the patient in the proposed therapy position, you can automatically or manually define anatomical volumes.
You can utilize additional CT, MR, or PET studies co-registered with the CT scan to assist planning.
For advanced clinical functionality and flexibility, you can aid the CT simulation with these available options:

Multi-modality target definition
4D CT and 4D PET respiratory review
A suite of automated and semi- automated CT-based organ segmentation tools

You can take advantage of 3D contour interpolation that lets you define a full volume contour with a minimum of 3 contours in orthogonal planes.
The application lets you define and manipulate volumes with automatic thresholding tools, structure drawing (with or without Live Wire to pixel value gradients), and automatic interpolation. Beam placement is facilitated with the automatic isocenter placement and the beam's eye view (BEV) features.
The mouse-driven package has an easy to use, intuitive user interface.
With the touch of a button you can access pre-defined, configurable treatment plan templates, load geometry and field shapes from a palette of templates, and apply pre-defined action sequences for additional ease of use.
Modify contour and field definition parameters on the fly to tailor thresholds, margins, and display characteristics to individual patient data sets.
Use AdvantageSim MD independently of the treatment planning system to increase your workflow efficiency. The application can be accessed from a dedicated workstation, a networked client computer, or a compatible scanner console.
You can push completed plans to an RTP system in standard DICOM RT format. DICOM RT data can be received from DICOM RT compliant systems and re-simulated in AdvantageSim MD.
You can automatically remove the couch from the image volume for even greater efficiency.
The program's 3D based display and manipulation features give you full patient anatomy visualization.
Intended Use
Advantage Sim MD is used to prepare geometric and anatomical data relating to a proposed external beam radiotherapy treatment prior to dosimetry planning. Anatomical volumes can be defined automatically or manually in three dimensions using a set of CT images acquired with the patient in the proposed treatment position. Definition of the anatomical volumes may be assisted by additional CT, MR or PET studies that have been co-registered with the planning CT scan. Additionally, CT & PET data from a respiratory tracked examination may be used to allow the user define the target or treatment volume over a defined range of the respiratory cycle.
The geometric parameters of a proposed treatment field are selected to allow non-dosimetric, interactive optimization of field coverage. Defined anatomical structures and geometric treatments fields are displayed on transverse images, on reformatted sagittal, coronal or oblique images, on 3D views created from the images, or on a beam eye's view display with or without the display of defined structures with or without the display of digitally reconstructed radiograph.
Related Content
GEHC-Datasheet_AW-AdvantageSIM-MD

Download
Find More Imaging Software by Modality
Find More Imaging Software by Clinical Area