Advanced Breathing System
---
Innovation and Performance by Design
Today's anaesthetists demand products that perform efficiently, economically and safely. One critical component of that effectiveness is breathing circuit performance.
At GE Healthcare, our Advanced Breathing Systems (ABS) generated compelling results1 in a recent study. In 2008, clinicians in Toulouse, France investigated the agent wash-in and agent wash-out performance of breathing circuits on two anaesthesia machines, to benchmark efficiency and economy. Among the findings:
The response time and circuit kinetics of the Avance* ABS were found to be faster than Dräger Primus**.
Time to reach the target concentrations are statistically significantly shorter with Avance than with Primus on all saturation and washout profiles.
Avance, with a reduced volume breathing circuit (2.7 litres versus Primus' 4.5 litres) mainly through excluding manual circuit (balloon gas mixer) during mechanical ventilation; moreover tubular geometry of the breathing circuit generates less turbulences and allows faster sevoflurane saturation and washout.
1 Comparison of Saturation and Washout Kinetic Profiles for Sevoflurane in Two Ventilators: Bertrand Basset et al, ASA 2008; A782** Primus is a trademark of Drägerwerk AG & Co. KGaA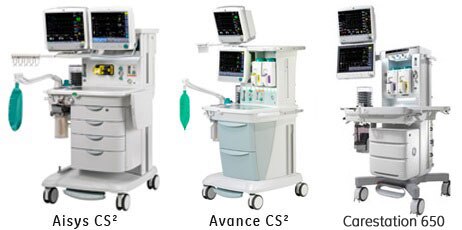 We've platformed the ABS across our family of anaesthesia systems, so whether you choose Aisys CS2 or Avance CS2 you know you're not compromising on the breathing circuit performance for your patient.