Optima™ MR450w GEM - 70cm
Caring design. Insightful technology.
---
Optima™ MR450w 1.5T with GEM Suite
The Optima™ MR450w with GEM Suite continues our emphasis on patient comfort without compromising quality or capabilities. It combines the benefits of wide-bore imaging with GEM, or Geometry Embracing Method, incorporating an approach to MR imaging that reflects the importance of conforming the geometry of the equipment and technology to that of the patients.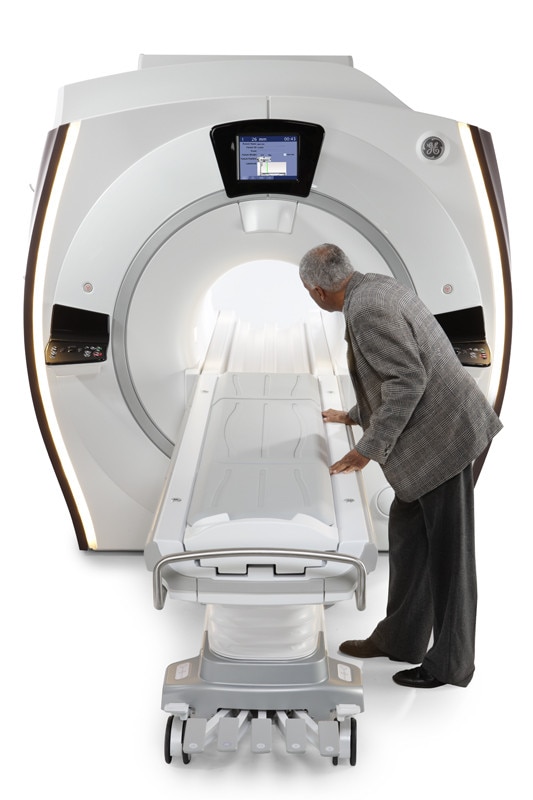 Built on a fully redesigned MR platform, the Optima™ MR450w offers:
OpTix digital RF system - signal digitization in the magnet room to help improve SNR.
50 cm usable FOV - accommodate larger patients.
High-fidelity gradients - optimized control of gradient performance to generate outstanding performance in demanding applications such as fMRI, cardiac, diffusion, and FIESTA.
Acoustic Reduction Technology (ART) - reduce acoustic noise for brain, spine, and MSK exams without compromising image quality.
MAGiC (Magnetic Resonance Image Compilation)

Click here to discover the MAGiC Experience


For the first time ever in the industry, you can generate multiple image contrasts in a single MRI scan including T1, T2, STIR, T1 FLAIR, T2 FLAIR* and PD contrasts of the brain in a single acquisition.

One scan that can do the work of many, with images acquired in as little as half the time to acquire separate sequences, fully integrated in a seamless workflow.

*It is recommended to acquire conventional T2 FLAIR images in addition to MAGiC.

View full image

MAGiC

Complete flexibility for multiple contrast changes

You can change the contrast of the image by manipulating TR, TE and TI even after the scan is completed and the patient has exited the MR room. MAGiC processing will provide you any desired contrast paving the way to new diagnostic capabilities.

MAGiC even goes beyond standard MR weighted images by processing raw data into parametric T1, T2 and PD maps.

Click here to discover the MAGIC Experience
Benefits
The Optima MR450w with GEM Suite enables you to achieve uncompromised, high quality MR imaging across a wide range of exams. Additional benefits include:
Patient compliance features – the wide bore diameter, feet-first imaging, Acoustic Reduction Technology, and the aesthetic and comfort-enhancing features of the GEM Suite help address common causes of patient anxiety and non-compliance during the exam.
Fewer stations, fewer fatsat failures, faster exams –  accomplish more exams in less time with the homogeneous Optima MR450w magnet.
High degree of signal clarity with OpTix digital RF.
Efficient workflow – High Resolution In-Room Operator Control (IROC), the GEM Express patient table with Intellitouch landmarking, the GEM Suite,  and new user interface features help save time on patient setup and exam prescription.
Features
Caring Design
Optima MR450w with GEM Suite features an innovative new design inspired by the metaphor of protection. With technologist workflow and patient experience in mind, key features include:
70cm Patient Bore – Bright inner bore lighting and a flared gantry lead to a comfortable, open experience.
High Resolution In-Room Operator Control (IROC) – Fast exam set-up with high-resolution color console mounted on the front of the magnet. Easy to see patient, system and scan information, and control and select parameters in real time right in the room.
Sleek dual-sided controls – Control the scanner from either side of the table. Simplify patient set-up with easy access to cardiac or peripheral gating leads and IV lines.
IntelliTouch Patient Positioning – Boost exam productivity with IntelliTouch patient positioning, by eliminating the need for laser alignment and reducing the steps to position patients in as little as 30 seconds.
LED accent lights – The parenthesis accent lights on the sides of the Optima MR450w enhance the overall aesthetic appeal of the system.
Insightful Technology
Magnet – Highly homogeneous magnet with a 50 x 50 x 50 cm field of view to cover more anatomy in fewer scans.
Digital RF (OpTix) – High channel count, analog to digital-optical signal conversion where it matters… inside the scan room to minimize noise and signal degradation.
Acoustic Reduction Technology (ART) – By employing both passive and active noise reduction technologies, Art reduces acoustic noise to improve the patient environment.
Non-contrast imaging – Perform high-resolution non-contrast lower extremity imaging with Inhance DeltaFlow, arterial and venous neuro imaging with 3D PC Inhance, quantitative perfusion imaging with 3D ASL, and consistent and reliable free-breathing imaging of the arterial and venous vasculature with Inhance Inflow IR. All without contrast agent.
Exceptional breast imaging – Thanks to applications like IDEAL and VIBRANT Flex, never before could MR capture so much so well.
Two-station whole-spine imaging – Acquire an entire spine in a fraction of the time – and with multiple contrasts.
3D Arterial Spin Labeling (3D ASL) – Generate full-coverage and high-SNR 3D image of the brain, an excellent choice for aiding with the diagnosis of cerebrovascular conditions.
A Sound Investment
GE ContinuumTM – A proven, 25-year track record of delivering additional capabilities to our customers as technologies evolve, without needing to replace the magnet.
Maximize Uptime – Maximize uptime with one of the world's largest and most experienced service forces, as well as InSiteTM OnWatch technology, which helps anticipate and resolve service needs without unscheduled down time.
Beyond radiology – Expand beyond radiology with the Optima MR450w which supports radiation therapy planning functionality.
GEM Suite

The GEM Suite is an integrated system that combines high-density RF surface coils and innovative software technologies designed to provide uncompromised image quality, improved workflow and increased patient comfort to minimize anxiety and motion.

Key features include feet-first imaging for all anatomies, flexible designs that comfortably embrace the patient, comfort tilt to improve brain and neck exam form, reduced exam times through fewer coil exchanges, and comfortable variable density padding design that minimizes pressure points. Each component of the GEM Suite can be used individually or combined for complete head-to-toe imaging.

GEM Express Patient Table - Redesigned with an integrated posterior array and variable density pad set, the detachable GEM Express patient table is designed to enhance patient comfort, enable set up outside the exam room, and quickly extract patients in emergency situations. 
GEM Posterior Array - Embedded high-density posterior array with optimal coil element geometry that enhances spine, abdomen, cardiac, and lower extremity scanning.
GEM Head and Neck Units - Consisting of four imaging components (a head base-plate, an anterior neuro-vascular face-array, the GEM cervical array, and the open face adaptor), the GEM HNU units may be positioned at either end of the table to support feet-first or head-first imaging. The open-face design provides a patient-friendly, open feel to minimize visual obstructions. For c-spine imaging, the base plate may be used with the innovative GEM cervical array, or with the open face adapter to accommodate large or claustrophobic patients.
Comfort Tilt - Elevates the superior end of the GEM head and neck units and is designed to improve comfort while enhancing image quality by positioning the anatomy closer to the coil elements.
GEM Anterior Array - A lightweight, flexible, thin and pre-formed array to embrace patients' various sizes and shapes. With 54 cm of S/I coverage, the anterior array permits upper abdominal and pelvic imaging without repositioning the patient and supports parallel imaging in all 3 planes.
GEM Peripheral/Vascular Array - A high-density PV / lower extremity array that facilitates imaging of the thighs and lower legs with parallel imaging in all 3 planes. The coil incorporates an innovative self-supporting hinge design between the upper and lower elements to accommodate patients of various sizes with simplified set-up.
SIGNA Pulse of MR
SIGNA Pulse of MR is published semi-annually by GE Healthcare and is designed to bring you the latest in MR news, clinical value, technical innovation and industry issues.
Don't miss another issue of SIGNA Pulse of MR!
View the latest issue or browse archived issues on our SIGNA Pulse of MR page.
Sign up for a complimentary subscription to SIGNA Pulse of MR!
Go Digital! Download the free SIGNA Pulse of MR App at either the Apple Store or Android Market or www.amazon.com. Now available as an application at no cost for either your Apple iPad or iPhone, Android mobile devices, or on your Kindle, the digital version of SIGNA Pulse of MR allows you to browse the latest news articles or look back through archived issues with the touch of a button.