Testimonial with The Centre Hospitalier Régional Universitaire (CHRU), Nancy (France)
Embolization is defined as the therapeutic occlusion of a vascular lesion using embolic agents. In practice, embolization is an image guided procedure using a microcatheter to reach and occlude abnormal blood vessels. Such technique has been developing for many years to treat intracranial vascular lesions.
Today, innovations in interventional radiology (IR) to assist with embolization procedures are being built to increase confidence and widen the range of diagnostic treatment planning for patients. Earlier treatments through keyhole or catheter guided tools offer many advantages to the individual and healthcare institution such as faster recovery times, lower length of stays in hospital, minimised risk of infection, lower or no use of general anaesthetics and less scarring.
Pioneering the simulated planning of brain AVMs procedure
The Centre Hospitalier Régional Universitaire (CHRU) located in the city of Nancy is a university hospital, in the north eastern region of France. It employs 9,000 professionals and welcomes over 700,000 patients per year for a range of multi-disciplinary procedures. It has been pushing the boundaries of protocols by pioneering the use of a new solution supporting multi-organ embolization procedures.
Professor René Anxionnat, Head of the Department of Neuroradiology at CHRU and his team are proud to pioneer new techniques via the partnership with GE Healthcare. He states, "The most common interventional therapies in neuroradiology are the occlusion of intracranial aneurysm - a bulge in the vessel in the brain - and stroke thrombectomy - removing blood clots via a catheter to help restore blood flow to the brain. We treat around 200 aneurysms and perform around 300 thrombectomies per year. We also treat other rarer but more complex neurovascular lesions such as spinal cord and cerebral arteriovenous malformations (AVM), and arteriovenous fistulas."
AVMs of the brain are made of a tangle of abnormal blood vessels, named the nidus, interposed between arteries and veins instead of normal capillaries. The main risk is the bleeding of the AVM. Treatment of AVM is complex and it includes different techniques that can be combined such as surgery, radiosurgery and embolization.
"AVMs are very complex pathologies made of very small and fragile vessels located in a highly functional organ, the brain, so embolization is very complex and requires high technicity," explains Professor Anxionnat. "AVMs may be revealed by a bleeding and thus are treated to prevent recurrent haemorrhage. But they also may be fortuitously discovered on MRI examinations and treatment must be carefully discussed in multi-disciplinary consultations – where the risk and benefits have to be balanced on a case-by-case basis."
"Interventional angiography systems with 3D capabilities are essential to precisely analyse the angioarchitecture of the AVM and its relationship with the surrounding brain. This angiographic analysis coupled with an MRI examination enables a good assessment of risks associated with treatment, and answers many questions such as: Which arteries feed the AVM? What are the veins that drain the malformation? What are the relationships between the arteries, the veins and the cerebral parenchyma? This understanding is fundamental before starting any treatment to ensure the best possible outcome for the patient," he continues.
Plan, guide and assess embolization
Ongoing innovative advances in IR mean that new software solutions can now work with the angiography systems to plan, guide and assess embolization procedures. This simulates the course of action, to ensure accuracy and confidence before putting the patient into a clinical procedural situation. Embo ASSIST with Virtual Injection helps clinicians simulate injections dynamically using 3D visualisation to plan and perform embolization procedures with confidence. It potentially reduces the number of DSA acquisitions to analyse the complex vasculature, saving time, contrast and radiation dose to patients.
"The first observation with using Embo ASSIST is how intuitive it is. This is very important for us as having it simple and fast is vital as we concentrate on the treatment. For planning purposes, it allows us to virtually see what vessel we are going to navigate to and to anticipate how far we will need to go to position the microcatheter in the right place. This gives us some anticipation of the procedure before the actual embolization. It helps us to better understand the anatomy and architecture of the malformation and to plan the endovascular treatment strategy," adds Professor Anxionnat. "Embo ASSIST is also crucial during the course of treatment, by showing very precisely the microcatheter navigation inside previously selected arteries feeders to the AVM."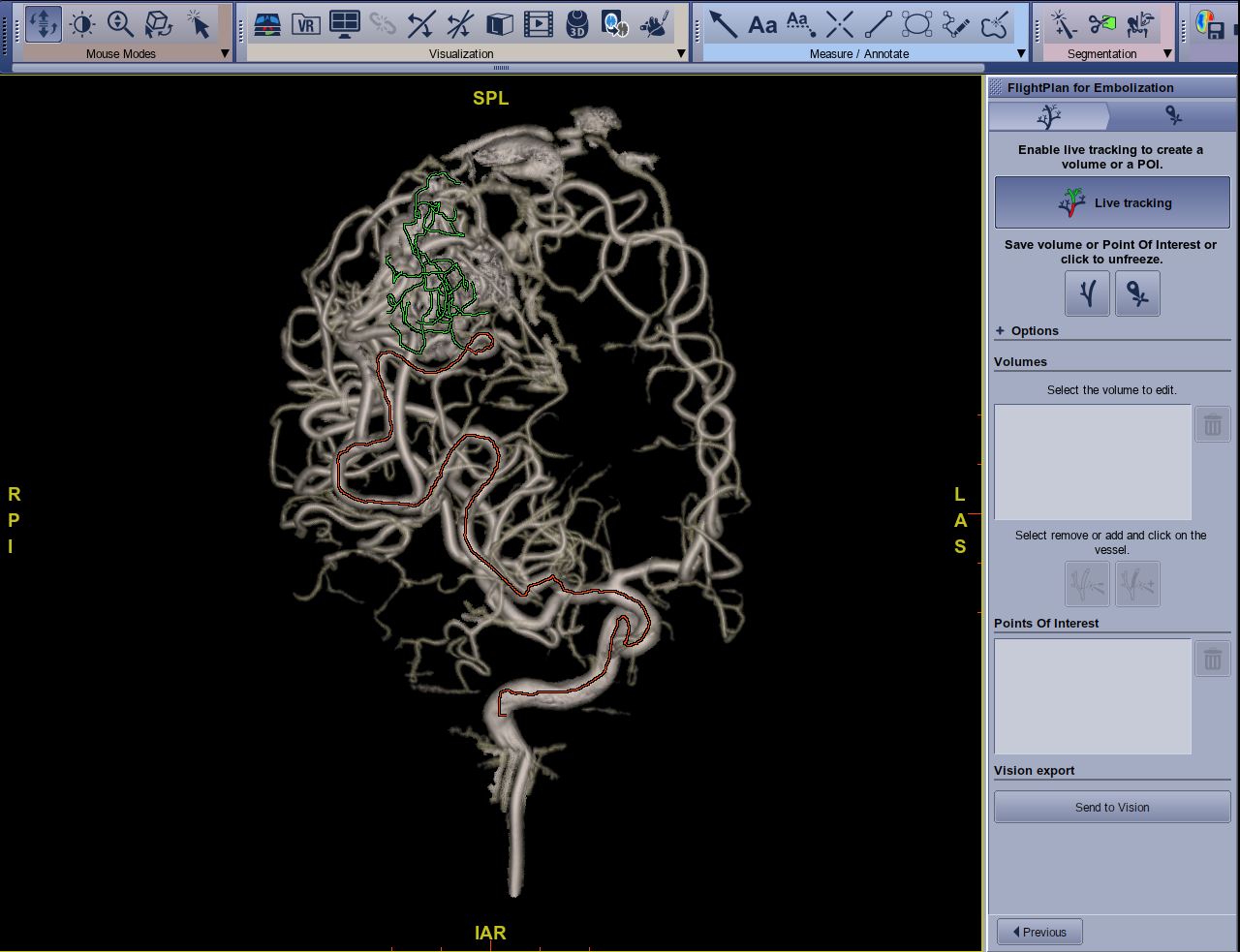 "The overall key benefit of Embo ASSIST is to increase confidence when undertaking complex neuro embolization. Thanks to the unique simulated injection technology, the identification of the vessels to embolize is facilitated, contrast injection and radiation dose are reduced, resulting in an efficient embolization procedure"
Clinical and technological partnerships furthering the advancements in IR
"Our scientific collaboration with GE Healthcare has been going on for more than 25 years. Nancy University Hospital was the first site to use 3D angiography in clinical neuroradiology, delivering huge advancements in our understanding and treatment of aneurysms. Our ongoing close collaboration with GE Healthcare has helped develop the tools behind Embo ASSIST for AVMs and a wide range of vascular diseases. This helps to plan our treatment more precisely and to improve clinical outcomes for our patients. This development will cascade to other hospitals across Europe," concludes Professor Anxionnat.
Embo ASSIST solution includes FlightPlan For Embolization, Vision 2, VesselIQ Xpress, Autobone Xpress and requires AW workstation with Volume Viewer, Volume Viewer Innova. These applications are sold separately. Not available for sale in all regions.
The statements by GE's customers described here are based on their own opinions and on results that were achieved in the customer's unique setting. Since there is no "typical" hospital and many variables exist, i.e. hospital size, case mix, etc.. there can be no guarantee that other customers will achieve the same results.