What is Edison Analytics ?
Thanks to Edison solve your most significant challenges and achieve sustainable clinical, financial and operational outcomes.
With the help of GE Healthcare's analytics solutions and professional services, you'll focus your efforts at running at peak performance to thrive in an increasingly complex, competitive and value-based world.
Success-enabled.
Results-driven.
Real-world analytics insights for sustainable outcomes.
Flexible, easy to use, web-based analytics framework.
Design to attract and analyse big data across your healthcare systems.
Health data management services
To capture, validate and enrich health data originating from medical devices and IT solutions.
Ready-to-go analytics apps with dashboard
To help transform data into actionable insights to drive outcomes
Ready-to-go analytics apps with dashboard
To help transform data into actionable insights to drive outcomes
Performance improvement services
Drive adoption, recommend changes and sustain improvement.
Imaging: Radiology and
Cardiology Analytics
Edison help address some of the biggest challenges in imaging and radiology workflow and cardiology care.
The imaging cycle includes identifying patient data, conducting the imaging exam according to the proper protocols and then streamlining. Insights into the full imaging cycle from start to finish can help organisations be nimble in identifying and eliminating inefficiencies, gauging performance and reducing costs.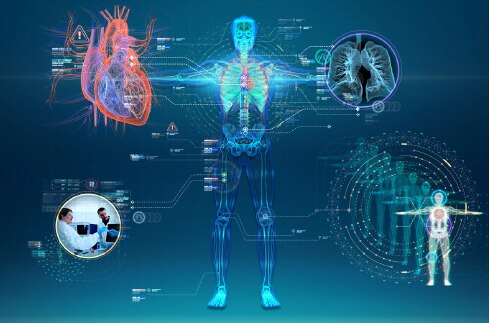 Analytics solutions for clinical imaging and cardiology care include:
Edison for Imaging and Vendor Neutral Archive.
Harness the power of your patient imaging data to optimise imaging department operations. Key dashboards and performance indicators may include:
Procedure analysis, exam duration and total exams by station name, analysis of utilization by site and modality to provide insights into new equipment purchases or redeployment.
Studies by hour to better understand the time distribution of studies performed and read throughout the day.
Scheduling information such as exam late starts to explore process improvement opportunities.
Cardiology Operations Effectiveness Software
Optimise cardiology service line operations by helping improve efficiency, financial performance and patient care. Key performance indicators may include:
Procedure volume to help improve staff allocation, physician procedure volume, productivity and capacity
Participant totals to support accreditation, staffing allocation and training efforts by understanding staff utilization per case and variation of procedure types per staff member.
Imaging Analytics Dashboard
A real-time analytics dashboard that helps transform your department productivity and patient satisfaction. These analytics include:
Data aggregation from health information systems that help you keep up with pending workflow steps across RIS, modality, PACS and dictation or VR systems.
Metrics and alerts on emerging delays in the workflow – from physician's order to patient scan and subsequent interpretation steps.
Productivity dashboard to help identify operational bottlenecks from aggregated data with a broad set of operational metrics.
Care Delivery
Management Analytics
Identify, prioritise and execute lasting improvements and drive sustainable change across your care delivery organization, including Cardiovascular care, Perioperative and Anaesthesia and quality environments.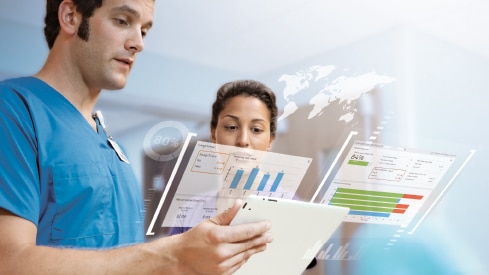 Analytics solutions for care delivery management include:
Ready-to-Go Apps for Multiple Care Areas:
OR Materials Management Optimization
Service line optimization analytics for Cardiovascular, Anaesthesia and more
Analytics application and dashboard development services
Achieving sustainable outcomes requires access to accurate, easy-to-understand insights that help users take the right actions.
Why Edison from GE?
Why Edison from GE?
Healthcare Data Management Services
Professional Services from GE Healthcare can help you move more quickly, gaining greater insights from your existing data to optimize performance and reduce costs. The GE Healthcare team applies deep expertise to the analytics framework and the GE Healthcare portfolio of products to help you assess, plan, design and implement analytics solutions.
Professional Services address specific challenges in three key areas:
Data Management Services to capture, cleanse, validate and maintain data
Tailor-fit analytics application and dashboard development services
Performance improvement consulting for sustainable results