Centricity™ Cardio Workflow
Comprehensive workflows bring order to a complex care area
Centricity™ Cardio Workflow offers a comprehensive collection of tools for all data and information management in the cardiovascular department. It helps facilitate registry workflow, streamlines inventory management, automates billing, creates clinical reports, and runs clinical and administrative queries.
Centricity Cardio Workflow transforms the physician reporting experience that helps physicians spend less time at the computer and spend more time on what matters most…the patient.
Side-by-side reporting to help save clicks and easily view the report while you are documenting
Quick reports to help document typical results in just a few clicks
Visual indicators to help guide users to compliant documentation needed for billing and accreditation purposes
Complete reports in just a few clicks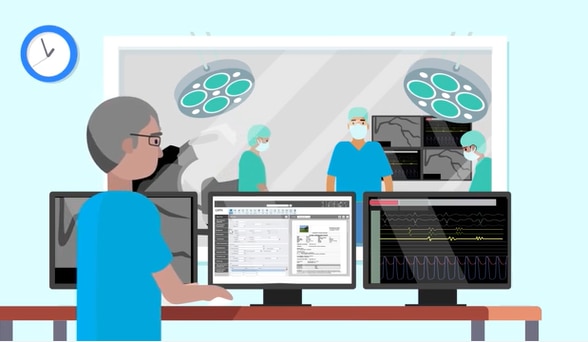 Cath-lab 5 click reporting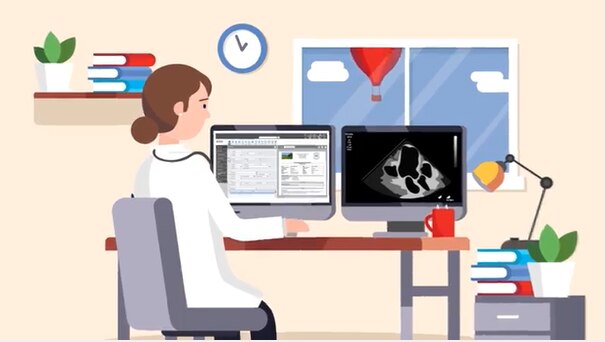 Echocardiogram 6 click reporting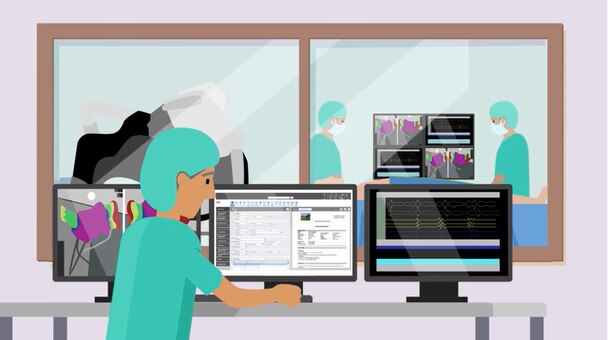 Electrophysiology 6 click reporting
Centricity Universal Viewer
A web-based image viewer that connects to the Cardiovascular Picture Archiving and Communication System (PACS). Anytime, anywhere² access to diagnostic images and tools.
Centricity Universal Viewer provides advanced visualisation and quantification tools for cardiac images, offering a single PACS workstation for the following:
Coronary and Vascular Analysis
Volume Analysis
Echo measurement and analysis such as 2D strain, 3D and 4D visualisation
Stress Echo Analysis
Advanced 3D/4D Echo Analysis Tools
Advanced measurement tools for CATH procedures
Stenosis Analysis
Ventricular Analysis
Vascular Ultrasound Review & Measurement Module
Connectivity with GE Healthcare MUSE™ ECG Management System
Embedded remote access to GE Healthcare's EchoPAC Plug-In software and TomTec-Arena™.
Learn more
Centricity Universal Viewer Zero Footprint
A Zero Footprint Viewer to help improve communication and collaboration. Centricity Universal Viewer Zero Footprint (ZFP) is a web-based image viewer that provides clinicians enterprise-wide and community-wide access to patients' medical images and reports from anywhere² on the user's device of choices³.
The organisation's IT leadership and staff benefit from:
Zero installation with no download of any software on the user's device, no administrative rights required to access software, no patient data left behind on the device – helping to decrease reliance on IT staff for use and making patient care efficient
The ability to leverage a single viewing station on your vendor-neutral archive (VNA) – from single department DICOM to enterprise-wide multi-ology systems with DICOM and XDS content
Capabilities that enable secure access to images with your Electronic Medical Record (EMR), Hospital Information System (HIS) and Radiology Information System (RIS), as well as stand-alone access
Centricity Clinical Archive4
A Vendor Neutral Archive (VNA) solution that enables seamless image and document access and consolidation.
Centricity Clinical Archive (CCA)4 is an open architecture vendor-neutral archive solution that unifies and intelligently manages patient data, medical images and enterprise content. Built on IHE – XDS and DICOM-compliant industry standards, CCA enables seamless connectivity among disparate systems across multiple archive systems, specialties and facilities. CCA leverages the power of Centricity Universal Viewer ZFP client, to enable rapid sharing and access to patient's longitudinal history from anywhere2 whenever it is needed.
Learn more
1. Centricity Cardio Enterprise is comprised of Centricity Universal Viewer and Centricity Cardio Workflow.
2. Where an internet connection is available.
3. Refer to the list of supported devices and supported browsers in the technical information section of the product datasheet.
4. Centricity Clinical Archive includes the following product components: Centricity Enterprise Archive, Centricity Universal Viewer ZFP, XDS Registry, Centricity Clinical Gateway, NextGate MatchMetrix EMPI, and Lexmark PACS Scan™.