Dose

NM Dose Reduction


The ability to enhance image resolution while reducing your patient's dose.

Exclusive Evolution Technology changes the relationship between time, dosage and image quality by allowing you to reduce time or injected patient dose up to 50 percent in most scanning procedures while maintaining excellent image quality.

Dose management technologies for the Optima NM/CT 640:

A new CT detector was designed with low dose in mind. Thanks to this innovative low-dose technology, the Optima NM/CT 640 delivers exceptional CT images at less than half of the dose compared to conventional slow rotation CT's1.

Learn more about GE's Blueprint for Low Dose.

1. Measurements compared to Infinia Hawkeye 4 with factory reference hybrid imaging scan conditions.

Increased Productivity

Your ability to see further is only surpassed by your ability to do more.

Acquisition speed that drives efficiency. Advances in acquisition speed and CT technology deliver a sound investment for facilities looking to maximize performance. Advanced robotics and fast CT imaging significantly reduce hybrid scan duration - contributing a reduction of about 5 minutes for the hybrid scan duration on this system relative to Infinia Hawkeye 4.

Outstanding Image Quality

Fast Rotation CT Demo


Improving your vision can help enhance patient care.

A leap forward in detector design, the Elite NXT detector sets new standards in image quality. Ultra-thin design and new auto-body contouring minimize the distance between the patient and the detectors for improved resolution while SPECT-optimized collimators and high count rate give extremely precise event detection.

CT rotation speeds as fast as 1 second on the Optima NM/CT 640 help reduce the likelihood of motion artifacts.

Advanced Applications

The tools to transform data into accurate diagnoses.

The Xeleris processing and review station delivers the power and versatility to help you diagnose, investigate and treat entire categories of disease. It integrates new and existing nuclear medicine equipment, including legacy GE and non-GE devices. Designed to provide consistent results and enhanced workflow, Xeleris keeps you connected to your images and applications from PACS and PCs within your institution and remotely.

The Optima NM/CT 640 also feature Volumetrix MI, which allows you to precisely align SPECT, PET, MR and CT scans to enable high diagnostic confidence. Volumetrix MI also utilizes advanced motion detection and correction algorithms to give you the flexibility to register and display in 3D single or multiple SPECT and hybrid SPECT/CT scans.

Plus, Volumetrix 3D gives you an easier way to review hybrid data sets due to volume rendering, segmentation and fusion of SPECT studies with MR or CT scans.

Learn more about Xeleris 3 and Volumetrix MI and how these applications help transform data into accurate diagnoses.

Lasting Value

An ability to discover that can grow along with your need.

Be confident in your investment. The Optima NM/CT 640 can be upgraded in your imaging suite so you can expand your services to meet the changing needs of your practice.
Tour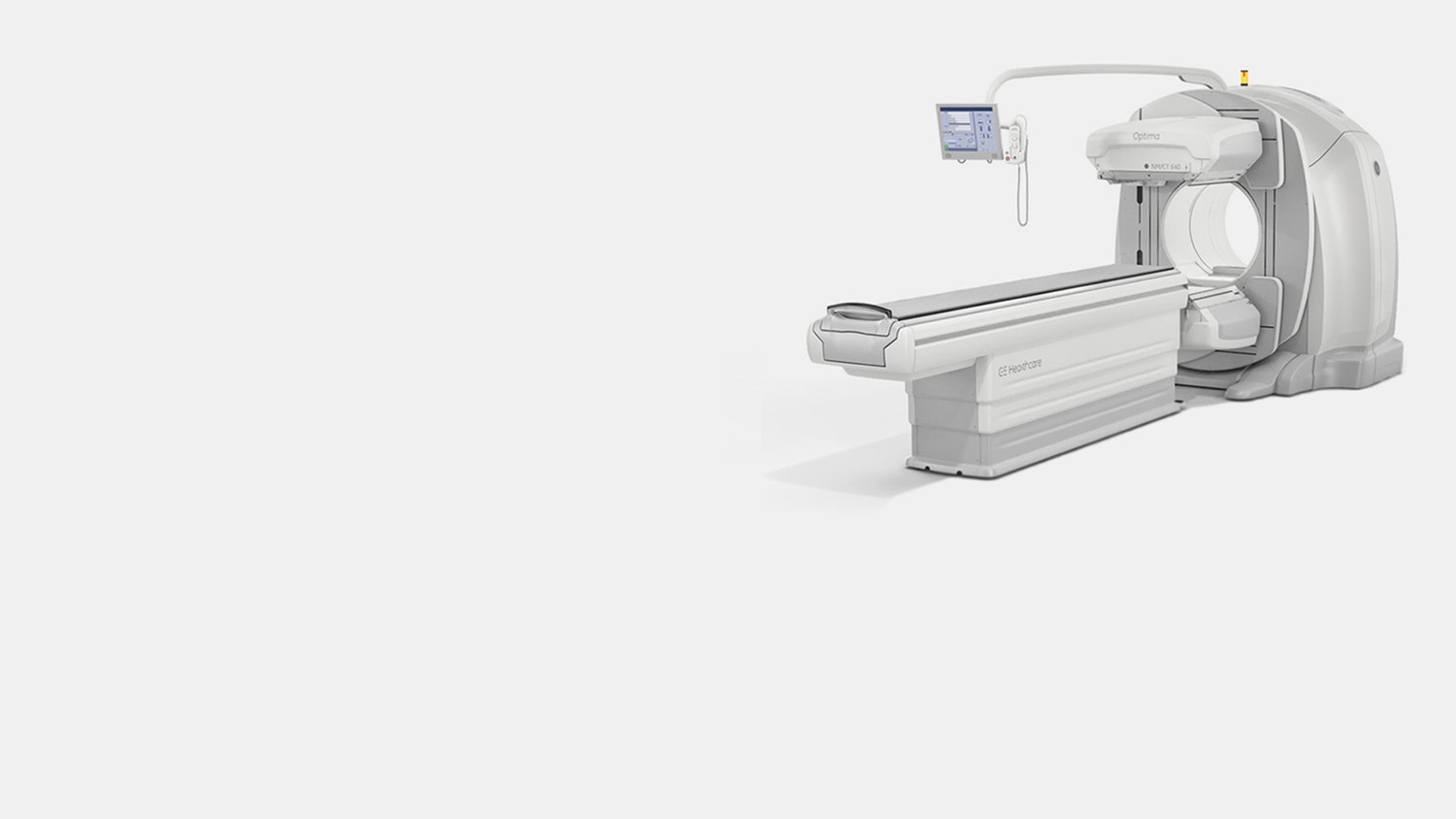 Gallery
Optima NM/CT 640

Optima NM/CT 640

Optima NM/CT 640