For patients with suspected cardiac disease, molecular imaging (MI) continues to be one of the diagnostic industry standards trusted by clinicians. i-v
From the original gamma camera and Single Photon Emission Computed Tomography (SPECT) to the latest in Positron Emission Tomography (PET), MI modalities are some of the leading non-invasive imaging techniques that can provide cardiac functional and flow data needed by clinicians for accurate diagnoses of heart disease. 
SPECT and PET techniques used for myocardial perfusion imaging and quantification of myocardial blood flow measurements have begun to be widely incorporated into clinical practice. The additional diagnostic value of these measurements has been shown to improve the identification of obstructive coronary artery disease.ii 
When planning to upgrade or expand cardiology imaging services, advances in both SPECT and PET technologies, as well as the most recent industry best practice recommendations should be reviewed so that you can plan for sustainable MI cardiac imaging solutions that will serve your patients well into the future. 
At GE Healthcare, we've developed a helpful guide that provides a summary of recent technology innovations in MI cardiac imaging, as well as the recommended industry best practices for their use. Specifically, in the guide you will find:
Key Criteria in MI Cardiac Technology, for both SPECT and PET imaging

Information on the role of MI Cardiac Tracers

New Growth Procedures in MI Cardiology

Five areas of exploration to decide if you need to upgrade your Cardiac Solution

Types of MI Cardiac Equipment options available

Leading manufacturers of MI Cardiac equipment

How to evaluate a system for MI Cardiology
Buying MI cardiac SPECT, SPECT/CT or PET/CT systems can be a sizeable financial investment, so it's important to understand the innovations and considerations as you evaluate the best options for your needs. 
We hope you find this guide of use in learning more about MI Cardiac technology.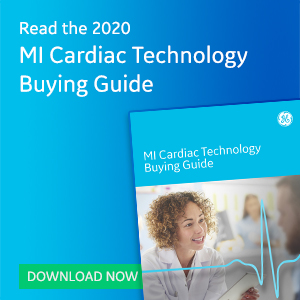 Click HERE to download the guide now.
____________ 
i Brodov, Y., Gransar, H., Dey, D., Shalev, A., Germano, G., Friedman, JD., Hayes, SW., Thomson, LE., Rogatko, A., Berman, DS., Slomka, P. Combined Quantitative Assessment of Myocardial Perfusion and Coronary Artery Calcium Score by Hybrid 82Rb PET/CT Improves Detection of Coronary Artery Disease. J Nucl Med September 1, 2015 vol. 56 no. 9,1345-1350. 
ii Slomka P, Berman DS, Germano G. Myocardial blood flow from SPECT. J Nucl Cardiol. 2017;24(1):278–281. doi:10.1007/s12350-015-0386-y. 
iii Abbott, B.G., Case, J.A., Dorbala, S. et al. Contemporary Cardiac SPECT Imaging-Innovations and Best Practices: An Information Statement from the American Society of Nuclear Cardiology. J Nucl Cardiol. (2018) 25: 1847. https://doi.org/10.1007/s12350-018-1348-y. 
iv Driessen RS, Raijmakers PG, Stuijfzand WJ, Knaapen P. Myocardial perfusion imaging with PET. Int J Cardiovasc Imaging. 2017;33(7):1021– 1031. doi:10.1007/s10554-017-1084-4. 
v Timothy Bateman, Vasken Dilsizian, Rob Beanlands, E. Gordon DePuey, Gary Heller and David Wolinsky. ASNC/SNMMI Position Statement on the Clinical Indications for Myocardial Perfusion PET J Nucl Med jnumed.116.180448 published ahead of print August 25, 2016(10.2967/ jnumed.116.180448).