QUANTITATION
Leading absolute quantitation in nuclear medicine
Xeleris 4 DR is leading the way from relative to absolute quantitation in nuclear medicine with the numerical values referring physicians demand to strengthen the quality of your nuclear medicine reports. Until now, the quantitative value of nuclear medicine was limited by the technology used to produce it. By leveraging our next-generation camera technology, we developed a collection of simplified tools that combine relative and absolute quantitation.
I

Effortless quantitative tracer uptake across any lesion or organ with Q.Volumetrix MI

I

Accurately diagnose neurodegenerative diseases with Q.Brain

I

Diagnose pulmonary embolism by identifying V/Q mismatch with Q.Lung

I

Confidently classify patients eligible for lung resection surgeries with Q.Lung
I

Leverage the power of CZT to calculate blood flow measurements with Alcyone CFR

I Improve neurologic SPECT workflow with fast, reproducible and accurate quantitation of 123I-loflupane SPECT data with DaTQUANTTM
I

Plan radioisotope therapy by measuring changes in tracer absorption over time with Dosimetry Toolkit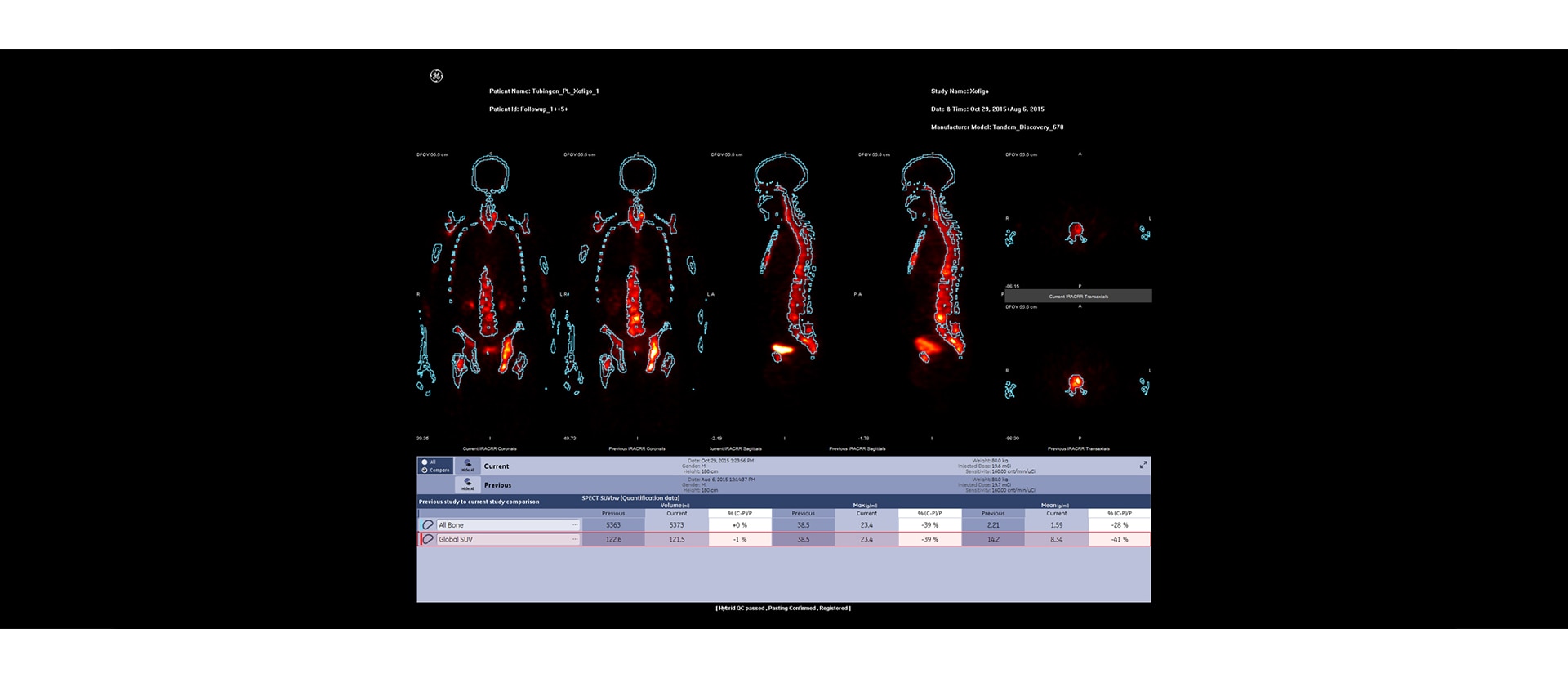 Q.Volumetrix MI
Quantitation in sync with how you work
Q.Volumetrix MI is the quantitative addition to Volumetrix MI, a processing and reading application that works across modalities and with hybrid imaging. It combines reading, segmentation and quantitative ability in a single application, which can help make SPECT quantitation more routine.
Q.Volumetrix MI quantitates tracer uptake across any lesion and any organ. Utilizing advanced reconstruction with attenuation, scatter and resolution compensation, it provides routine quantitative results without impediment for both base line and longitudinal studies. Enhanced SPECT and CT 2D and 3D segmentation tools make uptake calculations easy for lesions, organs and any other volume of interest.
Volumetrix MI alone delivers clarity, choice and convenience by incorporating two powerful software packages: Volumetrix 3D and Volumetrix IR. This combination allows you to perform multiple types of procedures using only a single application. Now, with these two software packages working together with Q.Volumetrix MI, you get improved image clarity, the choice of an external CT to enhance SPECT studies and all the convenience of optimized registration and quantitation.
Measure treatment response with empirical values

Personalize treatment with accurate assessment of disease progression

Reduce 'clicks' by 37 percent on average

Save up to 31 percent of your clinicians' time with a streamlined workflow
Q. LUNG
Pulmonary embolism has finally met its match
SPECT/CT is a highly sensitive and specific diagnostic tool for the assessment of pulmonary embolism, chronic obstructive pulmonary disease, emphysema and other lung deficiencies. It is a low-dose alternative to CTPA with no contrast related complications and it is more accurate than planar VQ studies. With SPECT/CT, we can reduce the overall radiation dose by 80 percent and up to 96 percent for breast tissue, when compared to a CTPA. Additionally, hybrid imaging increases the sensitivity to 97 percent and specificity to 100 percent.
The greatest result of all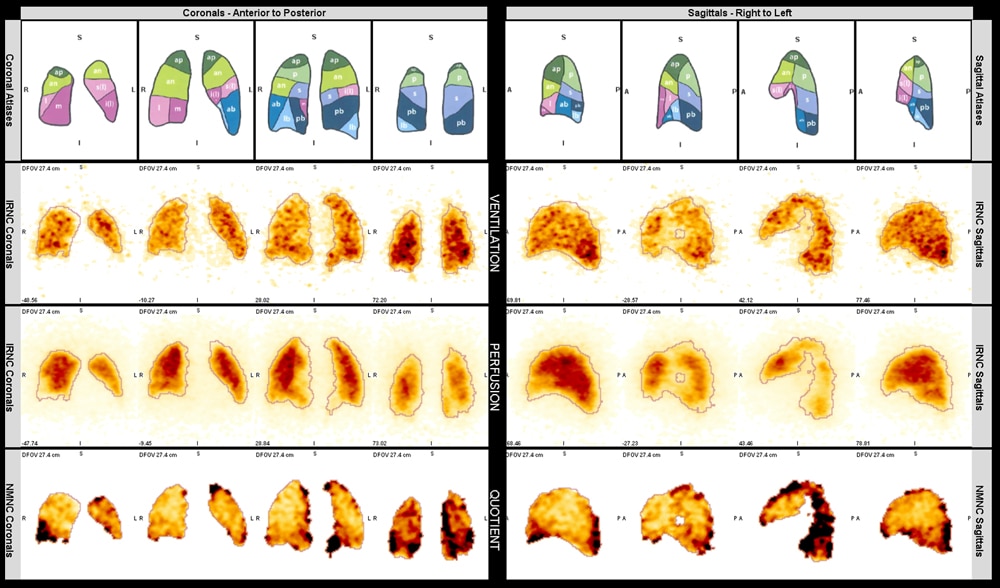 With Q.Lung, you can now accurately display both ventilation and perfusion integrated with the lung atlas in an easily interpretable review screen, which can be customized to your reading preferences. It also helps to easily identify uptake mismatches and automatically calculates its quotient for a more effective way to diagnose pulmonary embolism. It's a valuable tool to help reduce the 5-10 percent of preventable hospital deaths annually attributed to the misdiagnosis of pulmonary embolism.
Plan for the future of a lung's function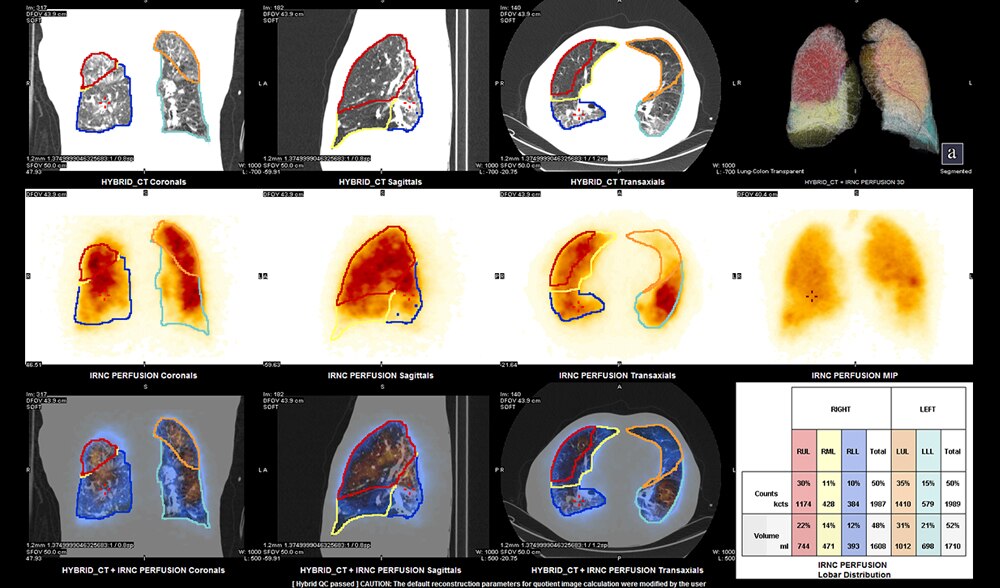 For important procedures like lung resection, a reliable assessment of post-operative lung function is essential. With 1.5 million lung cancer deaths a year, uncertain estimations provided by current planar imaging techniques are not enough. It's the difference between successfully performing a life-saving procedure and denying that procedure to a good candidate.
Results that matter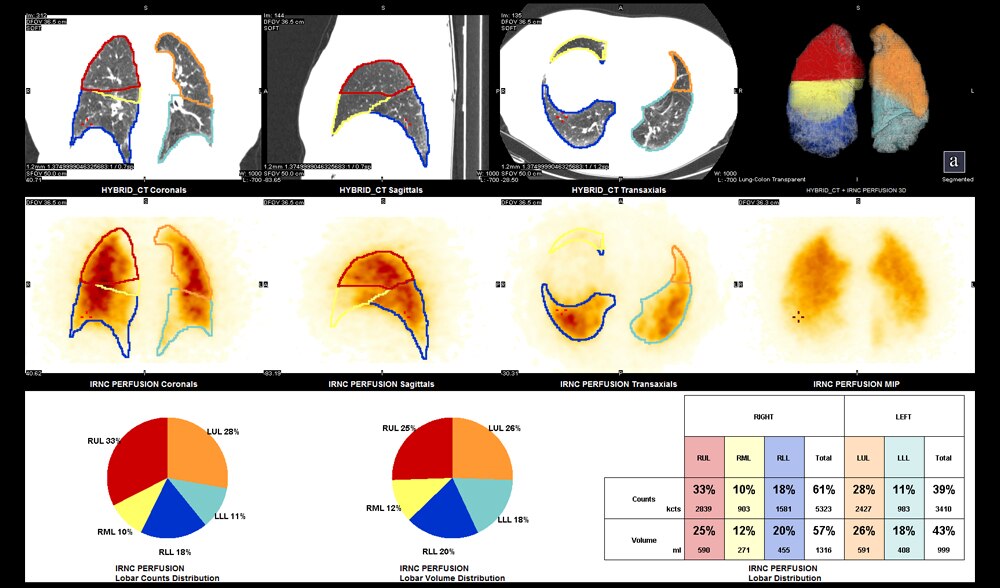 Breakthrough SPECT/CT technology provides a more accurate assessment of lobar perfusion. Q.Lung combines both anatomy and function with new automatic segmentation tools that help accurately quantitate lobar perfusion relative to the rest of the lung anatomy. The result is a more accurate evaluation of ppoFEV1 to confidently inform the outcome of segmentectomy, lobectomy or full pneumectomy.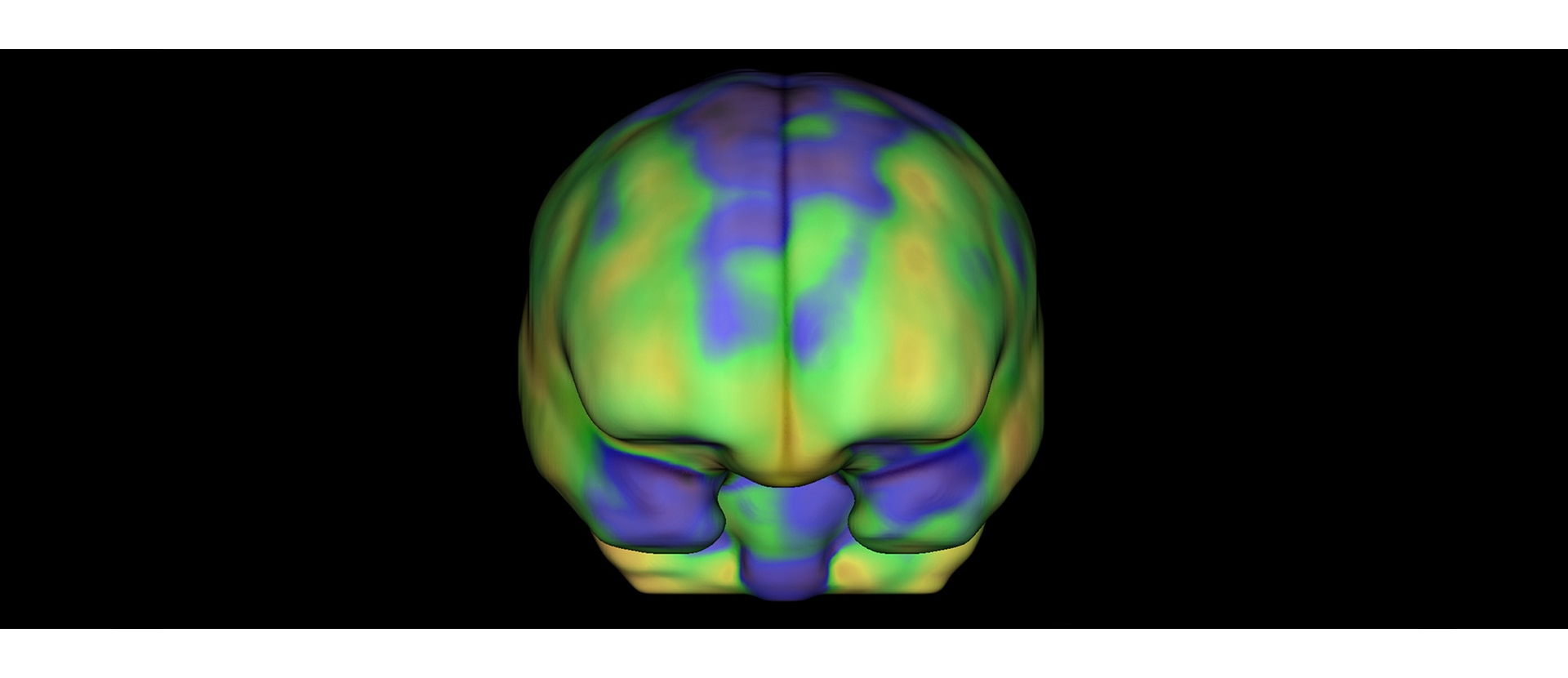 Q. BRAIN
Assurance for neurodegenerative care
Establishing care early and accurately can lessen the burden and cost of neurodegenerative disease. Patterns are an important part of differential diagnosis, so the more sensitive an imaging device and its advanced processing application is at detecting and visualizing patterns, the more quickly patients can be put on the correct treatment pathway. Q.Brain standardizes individual brain shapes through registration to a standard atlas while preserving functional information. Numeric uptake values are added to reports and compared to a normal patient database since visual inspections or volume-of-interest techniques may not be sufficient for accurate diagnosis. This additional information can improve communication among physicians on care teams, enhancing the value of nuclear medicine in the management of complex brain diseases.
Provide specific indications for the differential diagnosis of dementia, traumatic brain injuries, epilepsy and other complex brain dysfunctions

Give patients and their families the peace of mind of a definitive diagnosis, eliminating the frustration caused by endless diagnostic testing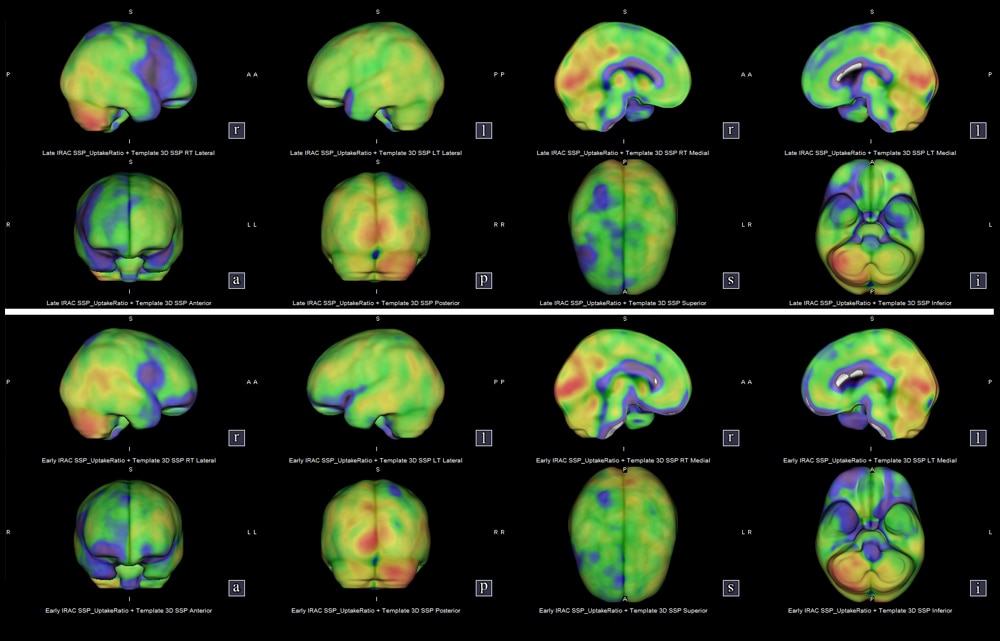 3D SSP images. Early and Late acquisitions. Late acquisition is post Diamox injection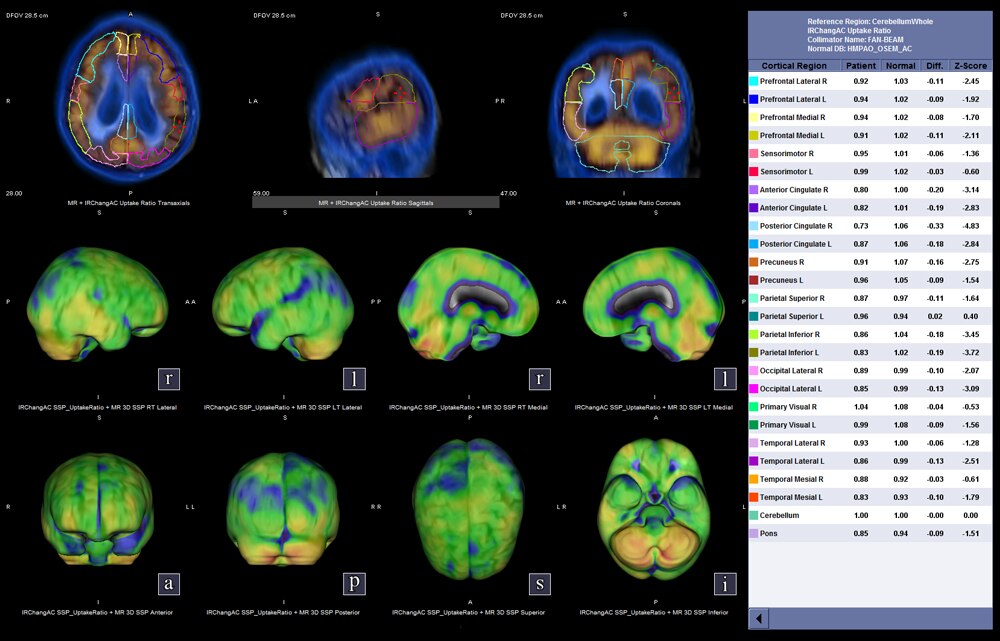 SPECT and MR fused images with quantitative analysis: uptakes and z-scores across all 26 regions of the brain.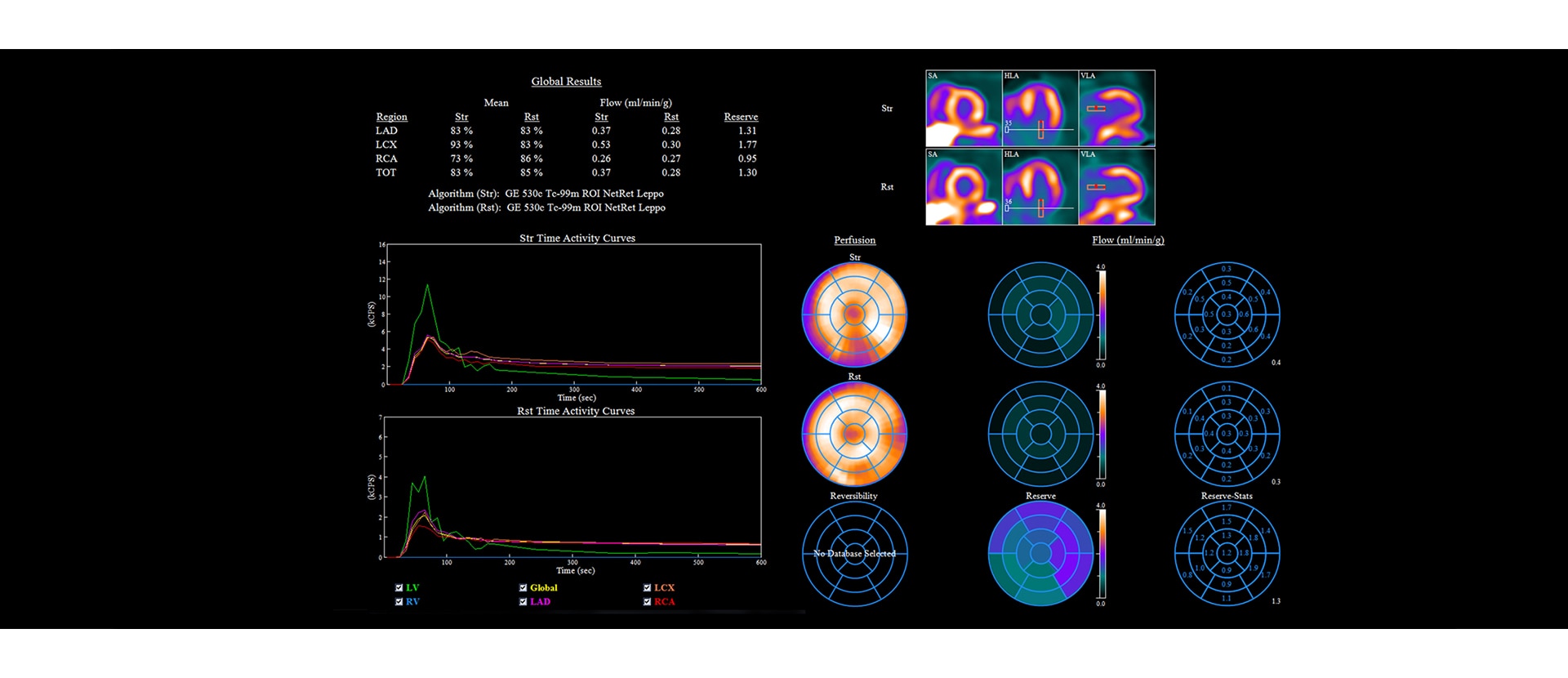 ALCYONE CFR
Matters of the heart are no longer beyond measure
When it comes to the heart, relative quantitative results aren't enough. Current SPECT MPI studies use the area of highest myocardial activity as a reference point for the rest of the perfusion study. If that reference point is also abnormal, it compromises the accuracy of the entire study. In addition, triple vessel disease (balanced ischemia) and microvascular disease don't always result in an abnormal MPI exam. For years, PET has been a well-established gold standard for MBF exams, but it can be limited by cost and accessibility. Recent advancements in SPECT technology have made it possible to enhance the clinical value of nuclear cardiology.
Alcyone CFR leverages highly sensitive Alcyone SPECT technology in our fully stationary, solid state Discovery™ NM530c system. It calculates coronary flow reserve and myocardial blood flow from a dynamic SPECT acquisition. In addition, it provides absolute quantitative results for both global and regional blood flow. With a wider availability of low-cost SPECT tracers, previously limited to PET technologies, Alcyone CFR provides a real opportunity to explore the benefits of SPECT.
Research the development of more efficient protocols

Expand the confidence in, and size of, your nuclear cardiology practice

Confirm suspected triple vessel and microvascular disease
DaTQUANT
Clearly communicate brain function
DaTQUANT is an advanced neurologic application that aids in the assessment of dopamine receptor uptake in the caudate and putamen regions of the brain. It enables visual evaluation and quantitation of 123I-Ioflupane SPECT images relative to a normal population database of images from the European Normal Control Database of DaTSCAN (ENC-DAT) study. It automatically calculates striatal binding ratios, putamen/caudate ratios and left-to-right asymmetry. And a built-in report generator provides referring physicians with structured results in an easy-to-read PDF report that clearly communicates the degree of functional DaT loss.
Provide structured quantitative results to help manage Parkinson's Disease

Improve communication with referring physicians through customized, automatic PDF reports

Drive accuracy and repeatability through automated processing

Improve the assessment of disease progression with longitudinal image analysis of both visual and quantitative comparisons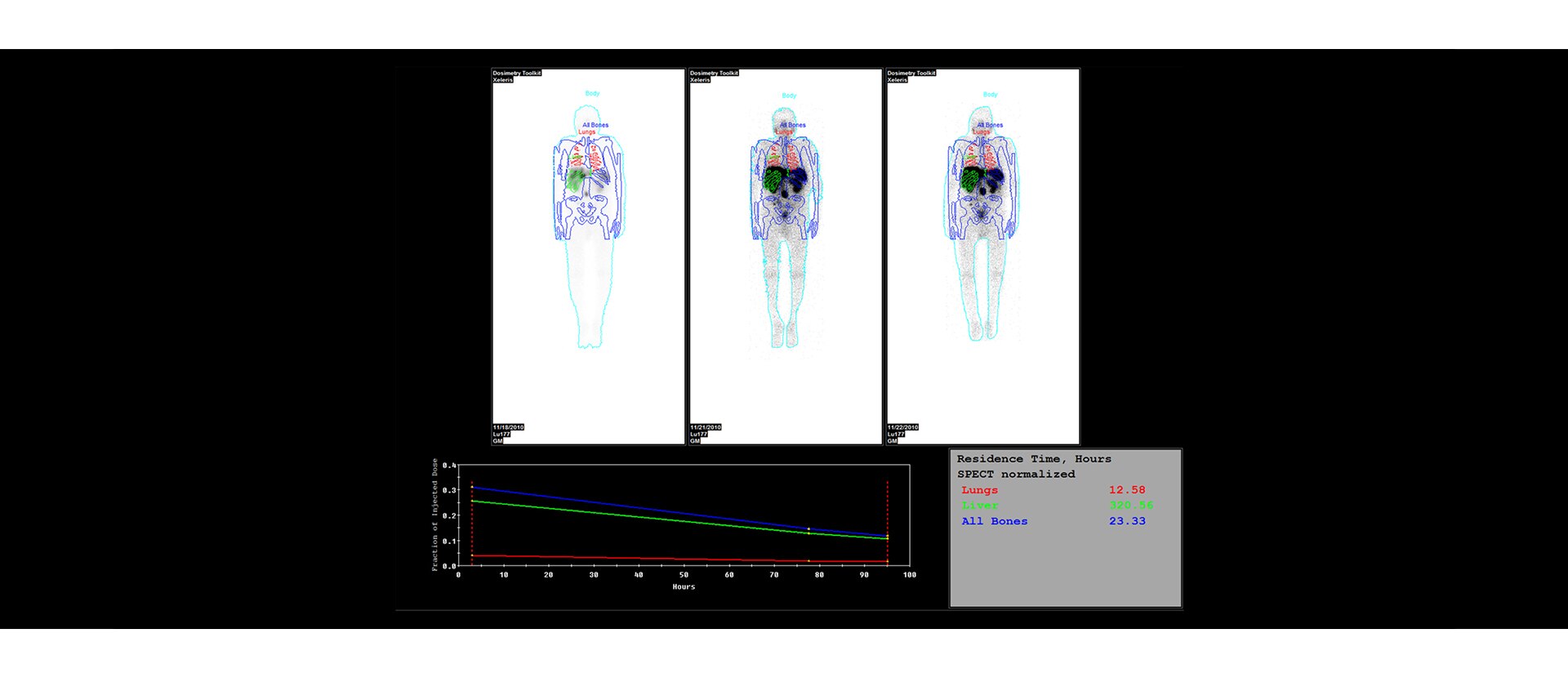 DOSIMETRY TOOLKIT
Plan and monitor radioisotope therapy with the right measurements
Dosimetry Toolkit is an advanced clinical application that helps you quantify changes in radiopharmaceutical uptake over time. It uses multi-whole-body SPECT/CT and/or whole-body planar data sets to quantify changes. Interactive and semi-automatic tools allow you to segment target organs, delineate activity zones and calculate the volume, activity and residence time per organ. These tools simplify the procedure for quantifying radiopharmaceutical dose, reduce processing time and improve the accuracy of results, compared to manual tools. In addition, Dosimetry Toolkit creates an essential input to other radiotherapy planning software. It's an advanced application that can help you determine the right dose for radioisotope therapy to begin treatment and accurately adjust it over time.
Reduce processing time and improve the accuracy of results, compared to manual tools

Simplify the procedure for quantifying radiopharmaceutical dose

Increase confidence in your ability to predict tumor response and normal organ toxicity with pre-therapy dosimetry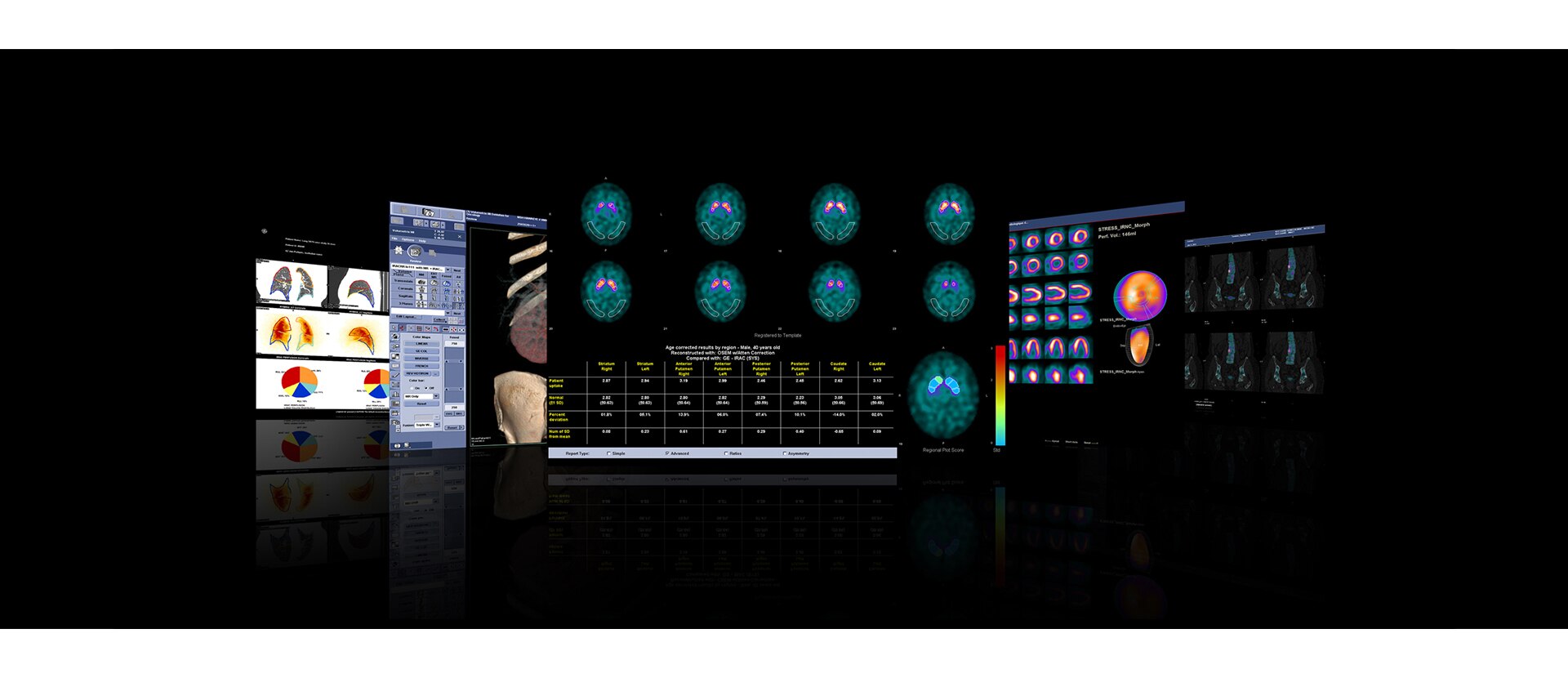 ADDITIONAL APPLICATIONS
Explore the clinical possibilities of a wide range of applications
While the future of nuclear medicine is in quantitative applications, Xeleris 4 DR includes a comprehensive library of clinical applications with additional capabilities to help improve patient care.
These applications include Evolution for Cardiac or Bone, which utilizes Evolution1 technology to change the relationship between image quality, time and dose, making it possible to change one without impacting another. By applying a resolution recovery algorithm that models the collimator-detector response, Evolution permits up to half the scan time or up to half the dose while delivering the same image quality as from a full-time or full-dose scan. Additionally, with Evolution Toolkit, you can extend the benefits of Evolution to exams that require additional tracers, including 123I, 131I, 201TI, 111In and 67Ga.
Xeleris 4 DR also includes the DICOM PDF viewer, which allows you to create a PDF report and save it within the Xeleris database in DICOM PDF format. Then, you can send it to any DICOM repository that supports this format and view the report using the PDF Report Viewer application.
Another noteworthy application is the Emory Cardiac Toolbox 4.0. With this application, you get valuable tools like SmartReport2, which automatically submits images to the American Society of Nuclear Cardiology ImageGuide2 Registry.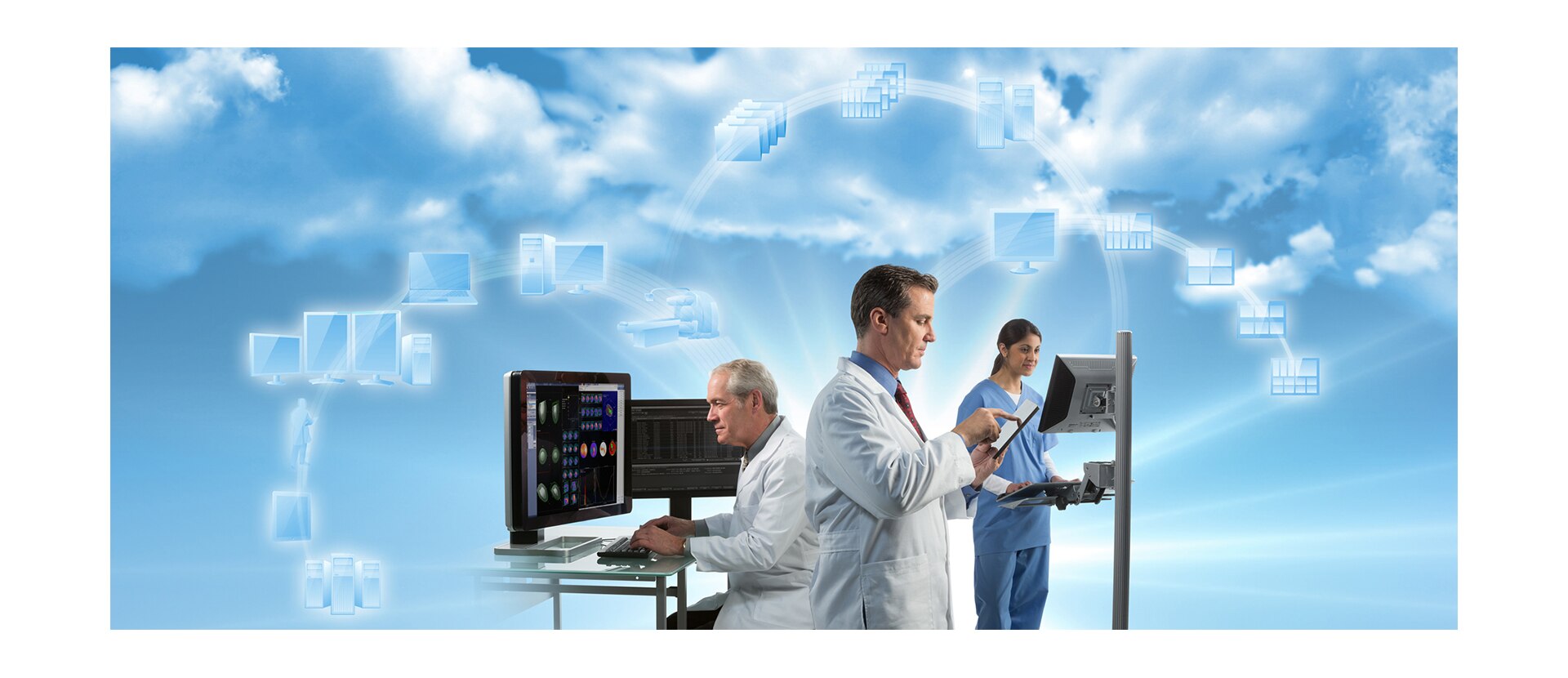 ENHANCED ACCESS
Access where, when and how you want it
With enhanced features that deliver greater access, automated workflow and personalized applications, Xeleris 4 DR is an image management solution that takes advantage of today's highly mobile technology and puts it to use your way, where, when and how you want it.
The Xeleris Case exchange enables you to share any case from the Xeleris workstation to the Centricity Imaging Collaboration Suite in the GE Health Cloud3. Each case includes SPECT, PET and CT studies and any related data and can be viewed by other Imaging Collaboration Suite or Case Exchange users.
In addition, Xeleris Floating License frees you from traditional workstations without limiting your productivity or responsiveness. You can remotely access whatever applications you need. You can transfer your full set of applications and images to any PACS system for robust processing and review capabilities. And with Xeleris DICOM viewer, you can easily connect referring physicians to results. Its pre-defined and customizable Auto Capture and Archive take the redundancy out of your workflow. Data and image transfers go from multiple clicks to zero and no interaction is required to have your images and data go where you want.
Improve your reading efficiency with increased access to applications on PACS and AW server

Streamline your nuclear medicine experience to fit your needs with customizable applications and configurable displays and processing options

Improve the efficiency of daily tasks and potentially reduce errors with automated workflow features

Provide greater clinical confidence with more relevant data available for image interpretation

Encourage collaboration by providing image data in more locations outside of the reading room
INFRASTRUCTURE
Elevate your nuclear medicine experience
Your applications are where you do all of your great work, but it's the technology at the core of your image management system that provides the essential framework for how you work. New technologies at the heart of Xeleris 4 DR make it more reliable, more capable and more secure. These technologies include a new Windows4 10 operating system with a collection of security enhancements like antivirus, BitLocker4 and whitelisting to protect patient data.
Xeleris 4 DR also supports virtually unlimited display screen resolutions so you can review images on the screen of your choice. And a more robust, 750 GB database with a simplified storage structure keeps all of your data in one database. This collection of infrastructure enhancements elevates the technology central to today's nuclear medicine experience.
Keep patient information secure with a collection of security enhancements

Review images on the screen of your choice with unlimited display resolution

Simplify your data storage with one database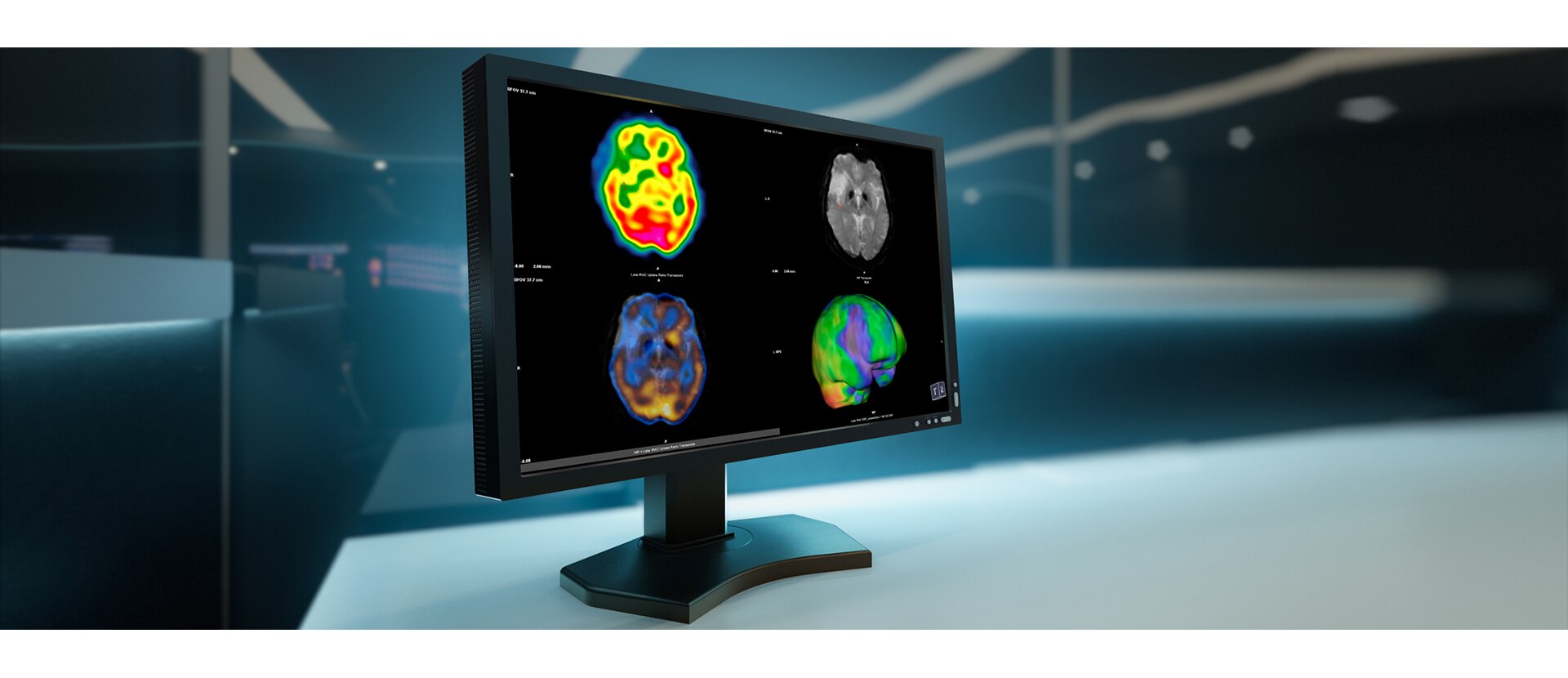 SUMMARY
A nuclear medicine workstation for true discovery
Molecular imaging enables the search for a different kind of discovery. The kind that could have a lasting impact on the world. A true discovery. Not only is it proof of a new way to understand something hidden deep within us, it has the ability to transcend the individual to make a greater impact on all patients.
To make a true discovery in nuclear medicine, the applications you use to interpret and communicate information are just as important as the tracers used to highlight that information and the technology used to capture it. In fact, it's these final measurable results that you ultimately require. To make the true discovery that helps you deliver the best outcome to the patient, or potentially impact the standard of care for all patients, you need the accuracy and consistency of absolute quantitation.
Our vision for molecular imaging is to provide you with the important instruments you need to see and the ability to prove what is seen, and often not seen. It's why we committed ourselves to bringing you quantitative applications with Xeleris 4 DR.
Let Xeleris 4 DR guide your path to your next true discovery.
In clinical practice, Evolution options1a (Evolution for Bone, Evolution for Cardiac, Evolution for Bone Planar) and Evolution Toolkit1b are recommended for use following consultation of a Nuclear Medicine physician, physicist and/or application specialist to determine the appropriate dose or scan time reduction to obtain diagnostic image quality for a particular clinical task, depending on the protocol adopted by the clinical site.
Evolution Options - Evolution claims are supported by simulation of count statistics using default factory protocols and imaging of 99mTc based radiotracers with LEHR collimator on anthropomorphic phantom or realistic NCAT – SIMSET phantom followed by quantitative and qualitative images comparison.
Evolution Toolkit - Evolution Toolkit claims are supported by simulation of full count statistics using lesion simulation phantom images based on various radiotracers and collimators and by showing that SPECT image quality reconstructed with Evolution Toolkit provide equivalent clinical information but have better signal-to-noise, contrast, and lesion resolution compared to the images reconstructed with FBP / OSEM.
SmartReport and ImageRegistry are registered trademarks of Syntermed, Inc.
Case Exchange may not be available in all markets, as it requires GE Health Cloud.
Windows and BitLocker are registered trademarks of Microsoft Corporation.