Benefits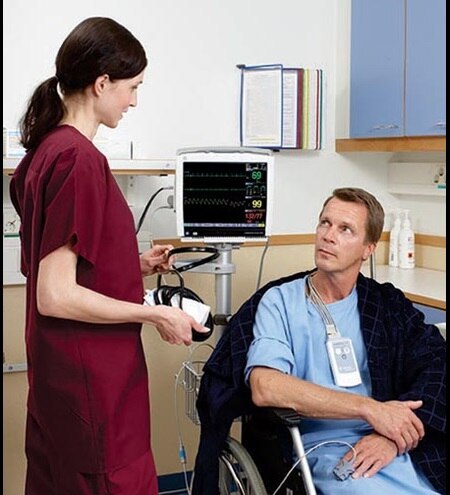 Uninterrupted vital data, with full integration
The wireless and highly portable CARESCAPE Monitor B450 supports uninterrupted patient monitoring and data continuity in flexible-acuity care areas and intra-hospital transport.
Clinical excellence and workflow efficiency
The CARESCAPE Monitor B450 supports fully informed decisions and workflow at every stage of patient care. It aids in accurate diagnoses through consistent algorithms and easy access to your EMR, lab, MUSE* cardiology information system, or other data sources. Parameters and alarm functionality are customisable to patient- or care area-specific monitoring needs.
Ease of adoption and service
Developed by clinicians for clinicians, the CARESCAPE platform is designed to reduce the learning curve with an intuitive Linux-powered user interface, while remote service through InSite* ExC provides updates and predictive maintenance to assist your biomed servicing capabilities.
Features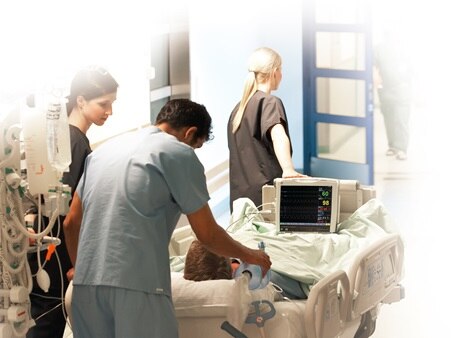 Lightweight, compact design, especially developed for the intra-hospital transport of patients, features the capability to attach and detach GE hemodynamic modules, E-PSM(P) or the CARESCAPE Patient Data Module.
Wireless connectivity with GE's CARESCAPE Gateway enables communications to EMR systems through standard HL7 protocol.
Dedicated software and parameters for the operating theatre, PACU, critical care, A&E and NICU care areas make the monitor easier to configure to your work patterns.
Exceptional alarm functionality enables remote bed-to-bed viewing, quick adjustment of all parameter limits, defintion of parameter limit range(s), prevention of specific alarms being turned off, and modification of settings to meet changing patient conditions.
Consistent, innovative algorithms aid in accurate diagnoses, including Datex-Ohmeda sidestream CO2, 12SL* diagnostic ECG with direct two-way MUSE ECG communication, DINAMAP* SuperSTAT NIBP, Entropy*, BIS**, and your choice of GE TruTrak+*, Masimo SET** or Nellcor** OxiMax** SpO2.
Integration
The CARESCAPE Monitor B450 is part of a complete modular platform of monitoring solutions that work together across the hospital for reliable data continuity, supporting care area workflow and the clinical excellence you require.
The CARESCAPE Monitor B450:
Avoids interruptions in the electronic patient record through automatic data synchronisation and merging when used with the CARESCAPE Patient Data Module and the CARESCAPE Gateway.
Provides a peer-to-peer networking option that allows monitors to communicate and view information from other GE CARESCAPE monitors.
Enables use of a wide parameter set through compatibility with the CARESCAPE Patient Data Module (PDM), Patient Side Module (E-PSM) as well as single-width E-modules.
Supports networking with other GE Healthcare products including CARESCAPE CIC Pro, iCentral, MUSE* ECG database, Unity Network* ID and other products that run on the CARESCAPE Network.
Specifications
The CARESCAPE Monitor B450 is a lightweight bedside monitor with the robustness to meet changing patient acuity and care area needs, and to maintain all bedside monitoring functions during intra-hospital transport.