Benefits
Low flow. High impact.
Aisys CS2 incorporates innovative features, such as End tidal Control (EtC), to help you confidently and comfortably perform protective low-flow anaesthesia, decrease operative costs, and reduce anaesthetic waste.1,2
The compact Advanced Breathing System (ABS), shown by a recently published study to reach a desired inspired anaesthetic agent concentration up to 79% faster than a competitive breathing system.4
Pause Gas feature, which simplifies temporary circuit disconnects. One button temporarily stops all gas flows and suspends alarms, agent delivery, and ventilation,
so you can place all your focus on the patient.
Intuitive user interface.
The Aisys CS2 user interface was designed with intelligent menus that may help reduce set-up time and help minimize training needs. We analysed countless Carestation data logs, reviewing keystrokes and menu interactions, to design an intuitive user interface that truly fits the way you work. With quick picks, flatter menus and tunnelling alarms, Aisys CS2 can help you to directly make adjustments like oxygen and flow settings with one touch.
Tailored solution for a range of patients.
Aisys CS2's ICU-level ventilator can quickly achieve and maintain set pressures and volumes to maximize the time available for gas exchange. This helps you ventilate the most difficult patients, from neonates to the lung compromised and the morbidly obese. Aisys CS2 also arms you with lung protection resources like configured automated lung ventilation maneuvres, such as the Vital Capacity and Cycling procedures and Compliance trending
Advanced and sustainable.
Because of its modular and upgradeable design, Aisys CS2, like the Aisys Carestation, is always ready to incorporate the latest technological advances, so you can be confident in delivering up to date care, while protecting your investment.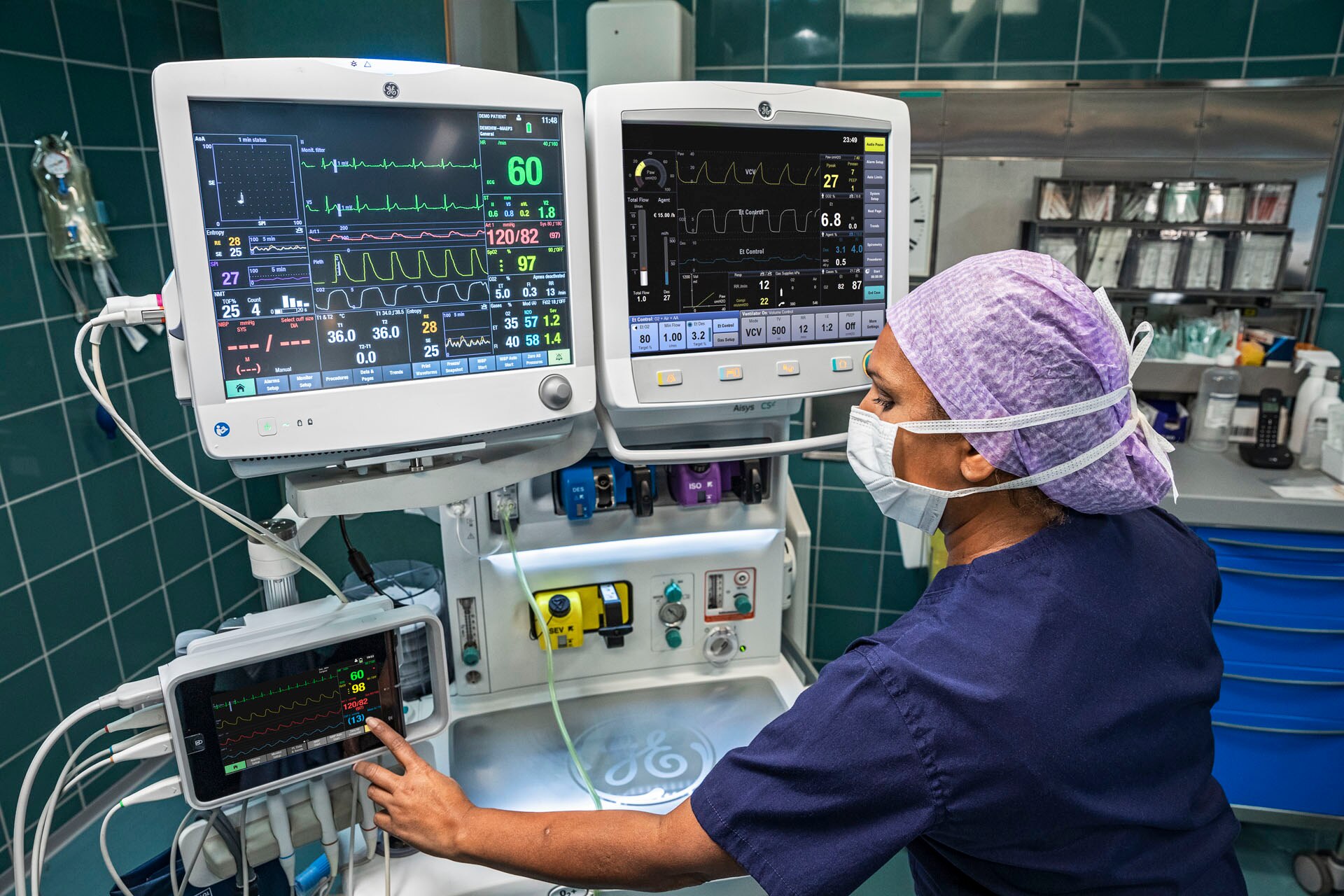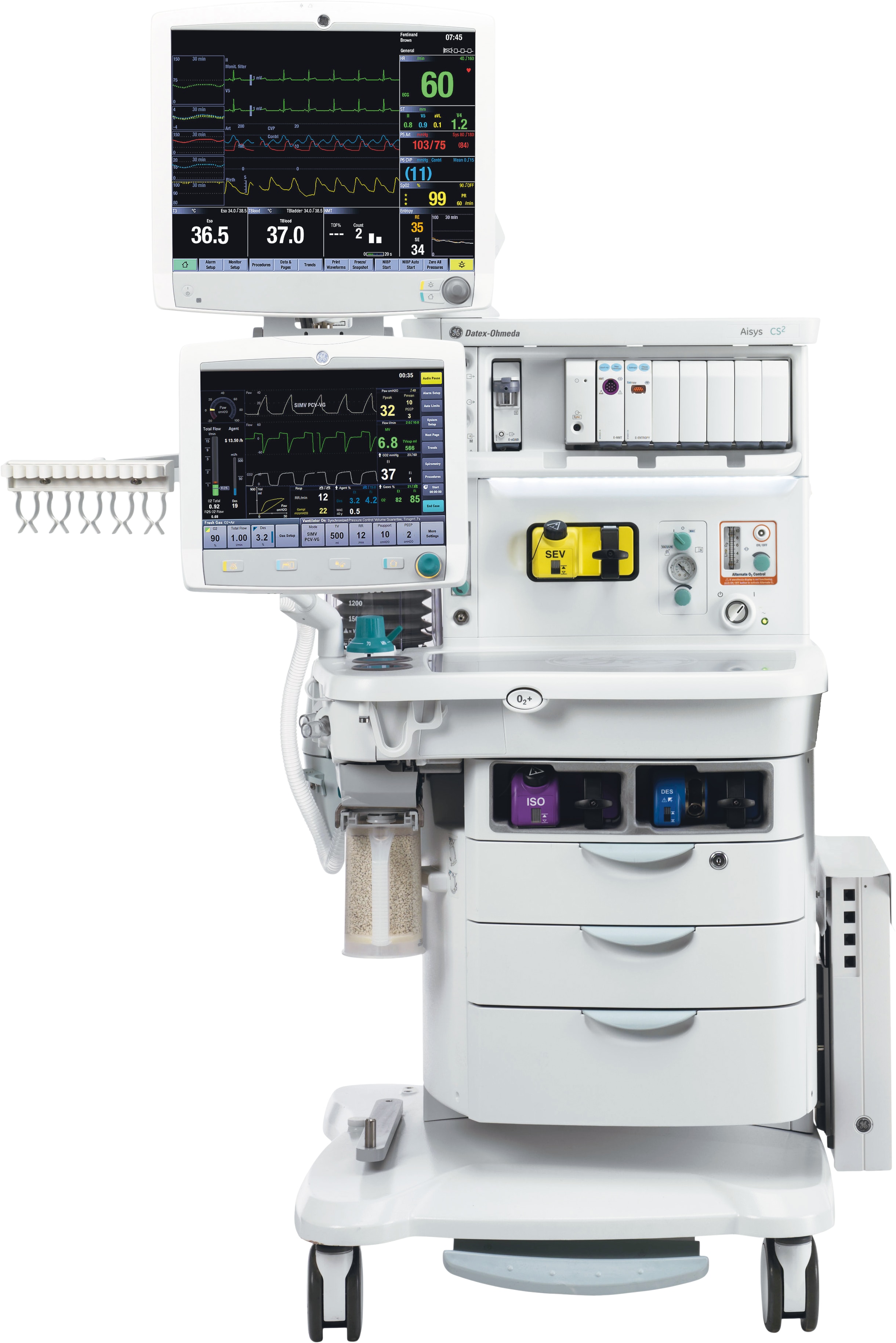 End Tidal Control EtC
End Tidal (Et) Control** helps maintain patient's end-tidal agent and oxygen settings. Regardless of changes in patient's haemodynamic and metabolic status, agent and oxygen levels are automatically adjusted to targeted end-tidal levels.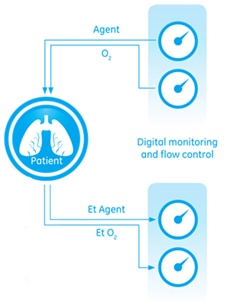 Vigilant
EtC automates the delivery of anaesthetic agent, fresh gas mix and total fl ow to deliver consistent set anaesthetic agent levels and maintain set EtO 2% concentration. Et Control maintained end-tidal concentration within 10% of the set target for 98% of the total steady state time.1
Simple
In clinical tests3, a majority of clinicians reported that Et Control is easier to use compared with the conventional practice of using fresh gas flow and vaporizer settings. A recent study observed that even for longer cases, Et Control required 52% less keystrokes per case than manual control.1
Efficient
Et Control can help reduce anaesthetic and costs throughout the case. A recent study showed that for cases of the same duration, the Et Control group used on average 40 - 55% less volatile anaesthetics than the manual control group.1
Helping in decreasing greenhouse emissions
By helping clinicians reduce the waste of anaesthetic agent and fresh gas flow, Et Control may have a positive impact in the environment. A recent publication indicated that the use of Et Control was associated with a 44% decrease in the rate of greenhouse gas emissions compared with manual control.2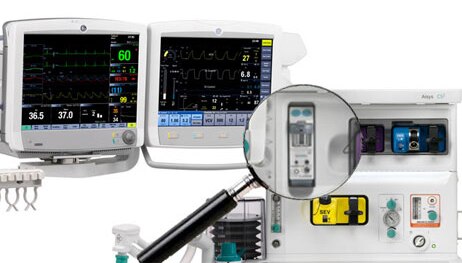 In conventional fresh gas flow mode, ecoFLOW information may help prevent wasteful over-delivery of anaesthetic agent and reduce the risk of hypoxic gas mixtures during low and minimum flow anaesthesia.
Workflow features:
End tidal Control for the automation of fresh gas flow and agent delivery to reduce workload1,2
Configurable quick picks for fast adjustments of FGF settings
Configurable combination quick picks for fast adjustments to (O2% and FGF)
Tunnelling Alarms guide the clinician to address alarms with a single touchPause gas flow to suspend FGF and agent delivery to help prevent OR pollution during intentional breathing circuit disconnection (e.g. intubation, endotracheal tube suctioning, positioning the patient).
EtC Publications
Et Control: peer review journals publications
Automated control of end-tidal inhalation anaesthetic concentration using the GE Aisys CarestationS. Singaravelu and P. Barclay - BJA 2013 Apr;110(4):561-6
End-tidal versus manually-controlled low-flow anaesthesia Lucangelo , Garufi et al - Journal of Clinical monitoring and computing - April 2014, Volume 28, Issue 2
Coasting : Worth the Effort?Hendrickx , De Cooman et alias - Acta Anaesth. Belg., 2011, 62, 147-150
Financial and environmental costs of manual versus automated control of end-tidal gas concentrationsTay, Weinberg et al.- Anaesthesia Intensive Care 2013 Jan;41(1):95-101.
A ten-year audit of fresh gas flows in a New Zealand hospital: the influence of the introduction of automated agent delivery and comparisons with other hospitalsKennedy, French - Anaesthesia Intensive Care 2014 Jan;42(1):65-72
Cost efficiency of target controlled inhalational anaesthesia Meenoti, Laxmi - Journal of Anaesthesiology Clinical Pharmacology | April-June 2014 | Vol 30 | Issue 2
End-tidal Control software for use with Aisys closed circuit anaesthesia systems for automated gas control during general anaesthesia NICE ISBN: 978-1-4731-0753-3 September 2014
Et Control: congresses abstracts and posters
End - tidal control effectiveness: General Electric Aisys vs General Electric Avance washin and washout comparison Hernández Cádiz, M. J. et al. - European Journal of Anaesthesiology - June 2012 - Volume 29
Clinical performance of electronic control for Aisys™, to automatically adjust fresh gas, agent and oxygenKalli - Society for technology in anaesthesia. 2012 Annual meeting.
Point de vue / Comment dès aujourd'hui, construire l'Anesthésie de demain?Futier - Capital Equipment / N 132 Special Anaesthésie-Réanimation Septembre 2010,September 2010
Administration of Volatile Anesthetics: Comparative Testing of Eight Anesthesia MachinesServin et al. - ASA abstract A1015 October 15, 2012
Impact sur la consommation des halogenes d'une administration asservie avec le module Et Control du respirateur Aisys (GE)Lebuff et al. - Annales Françaises d'Anesthésie et de Réanimation 32S (2013) A18
Desflurane Usage With Two Different Automated Target Controlled Low Flow Anesthesia Machines.De Cooman , Hendrickx , ASA congress October 12, 2013A1060
System Design
Aisys CS2 represents the convergence of our premium anaesthesia and CARESCAPE patient monitoring solutions.
Anaesthesia delivery and patient monitoring are seamlessly integrated through a modern user interface specifically designed to address perioperative tasks. With time-saving quick pick choices, flat menus and tunneling alarms, the Aisys CS2 can help you deliver precise care with a personal touch every day. The advanced digital features built into the Aisys CS2 were designed to work together to make your workflow easier. Each piece of hardware, software and technology fits together in harmony to elevate your Carestation to become the information hub of the operating suite.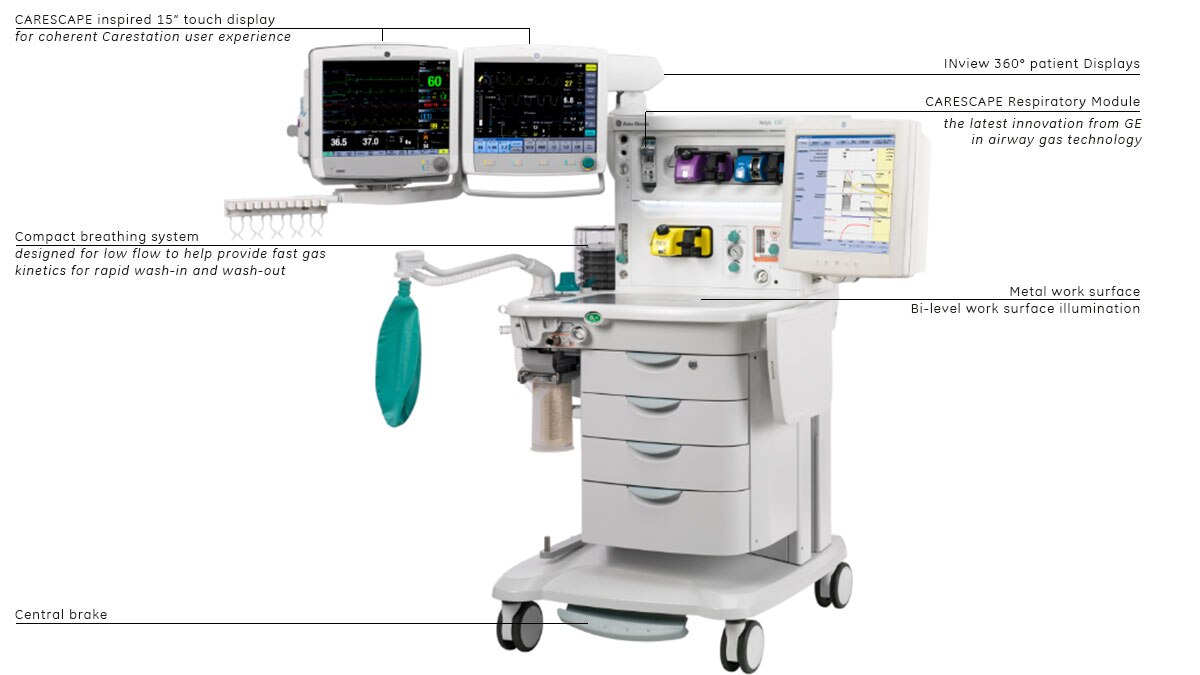 Quick Picks and beyond: towards personalised automated low flow anaesthesia

Dr. Jan Hendrickx
OLV Hospital Aalst, Belgium
Footnotes
1  S. Singaravelu and P. Barclay, Automated control of end-tidal inhalation anaesthetic concentration using the GE Aisys Carestation. British Journal of Anaesthesia 110 (4): 561–6 (2013)   
2  U.Lucangelo . End-tidal versus manually-controlled low-flow anaesthesia J Clin Monit Comput DOI 10.1007/s10877-013-9516-8   
3 Per DOC0668882 GE Healthcare 2009 clinical trials at Helsinki University and Kiel University.#
4 GE internal analysis shows that GE Aladin 2 is up to 2 times (200%) as accurate as the leading conventional and electronic vaporizors.
5 Kern, D., Larcher, C., Basset, B., Alacoque, X., Fesseau, R., Samii, K., . . . Fourcade, O. (2012). Inside anesthesia breathing circuits: time to reach a set sevoflurane concentration in toddlers and newborns: simulation using a test lung. [Comparative Study]. Anesth Analg, 115(2), 310-314.
** Aisys and Aisys CS2 with Et Control Option are not cleared or approved by the U.S. FDA Products may not be commercially available in all countries. Please check with your sales representative. Always refer to the complete instructions manuals before use.
*** Draeger Vapor is a trademark of Draeger